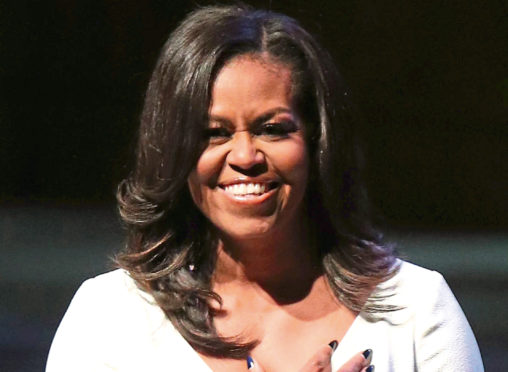 She's graced covers of most top fashion magazines, she's an A-list celebrity in constant demand to appear on television chat shows, her autobiography has sold more than 10 million copies and she loves fish and chips.
Who is she? The ex-US President's wife!
At 55, Michelle Obama has become become one of the most famous people in the world yet she never set out to be anything much more than a wife and a mum – two jobs she thinks are the most important anyone can land.
"My daughters are, and always have been, my first and foremost priority," she said (Malia is 20 and Sasha is 17).
"Being a wife is very important as well, of course, but ever since Barack started on the political trail, we've always said that family comes first and anything I did in the background or, sometimes, even in the foreground would never take priority over being a mum to our two daughters.
"When we have been on campaigns, I never stayed away for more than one night at a time.
"We have always thought it was really important that our girls should have as much normality in their lives as possible.
"When your husband becomes President of the United States that is not so easy, of course, but you have to do your best and I think that is the same for all parents, no matter what else is going on in their lives, it is important for their children to have as much stability as possible."
Michelle's own upbringing had the stability of having her mother at home most of the time.
She was born in Chicago, the daughter of Fraser and Marion Robinson and she had a brother nearly two years older, Craig.
Her father worked in the city's water department and it seems they were a close family.
"We were a normal family, doing normal things," said Michelle.
"Mum looked after the home and the family, Dad worked and we did a lot of normal things together like having regular meals together, playing board games like Monopoly and just enjoying being together.
"We grew up with values and it just seemed the right way to be – I have tried to pass that on."
Michelle Robinson, as she was then, was a good student although not outstanding and one of her favourite pastimes was playing the piano.
As she grew up, she took notice of discrimination in its many forms and it had an effect on her thinking.
"I have always thought that everyone deserves a chance," she said.
"It doesn't matter who they are, where they are from or how different they might seem to be. I think that was how I was brought up and I still believe that."
Studying law, Michelle was intent on keeping her focus on her career. Then, of course, she met Barack Obama and things began to change.
"When we met, we were really opposites and it is strange that we got on so well," said Michelle.
"Our first date was to go to the movies and we saw a movie called Do The Right Thing. It seems that it was the right thing for us.
"We continued to date for some time and then, well, here we are, married for 27 years this year and two great daughters."
Of course, in those early days little did Michelle know that one day she was going to be the First Lady.
"I knew Barack was keen to progress and I always admired his sincerity," she said.
"We were both interested in politics but only really as a way to make a difference to the lives of people. He worked hard and when the chance came he was ready for it.
"When we first moved into the White House it was exciting, of course, but also daunting and I really wanted to keep that normality that was so important, so we got a dog and started doing some gardening.
"Neither of us wanted to change our lives much.
"Barack still worked out every day and I went to the gym as much as I could, something I had for a while. We kept life normal for our girls, too, and took them on trips whenever we could.
"We always made sure they did things like making their own beds and taking charge of their homework without either of us having to stand over them.
"Of course there was always time for cuddles and games.
"None of that really changes, we are still a close family and I think the way you start with your family is important and means that even when you are apart, you are still together.
"We love outdoor activities, like riding bikes and swimming. If the weather's bad, we curl up on the couch and watch a movie or read a book together, taking it in turns to read aloud.
"I think you should try to make every day something special if you can.
"Sometimes you can't but I have always been an early riser and like to make sure we have breakfast together before we go about our schedule for the day."
Michelle is often asked about favourite foods and she admits she has a weakness or two.
"I love french fries," she said. "Barack is into burgers but he likes fries, too.
"On one of our visits to the UK, I was invited to try fish and chips. I knew I loved fried potatoes so I gave it a try. I have been hooked ever since.
"When the girls came with me on another trip to London I took them to try it and I am pleased to say that they loved it, too. So we are fish and chip fans.
"We like other things, too, of course. Malia likes ice cream very much and Sasha is like her dad in that she likes pies and also sushi.
"We like steak, of course, but we do like our treats and Barack is really into fast food. Nobody does fish and chips like the UK, though, so it is always on the 'must' list when we visit."
Michelle's wildest dreams never included international fame and a universal popularity so how does she cope?
"My feet are on the ground and stay there," she said.
"It's nice that when someone hears you say something that helps them, maybe on a chat show, that they write and tell you it made them feel better.
"That is what it is all about for me, making people feel better and hoping that the future will be good and much better for our girls and others like them all over the world.
"If we can all try to be nice at least once every day, it would make a difference, not just to others but also to ourselves.
"Being happy means being happy with ourselves as well as the world around us. We can all play a part in that. Life is not about what you have or how famous you are, it is simply about being nice."
Clearly the former First Lady means what she says. She works tirelessly for numerous charities and welfare organisations but still her family takes No 1 place.
"My parents were great and set an example I've always tried to follow. Whatever we have done, we have always done our best to just be a normal family and we always will be."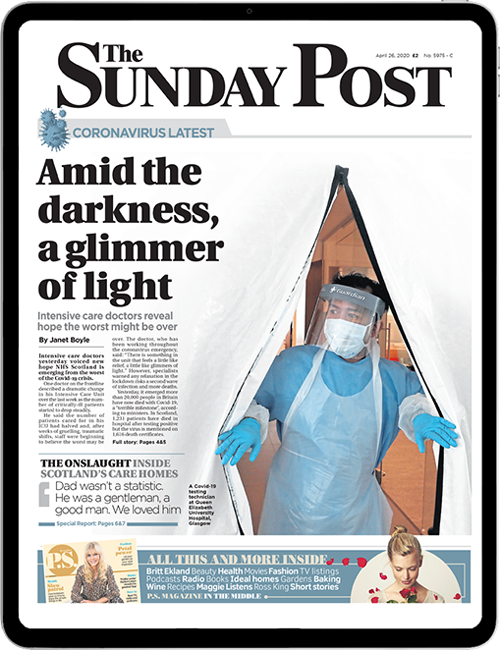 Enjoy the convenience of having The Sunday Post delivered as a digital ePaper straight to your smartphone, tablet or computer.
Subscribe for only £5.49 a month and enjoy all the benefits of the printed paper as a digital replica.
Subscribe