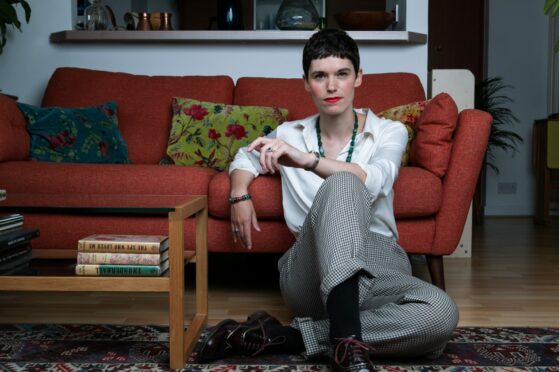 When she was just a little girl, Kim Sherwood fell in love with James Bond. The 10-year-old would play at spies but, in her games, she was not the beautiful Bond girl in need of rescue – she was the hero, Bond himself.
By the time she was a teenager, Sherwood had read all 14 of Bond creator Ian Fleming's books and lost herself in the blockbuster movies.
Fast-forward a couple of decades, and with the trademark implausibility and coincidence of a classic Fleming plot, Sherwood becomes a Bond girl – but with a difference.
The 32-year-old University of Edinburgh lecturer, with just one novel under her belt, was chosen by Fleming's estate to pen a new, fully authorised James Bond trilogy. With the first about to hit bookshops this week, the serendipity isn't lost on her.
Her late grandfather George Baker – who played Chief Inspector Wexford in ITV's The Ruth Rendell Mysteries – was the man Fleming wanted to play Bond in the first movie.
For Sherwood, the new role is "a dream come true" and one that would have made her grandad "smile". She told The Sunday Post: "I feel incredibly grateful that my dreams have come true and that doesn't always happen."
Her debut 007 novel Double Or Nothing is a high-octane thriller that turns the traditional world of Bond on its head and hauls the hero into a diverse and inclusive modern world. The author's reimagining sees 007's erstwhile secretary Miss Moneypenny now top dog at MI6 and makes Fleming's stable of elite spies less white and male.
Its plot? James Bond is missing, captured by a private military company and it falls to his colleagues, former lover Johanna Harwood, aka 003, the daughter of a French Algerian, Joseph Dryden, 004, a British Jamaican, and Sid Bashir, 009, a British Asian, to find him.
Then there's the little matter of the new threat to the world, tech billionaire Sir Bertram Paradise, who claims he can reverse the climate crisis. Determined and licensed to kill, the spies are in a race to save not just Bond but humanity itself.
Sherwood said: "The two criteria the Flemings gave me was that they wanted the novels to be set in the modern day and they wanted a new wider cast of heroes. My first step was to look at the MI6 website and who they are trying to recruit.
"They are looking for people from many different backgrounds because they need them to be able to go under cover all over the world. They can't all look like James Bond because that would limit the mission. So that was my first cue.
"Then I was thinking of my love of Bond as a child and how when I would play Bond, I would be James Bond and not a Bond girl.
"That's not to denigrate the female characters in Bond. They are fantastic characters but I wanted to be the hero of the story. I didn't want to be rescued. This was an opportunity to create an inclusive set of characters that readers could identify with. It opens the door to more people."
But Bond has not had a makeover. "I love James Bond as he is," said Sherwood. "I don't want to change him. There are some essential ingredients to Bond that if you change them, he's not Bond any more so I wouldn't want to mess with the recipe.
"But the novel is set in the present day and I have looked at Bond from a modern angle. Readers will notice a difference between my Bond and Fleming's Bond in some ways but I hope they recognise that it is the same, essential character.
"I fell in love with Bond when I was under 10 years old. It was first seeing Pierce Brosnan's films on TV; that spectacular jump off the dam in the opening of GoldenEye. When I was 12 I told my mum I wanted to write spy fiction but I didn't know how and she said I should read some first."
The writer, who grew up in Camden in London, bought her first Bond novel from a secondhand bookshop. She remembered: "They had a copy of From Russia With Love in Pan Paperback and I bought it and fell in love with Fleming's writing and style."
But it wasn't until her mum gifted her a bumper guide to Bond for Christmas that she learned her grandfather had appeared in some famous Bond movies produced by Albert "Cubby" Broccoli.
"He had met Fleming at a restaurant. My grandfather was having dinner with some friends and Fleming was there having dinner with Broccoli who was casting the first Bond film. Fleming suddenly spotted my grandfather, who was a tall and handsome young man, and took Broccoli over to him and said, 'That's my Bond. That's who I want for Bond.' But my grandfather was in a six-picture contract that he couldn't get out of, so he couldn't do it."
He did later go on to play Sir Hilary Bray in On Her Majesty's Secret Service (1969), was a Nasa engineer in You Only Live Twice (1967), and Captain Benson in The Spy Who Loved Me (1977).
But he had no regrets about missing out on the now iconic lead role filled by the likes of Sean Connery and latterly Daniel Craig. Baker, who died in 2011 aged 80, starred in countless TV shows including Minder, Bergerac, I,Claudius, New Tricks and Spooks.
He also appeared in about 30 other films including The Dam Busters and The 39 Steps. "I am thinking about him a lot at the moment and how much my writing Bond would have made him smile," said Sherwood. "He would tell me to embrace this and enjoy it all."
Sherwood had taken a decade to craft her first novel Testament, which was longlisted for the Desmond Elliott Award, shortlisted for the Best First Novel Award, and was winner of the Bath Novel Award and the Harper's Bazaar Big Book of the Year.
Taking on Bond, she said, was "daunting" and she follows greats like Kingsley Amis, William Boyd, John Gardner, Sebastian Faulks, and Anthony Horowitz who have all followed in Fleming's footsteps.
Sherwood, who is married to photographer, writer and editor Nicholas Herrmann, 33, said Fleming estates "wanted a new, young writer; someone who is a fan."
Her agent remembered Sherwood saying: "One day I want to write James Bond" and tweeting Testament on a bookshop shelf beside one of Horowitz's novels with the words: "One step nearer to my dream of writing Bond."
The agent sent the tweet to the Flemings with the message: "Maybe this is the writer for you."
The novel, written in over a year and during lockdown, was kept secret and delivered to deadline despite its writer being twice hit by Covid during its creation.
"Bond appears in the novel in flashbacks and people's memories. I can't tell you if they find him at the end because someone will come along and kill me," she laughed.
"Moneypenny is there. I thought that she had been secretary long enough and she is now head of MI6 and the 00 section and drives an electric Jaguar."
Sherwood is already writing the second in the trilogy and is in a WhatsApp group with the Fleming family so that she can keep them abreast of developments, but says they "trust" her judgement.
Would Fleming himself think them justified? "I hope he'd be pleased," she smiled. "I can't write like Ian Fleming, I can only write like me, but I have thought about ways our writing might have a shared DNA because he influenced me so young. I have tried to take my cues from him in terms of the mechanics of the novel.
"I have taken a third-person, omniscient point of view so that I can write from multiple perspectives. He has a very vivid way of writing, using very visual language with uncanny imagery and I have tried to resonate with that in my own style.
"I have tried to bring in his vision of Bond and then put that into dialogue with these new, modern characters. And I hope if he could read it that he would recognise himself in it, as well as it being something new and fresh."
Sherwood, who moved to Scotland last year to take up a role as lecturer in creative writing, said: "I always wanted to live in Edinburgh. It's a fairytale city and a dream to live here. Because of Ian Fleming's connection to Scotland (his father and grandfather were Scottish) this feels like a very special place to be writing these novels. I live close to Fettes College, where James Bond went to school."
In the novel You Only Live Twice, Fleming revealed that, as a boy, 007 attended Fettes, while the iconic setting for Bond's family estate in the 2012 movie Skyfall, starring Craig and with a title song by Adele, was inspired directly by On Her Majesty's Secret Service, in which Bond revealed his father was from Glencoe.
Sherwood revealed her own personal pilgrimage to the historic valley: "Recently we went up to 'the Skyfall road'. I had just received my first proof of the novel. I took it there and offered it up to the mountains which felt very special."
And with a wry smile, she added: "I was singing Adele in the car much to everyone else's delight."
---
Double Or Nothing by Kim Sherwood, published by Harper Collins, is out on Thursday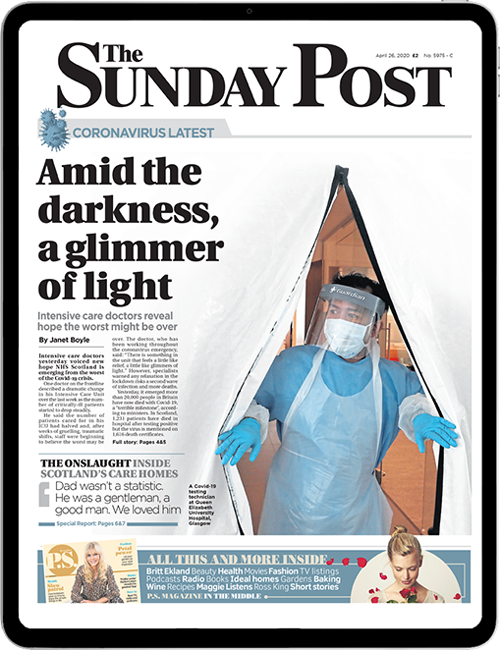 Enjoy the convenience of having The Sunday Post delivered as a digital ePaper straight to your smartphone, tablet or computer.
Subscribe for only £5.49 a month and enjoy all the benefits of the printed paper as a digital replica.
Subscribe