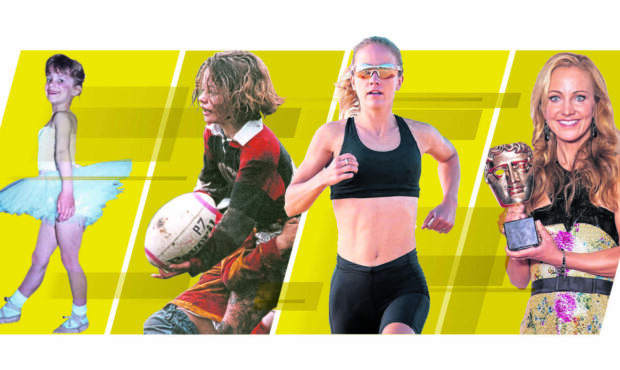 It is Oscar's big night in Hollywood and champion athlete turned award-laden screenwriter Lesley Paterson is hoping to break the tape again.
She will be joining the A-listers on the red carpet at the 95th Academy Awards with the Scot nominated in the best adapted screenplay category for her adaptation of the classic anti-war novel All Quiet On The Western Front.
Ahead of the ceremony at the Dolby Theatre in Los Angeles she paid tribute to her mum and dad for their part in her meteoric career, which saw her first become a professional triathlete and now an Oscar-nominated writer for her first script.
Paterson, 42, from Stirling, who now lives in California with husband Simon, said the choice of novel to adapt was in part inspired by the fairness and compassion instilled in her by her parents.
"All Quiet is a story told from the German perspective, which we're never taught," she said. "I feel like these things can be very polarised.
"I was raised to see the other side because I've grown up in a very compassionate family. A lot of it, especially having brothers and sisters, is about fairness. That was everything, my mum and dad were always fair to people.
"If my dad was getting one of us a present, we'd all get something. If he visits me, then he'll visit my brother. We're all special in that way."
Triathlete turned star screenwriter Lesley Paterson on marathon effort to get Oscar-tipped All Quiet on the Western Front made
Paterson, who won a Bafta for her script to add to her triathlon world championships, has spent the week preparing for tonight's glitzy ceremony by polishing her potential winner's speech, and meeting with designers for her dress.
"I have designers from London, Kolchagov Barba, who did my Baftas gown," she said. "They've custom-made my Oscars gown too, and they just flew out yesterday to come and dress me. It's a bold gown. Expect it to be colourful with really interesting lines and showing a bit of leg. "
As part of her pre-Oscars preparation, Paterson met Hollywood A-lister Tom Cruise and was taken aback when the Top Gun: Maverick action star recognised her.
"That was really cool. I went up to him and told him who I was and what surprised me was his response," she explained. "He said, 'Oh Lesley, I know your story. How many hours a day do you train?'
"He spoke about his own training. Like me, he still trains every day, it's a huge part of his routine.
"He's almost like a politician, he must get briefed on who absolutely everyone is beforehand. He's so committed. I love that aspect of him."
Mum: 'Will to win gave my girl the steel to succeed in Hollywood'
Lesley Paterson's true grit as a champion triathlete gave her the steel to survive harsh Hollywood rejections, according to her mother Fiona.
She is nominated tonight along with writing partner Ian Stokell for their adapted screenplay of All Quiet On The Western Front.
It took 16 years of planning to get the movie made as Paterson showed the same resolve needed to win triathlon world championships to keep alive her dream of bringing the classic book to life.
"She had that determination even when she was little," said her mother, from Stirling. "When she went to watch her big brother play rugby with her dad she turned to him and said, 'I can do that, I want to roll around in the mud too'.
"She was one of the only girls in Scotland to play rugby at that time.
"But she had determination without ever being stubborn. Anything she wanted to do she would do it but in the nicest sense."
Fiona said her daughter was keen to pursue both athletics and drama. These days, when she's on her bike is when she gets her best ideas.
She said: "She was with the Scottish and British triathlon team and that athletic discipline has to be very rigid.
"But in contrast she also wanted to do writing and drama. That creative spirit was there and writing allowed Lesley to have that contrast between discipline and a creative spirit."
Paterson said the support she received from her mum and dad, Alastair, was key to her Oscar nomination.
"She's the best mum ever, and my dad was wonderful too," she said, speaking from San Diego. "They're both incredible.
"There was a real sense of unconditional love. If we failed they were always there to pick us up but not in a claustrophobic way. They were very much about us working hard, getting out there, facing our fears and facing adversity.
"My dad had an athletic background and if something bad happened in my life then he would tell me to not dwell on it."
Her parents are separated now and Paterson took Fiona and husband Simon along when she recently won a Bafta for her screenplay.
"That was amazing," said Fiona. "I was so proud. And so proud when she was nominated for an Oscar. I just could not stop smiling.
"Alastair was there supporting her athletic ambitions. And I suppose I was emotional support in other ways, I was there to pick up the pieces."
While she was an excellent athlete when she was younger, Paterson felt like she didn't fit in with others at school.
Rather than withdraw, though, she sought to understand their perspective.
"I grew up always wanting to imagine what it was like to be in someone else's shoes," she said. "Even if someone is really awful to me, I like to ask why they are awful and what's happened in their life to have caused them to be horrible to me and just try to assess it in that way.
"That's because I wanted compassion for myself when I was younger. I struggled a lot in high school. I didn't have many friends or really fit in. I was definitely the oddball and yet I'm a very social, happy person. And I just think that, you know, because it didn't fit in, that was sort of ostracised a little.
"I didn't want anyone to feel like how I felt. So I vowed that I would always be compassionate to others and not have them go through what I did."
That empathetic mentality is part of what brought her to adapt Erich Maria Remarque's 1929 anti-war novel, first adapted for the big screen by Lewis Milestone in 1930.
"It was the themes of the novel that really struck me," she said. "The betrayal of the youthful generation was a really important thing for me.
"Then there's being a Scottish person and being the underdog and fighting against the upper brass. That's a really potent thing, something we grew up with, something to relate to.
"I was also super-fascinated by the humanity of the enemy. I feel like nowadays it's all about black and white, polarised thinking. They're baddies and we're goodies, and there is lots of anger.
"The compassion and empathy and ability to put yourself in other people's shoes has been lost."
Oscars 2023
Irish actor Paul Mescal is nominated for his role in Aftersun, written and directed by Paterson's fellow Scot, Charlotte Wells.
Sir Kazuo Ishiguro is also nominated in Paterson's category for Living, which features Scottish ballad The Rowan Tree.
Dumbarton-born former Talking Heads frontman David Byrne of is nominated for best original song for his track This Is A Life, taken from Everything Everywhere All At Once.
For best animated short film, The Boy, The Mole, The Fox And The Horse, which starred Jude Coward Nicoll, from Edinburgh, has also been nominated.
Among the British and Irish stars in line for awards, Colin Farrell, Paul Mescal, Bill Nighy and Andrea Riseborough received nominations in the best actor or best actress categories.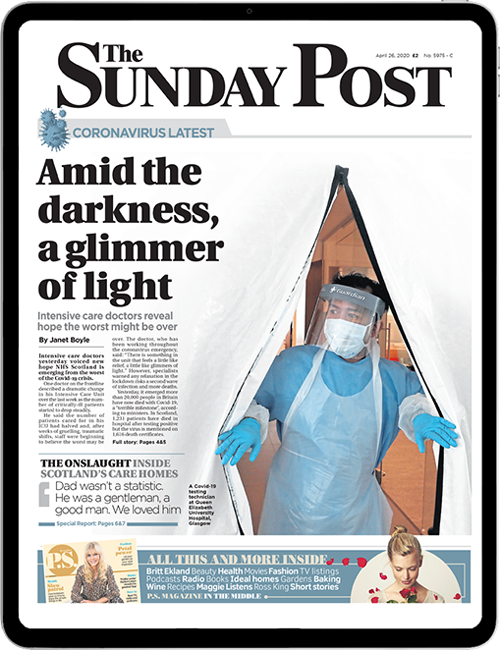 Enjoy the convenience of having The Sunday Post delivered as a digital ePaper straight to your smartphone, tablet or computer.
Subscribe for only £5.49 a month and enjoy all the benefits of the printed paper as a digital replica.
Subscribe