IT might not be as instantly recognisable as football's World Cup.
It may not have gleamed like Oscar on the mantelpiece of Hollywood superstars. But for contestants at the 25th World Porridge Making Championships, the Golden Spurtle is the only trophy worth winning.
The event, held in Carrbridge, has grown so much over the past quarter of a century that the organisers had to create a shortlist for the first time.
The 30 competitors selected include a Russian café owner, a Finnish pastry chef, a French architect and a Canadian mother-of-two who cooks porridge for her family every day.
"It's terrific to see such a level of interest from across the world in this most humble of dishes," said organiser Michelle Green.
"We've seen the standard rise year on year, with entrants creating traditional porridge with universal appeal alongside seriously creative porridge dishes."
Here, ahead of the championships in October, we talk to some of those involved.
The Champ
The reigning holder of the Golden Spurtle gives an indication of the growing global appeal of the championships.
Ellinor Persson, from Sweden, took the title last year, having already been crowned the winner in the national event in her home country.
"Porridge has become such a big thing and interest in the World Championships is amazing," said 53-year-old mum-of-two Ellinor.
"After I won last year I was on TV and radio stations all over the world. And a while afterwards I was asked to go to Dublin and demonstrate how to make the perfect porridge."
Ellinor, who lives in Halmstad between Gothenburg and Malmo, has been a lifelong fan having been introduced to it as a child by her porridge-loving dad.
She still makes it at least on weekends for her 14-year-old son and seven-year-old son.
In summer, strawberries regularly get served on top and she's also partial to using vanilla yogurt instead of milk. Ellinor is also planning something special for one of her Carrbridge entries but never forgets the basics.
"We had an event in Halmstad last month and I must have made over 100 portions on the day for the big crowds."
The Former Champ
Neal Robertson will be attending his 10th – and final –championships this year.
"You get a commemorative spurtle for taking part each year," said former winner Neil, 60. "I think 10 would be a nice number to retire on. Unless I win, of course."
Neil, a chef who runs the Tannochbrae Tearoom in Auchtermuchty, first took part in 2009 and was hooked right away.
"I thought I'd be showing up at a wee village like Carrbridge to cook up some porridge in a village hall and instead there was a pipe band, a procession along the street and big crowds.
"It took my breath away and it made me want to come back the next year, when I won."
Neal, who has a tattoo commemorating his win in 2010, says the level of interest from all quarters is amazing, including celebrity fans like Phil Cunningham and Ian Rankin.
And the focus and determination of the competitors knows no bounds.
"People bring their own oatmeal, including those who come from abroad," said Neal. "They even bring their own water.
"One brought Oregon spring water with him and a Californian guy brought pink Hawaiian sea salt. It was very pretty but it cost £25 for 100g."
Neal has already spent weeks practicing his speciality entry for this year and still cooks his traditional porridge on a regular basis.
But while he's almost certain to be hanging up his spurtle after this year, the Robertson name may not disappear.
"I was trying to talk my wife Jane into entering with me one year as there had never been a husband and wife duo," said Neal. "She wasn't keen on that but I am hoping she might enter next year when she won't be competing against me."
Neal's perfect porridge recipe.
"For a traditional simple porridge I'd use 40g of pinhead oatmeal and 300ml of cold water.
"Leave it to soak overnight, then get the heat on in the morning. It'll take about nine minutes to cook and then just salt it at the very end. Don't put the salt in too early."
The Judge
Neil Mugg has had a love of porridge since childhood – which is lucky as he has to taste dozens during the Championships.
Neil, a chef lecturer at Perth College UHI and former head pastry chef at Gleneagles, is one of four judges who'll decide who is this year's champion.
"It's really quite simple as far as we're concerned," said Neil. "We are judging on taste, texture and consistency.
"We each score independently but usually our marks are very similar. And while it's not usually a unanimous vote for the winner, we tend to discuss not disagree.
"We do take it very seriously as we know that people are now coming from all over the world.
"Some of the speciality entrants are quite something. Fruits usually work well but I still remember a toffee apple porridge."
The Oats Guru
Hamlyn's Oats have been sponsor of the Championships since the start.
And just like the annual event, managing director Alan Meikle says porridge has been booming over the past quarter of a century.
"There used to be an oat mill every seven miles all across the UK, now we are one of just a handful left," said Alan.
"I've been here about 27 years now and interest in porridge has been growing all that time. With all the interest in healthy eating, oats are now a sexy breakfast cereal. In fact, they're now something that people have at any time of the day."
The Banff business is a now a £20million operation with the 50-plus staff working 24 hours a day, seven days a week.
But Alan insists they've never wanted to push the Championships in any undesirable manner.
"It's grown amazingly, but we do the same as we did on day one – give some money and help with PR. It has always been a Carrbridge event and it's really important it still has that community feel."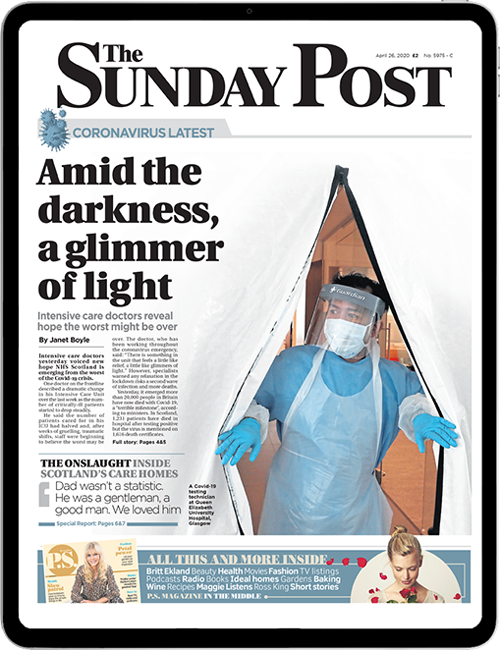 Enjoy the convenience of having The Sunday Post delivered as a digital ePaper straight to your smartphone, tablet or computer.
Subscribe for only £5.49 a month and enjoy all the benefits of the printed paper as a digital replica.
Subscribe