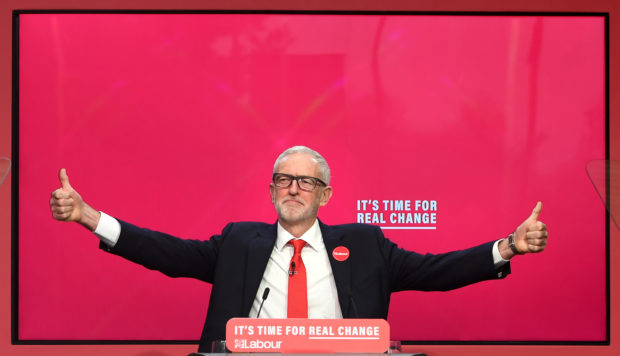 The Labour Party will launch its Youth Manifesto on Saturday, pledging to spend an additional £1 billion on youth services.
The document, The Future is Ours, will see Jeremy Corbyn's party committing to giving 16-year-olds the right to vote and investing an additional £250 million to build up to 500 new youth centres.
Other policies will include implementing a Real Living Wage of £10 per hour for everyone over the age of 16, ending tuition fees and bringing back the maintenance grant, and banning unpaid internships.
The party's offer for young people will also see the introduction of automatic voter registration, the offer of free bus travel for under-25s, and school leavers having access to climate apprenticeship programmes.
A commitment to reform the Help to Buy housing scheme, ensuring it focuses more on helping first-time buyers on ordinary incomes, will also feature in the document.
The manifesto will contain additional pledges to double the annual spending on children and adolescent mental health services, appoint 3,500 qualified counsellors to guarantee schoolchildren access to support, and an investment in the youth justice system.
The Labour Party said the additional £1 billion in annual revenue expenditure for youth services will come on top of the £50 million pledged by the Conservative Government in September.
The party added that its pledge is 20 times the amount announced by the Conservatives, which will allow for a "properly-funded, professionally-staffed" National Youth Service.
It said the party's commitment to doubling the Government's proposed annual capital expenditure for youth services, and investing an additional £250 million to build 500 new youth centres, will "guarantee every young person has access to local, high-quality youth work".
Labour added that its pledge to spend an additional £250 million in capital expenditure over five years will come on top of the £250 million previously announced by the Government.
Although the Conservatives' manifesto has not yet been published, at their party conference Chancellor Sajid Javid confirmed the party would be spending £500 million on youth services.
Mr Javid said the Youth Investment Fund will be focused on building up to 60 new centres and refurbishing 360 old ones.
However, Labour's analysis reveals spending on youth services has fallen in real terms by £1 billion (73%) since 2010, and that the Conservatives' pledge would not return spending to previous levels.
Labour said its Youth Manifesto will "deliver real change for young people" and that it outlines radical steps to ensure that every young person has the support needed to fulfil their potential and feel secure in their future.
Mr Corbyn is due to unveil the document at a rally of young people in Loughborough, and will urge them to register to vote before the November 26 deadline.
He will say: "By shutting down hundreds of youth centres, the Tories showed they don't care about young people.
"Across the country, young people are taking to the streets and leading the climate strikes, they're campaigning on issues they care about, and using social media to make their voices heard.
"Labour will invest in our young people so that everyone has somewhere to go, something to do and someone to speak to.
"This is the most important election for a generation. To achieve real change, I'm calling on people to take just five minutes to get registered so they can make sure that their voice is heard."
Shadow minister for youth affairs Cat Smith will add that the election is a "once-in-a-generation chance" to rebuild and transform the UK.
Ms Smith will say: "We often say that young people are the leaders of tomorrow, but recent events have shown they are the leaders of today.
"The next Labour government will take radical steps, from building a National Youth Service to tackling the climate crisis, to ensure that every young person has the support they need to fulfil their potential and feel secure in their future.
"This election is a once-in-a-generation chance to rebuild and transform our country. The future is ours to make. It's time for real change so that no-one is held back, and no community is left behind."
Unison general secretary Dave Prentis said: "Youth services are in tatters after almost a decade of Tory austerity. This much-needed investment will help restore hundreds of centres and thousands of jobs.
"Cuts have coincided with a rise in exploitation by 'county lines' drug criminals and teen-on-teen knife attacks. At-risk young people need the skills to thrive so they don't end up jobless, unskilled, with mental health problems and at the mercy of gangs.
"Supporting communities should be the priority and councils must be given proper funding to meet local needs."