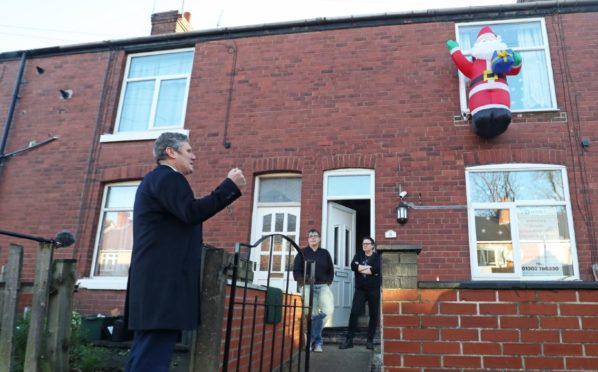 Sir Keir Starmer has vowed to "preserve and renew" the UK if he is elected the country's next Prime Minister.
In a speech tomorrow, the Labour leader will set out a new vision for a devolved Scotland as he seeks to head off growing demands for independence.
Sir Keir will say the party's next manifesto will set out a programme to win power "in order to push as much power as possible away from Westminster" and offer "a positive alternative to the Scottish people".
Public support for Scottish independence is currently at 58%, with 17 polls in a row showing a majority of voters in favour of leaving the UK.
The SNP has insisted that if it wins a majority at next May's Holyrood election, it will have a mandate to demand the power to call a referendum. Boris Johnson has said he will refuse to do so, and has even branded devolution a "disaster".
But Sir Keir, who succeeded Jeremy Corbyn in April, will instead offer further devolution if he is elected prime minister.
With support for independence on the rise, Sir Keir will argue that the shared "history, values and identity" of the peoples of the UK mean there should be no place for internal borders.
In a speech to be streamed live, he is expected to say: "Our nations are bound by our history, values and our identity.
"Our families live across borders and our businesses operate across borders. We're interconnected and we're interdependent.
"That's not just a precious inheritance or a description of the past, it's what we are. It's what I want for our children, for the next generation.
"I don't believe in putting up borders across any part of our United Kingdom. In dividing people, communities, and families who have stood together for so long.
"I believe in that core Labour principle that we achieve more together than we do alone.
"All four nations working together to build a more open, more optimistic and outward-looking country. A United Kingdom that's a force for social justice and a moral force for good in the world."
The speech is Sir Keir's first on the subject of the Union. Sir Keir, who has been outpolling Boris Johnson as a leader, will say he wants devolution and social justice to be the "hallmarks" of the next Labour government. He will say: "I may be the first person ever to run to be prime minister of this country on a manifesto that will aim to win power and then push as much of that power as possible away from Westminster.
"Because there's a yearning across the United Kingdom for politics and power to be much closer to people." Labour aides said the speech would set the tone for the party's campaigning for next year's elections to the Scottish Parliament as well as more broadly across the UK.
Promising "a positive alternative to the Scottish people", the Labour leader will recognise the need to build on Labour's long tradition of promoting and implementing devolution as a vehicle for social justice.
Labour has not held power at Holyrood since 2007 while it has struggled to maintain a toehold in Westminster elections in Scotland after being all but wiped out by the SNP in the 2015 general election.
The party now has 23 MSPs in Holyrood, having been beaten into third place by the Scottish Conservatives, who have 30, and just one MP, Ian Murray.
Sir Keir was confronted with the reality of Labour's situation in Scotland when he hosted a zoom call with voters, during which he was asked why the party would not back another independence referendum, in order to win trust from voters.
Scottish Conservative leader Douglas Ross said Labour were "offering nothing" to challenge the SNP. He said: "Scottish Labour won't work with unionist parties to stop the nationalists, and they won't stand up to Nicola Sturgeon's demand for another independence referendum as early as next year."
---
Gordon Brown backs coalition for change: We can do Britain better
Gordon Brown has urged a rethink of devolution saying: "We can do Britain better."
The former prime minister and chancellor said the response to the pandemic had been "stymied" by the existing political structures and called for greater powers for the UK's devolved nations and regions in England.
He said: "We can do Britain better than this. The pandemic means that this is no longer just a Scottish issue. We are seeing rising dissent in Wales and a new northern revolt in England. We must now see Whitehall and Westminster pay heed."
Mr Brown, Scottish Labour leader Richard Leonard, Welsh first minister Mark Drakeford, London mayor Sadiq Khan and Manchester mayor Andy Burnham have joined forces to call on the Conservative government and the Labour opposition to back a constitutional commission to begin work on reform plans.
The Labour statesman said: "Today Scottish Labour leaders join forces with English city mayors and Wales's first minister with the same message to Westminster – a new deal for a better Britain is needed.
"We all feel that there is little co-operation between London and the regions and nations. We all feel that key voices outside Whitehall are not being listened to. We all know that this too often it ends in a stand-off which is bad for all of us."
Mr Brown, who was prime minister from 2007 to 2010, added: "This is not an abstract question about constitutions. These flaws in our country's structures directly hinder our ability to support the NHS, to provide good jobs, and to protect the most vulnerable in our society.
"It is time for Westminster to listen to the voices outside SW1."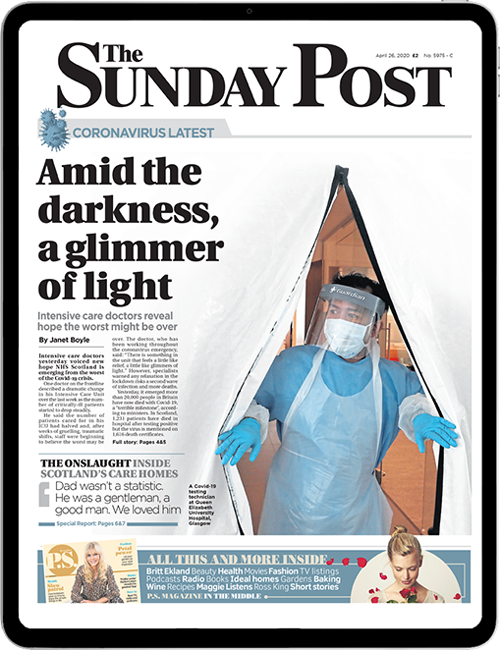 Enjoy the convenience of having The Sunday Post delivered as a digital ePaper straight to your smartphone, tablet or computer.
Subscribe for only £5.49 a month and enjoy all the benefits of the printed paper as a digital replica.
Subscribe