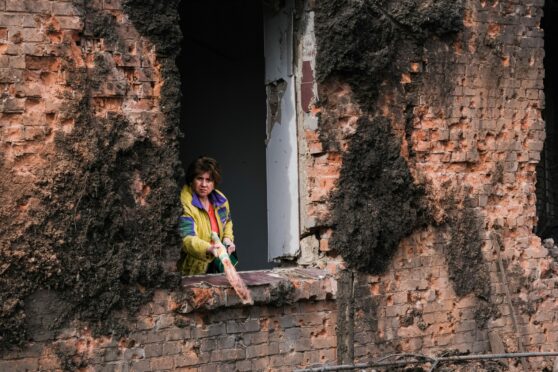 What the Russian army can't take, it shells. It fires rockets and mortars into villages and towns, fires old anti-aircraft missiles directly into city centres.
In the last week alone the list of places struck like this is long: Vovchansk, Kupiansk, Dvorchina in the north; Ochakiv in the south; settlements all over the Kherson area.
Some of these towns were occupied by Russian troops until the counter-­offensive late last year. Barely habitable after the heavy fighting, they're now hit over and over in seemingly random fashion, ­making life hell for the few who returned.
Sometimes the targets are ­infrastructure: transport hubs, depots, power stations.
Often, though, you arrive at the site of a strike and look around for anything that could be called strategic – and see nothing but blocks of flats, playparks, houses and gardens, all lying in ruins. It happens so often that the idea they just have poor aim is not remotely credible. This, Ukrainians say, is a deliberate tactic: random terror.
Perhaps the most cynical strike in recent weeks was in Kostiantynivka. In this industrial Donbas town, once home to 70,000 people, the authorities had installed an invincibility centre: a building with heaters, hot food, phone chargers. These went up all over Ukraine during Russia's winter campaign to destroy the energy infrastructure.
On to this shelter, late at night on March 24, an S-300 anti-aircraft missile fell, killing five civilians, the prosecutor's office said. Another missile landed nearby. The one-storey building was turned into a mound of rubble.
Just over a week later, on a sunny Sunday morning, and it happened again: rockets and missiles shattering the fragile peace in Kostiantynivka. Six people were killed and more than 10 injured. The Sunday Post arrived a few hours after the strike. Fresh craters, about a metre deep, marked the spots where the missiles fell, the blasts sending mud flying in all directions. It was spattered high on to the brick facades of the two 14-storey blocks of flats alongside the pits made by shrapnel.
Russia bombards illegally annexed Ukrainian areas from ground and air
Just past the police tape, a pool of blood on the muddy grass marked the spot where an elderly woman had been walking that morning. She was killed by the blast, a policeman said. Her black-framed glasses lay on the ground too, smudged with dirt and blood.
A small crowd was standing ­staring at the damage: at the exposed walls from which balconies have been ripped, the debris spilling from flat windows, random bits of carpet and bedding, torn clothing hanging in the bare tree branches.
Near one of the big, muddy craters was a little playground, and Viktoria, 54, was there with her grandchildren. She lives on the second floor of one of the five-storey blocks. "I'd just come out of the flat," she said, "and suddenly it's all incoming, explosions, fire."
Her daughter lives on the first floor, her son-in-law on the ground floor. She said: "We were sitting inside with the children and the ceiling just came down on our heads. It was terrifying."
Viktoria had a cut on her face from flying glass, which had been bandaged up. The kids escaped unharmed. But it could have been very different, she said. Just the day before they'd all sat here in the spring sunshine, celebrating her grandson's birthday. All the kids from the block had gathered to play together. She couldn't stop imagining if the missile had come then instead. They could all be dead.
Our conversation was interrupted by the roar of a chainsaw, as sheets of wood were cut up to cover the blown-out windows. With strikes such a common feature of life, the clean-up operation swings into action very quickly.
The authorities fight a daily battle trying to persuade people to evacuate from frontline places like Kostiantynivka. Many are reluctant: they don't know where to go, what support they'll have, or if they can find work in the West. It can seem easier just to hang on and hope for the best.
"But now we're thinking about it, of course," Viktoria said, looking at the destruction all around their home. "In this situation, yes. We have somewhere to stay overnight with friends, they rang and invited up. There are people who will help us."
The kids had gathered up the day's shrapnel into a little pile next to the climbing frame and slide; it looked so out of place, not what kids should be seeing.
A donated NHS ambulance stood in the courtyard, badly damaged in the strike. Inside one of the tower blocks, someone's blood was pooled on the tiled floor, dripping down the stairs to the basement. A few floors up Aleksandr, 46, was trying to clear the debris in his flat. The old, wooden-framed windows all blew in, covering the rooms with glass shards and dust. Both he and his 20-year-old daughter were out at the time of the strike, but he arrived soon after. "I saw that a person was lying dead, opposite that destroyed building," he said, indicating the blackened shell of a one-storey house across the courtyard. The blasts were strong enough to knock out the plaster fittings, and rip the flat's front door from its hinges.
Aleksandr showed how his large grey cats survived the strike, hiding in cardboard boxes. The windows will be boarded up today, but perhaps it's time to leave, he said. "Maybe I'd stay if it was just me, but I need to take my daughter to a quieter place. I'll think for a few days, and make a decision."
Despite the situation, he was able to laugh at the absurdity of Russia's actions. "I just don't understand them, to be honest," he shrugged. "They're freeing us from what, do they think? From normal life? No ambition is worth a single human life."
Svitlana Shelayeva, 59, told how she hid in the stair of her block that morning – "standing between thick walls, like we're taught". You don't have time to run to the basement when shrapnel is flying, she said. Her breathing was still ragged with shock and fear. The tablets she takes for nerves "work less and less", and her hands were trembling.
"I just don't understand how we can continue like this," said Svitlana. "It's like – peace but not peace. It's going to the market in the morning and quite possibly not coming back. But we have to eat, don't we?"
Like so many, her elderly mother is the reason Svitlana is staying put. The 83-year-old has "dug her heels in" and refuses to leave. "She just says: 'I was born here in 1940, I buried my parents here, I want to die here.' And I won't abandon her."
"And, if it gets worse?" I asked. Kostiantynivka is too close to Bakhmut; to the waves of Wagner conscripts grinding down Ukrainian defences. The advance is slow, but it's moving westward.
Svitlana sighed, nodding. "It will get worse." She referred to the role of towns like Kostiantynivka, standing in the path of the Russians who want to seize the key cities of Kramatorsk and Sloviansk. "We're a bulwark, a rampart," she acknowledged. If it comes to it, if the rampart falls – we'll run."
And her mother? "If I have to carry her out of here like a child, probably I will."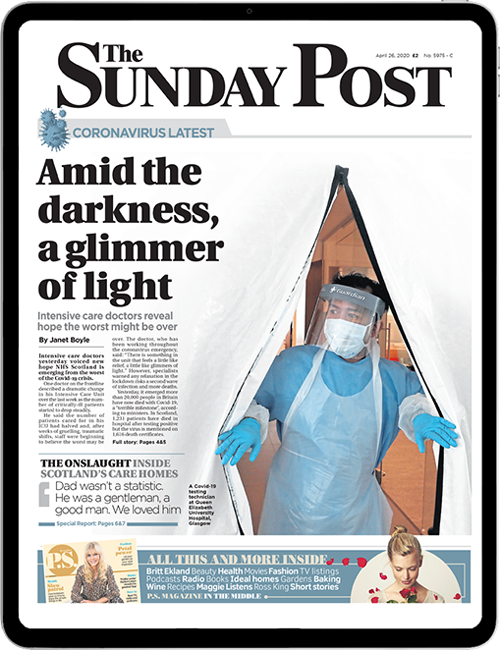 Enjoy the convenience of having The Sunday Post delivered as a digital ePaper straight to your smartphone, tablet or computer.
Subscribe for only £5.49 a month and enjoy all the benefits of the printed paper as a digital replica.
Subscribe