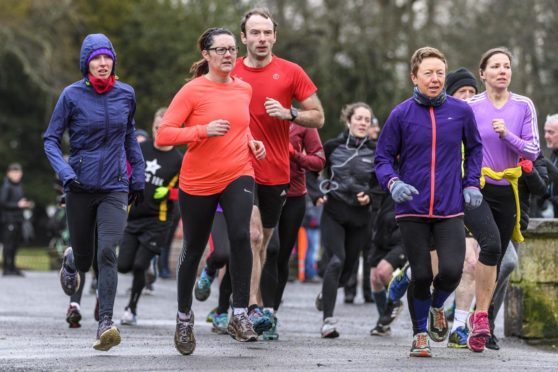 Many of us dusted off our running shoes and hit the streets or local parks during lockdown.
Armed with a Couch to 5k app and permission to go out for one piece of exercise a day, we managed to get ourselves into a little better shape – if the lockdown baking didn't immediately undo that.
But, as the nights draw in as we head into winter, it can be difficult to have the motivation to stick to it.
With temperatures starting to drop, retreating back to the couch is all too tempting.
To that end, scottishathletics have launched their #KeepOnRunning campaign, aimed at getting people who have taken a new interest in running to keep at it, and take it to the next level.
Colin Hutchison, the national body's head of development, said: "The aim is to direct new, or reengaged runners to their local running club or group.
"We want to build on the enthusiasm and enjoyment people have got from running over the past six months to give them further support to keep active."
Launched at the end of last month, around 60 athletics and jogging clubs across the country have already joined the campaign.
Many have already seen increased numbers keen on taking up memberships, with a mix of virtual and in-person events available.
"Keep On Running has gained significant traction on social media. Clubs and groups have already been receiving enquiries with some new runners already attending participating clubs and groups," Colin said.
"We want people, wherever they are in Scotland, to be able to access the campaign.
"To help us do this, we have a number of clubs and groups providing virtual services for runners so they can still participate in their local area, in their own time, whilst receiving support online.
"They have qualified coaches, leaders and programmes for all ability levels, including complete beginners, so it really is the perfect opportunity for anyone interested to keep on running.
"If someone is interested but doesn't feel comfortable attending a club or group just now, we are also providing some at home resources on our website for people to utilise."
scottishathletics hope to get more clubs involved in the campaign to allow people to keep building on progress they've made over the summer months.
Colin added: "The local promotion from participating clubs and groups will be key to the success of the campaign, so we are providing them with physical resources to promote themselves in their local communities, and resources that can be used to advertise their sessions online.
"We've also held an online information session with all the participating clubs and groups to enable them to share ideas and learn from what each other are doing."
---
"The club feels stronger than it ever has"
One of the clubs taking part in the #KeepOnRunning campaign is the Bellahouston Road Runners, based in Glasgow.
The group kicked off 2020 with an event marking their 20th anniversary, before coronavirus put many of their celebratory plans on hold.
But despite lockdown restrictions, the club has a huge waiting list and existing members have felt their community spirit strengthen.
"Although it's obviously been a horrible experience for everybody, the club feels stronger than it ever has, which is just remarkable," chairman Richard Leyton said.
"The club's done really well, almost counter-intuitively. Members seem to have come together in an enthusiastic way, there's a lot that's been going on virtually right through since we had to suspend training.
"A lot struggled by missing out on contact with friends so we were able to keep doing that, albeit virtually. The best thing was that it happened organically, it wasn't something I was trying to drive as club president."
Members took part in home workouts via Zoom, and various virtual challenges.
Now, as meetings are able to take place in line with restrictions, there's a large waiting list to join the club.
"Even before the campaign kicked off, we had people approaching us," Richard, 47, says. "In the absence of things like ParkRun, which are often next steps for people, groups like ours are very welcoming.
"Having people to run with makes a huge difference to the experience. The best thing to do when you start a new habit is to find someone to share it with.
"Once you've booked into a running session you feel obliged to do it and you're less likely to fall away from it.
"You also get the structure around your running. When you're in a club and you get coaches putting a structure together and you start running up and down hills or doing intervals and things, that really helps. You then start getting a sense of progress."
Richard, originally from Somerset, took up running in 2006 having just moved to Glasgow.
"Doing the Great Scottish Run was my target, and that got me through my first Glasgow winter. I knew that a second winter would be a hard ask to keep running, so I joined a club and never looked back.
"I love the sense of community. It's always been, for me, an important part of it, the people you get to know and the support you get. Likeminded people from all walks of life that seem to enjoy running around in parks and streets in all conditions.
"Some of the best runs you have are the ones you drag yourself out on when it's chucking it down and you wonder what you're doing! But then you meet up with people, have a natter and run through the grim winter nights of Glasgow."
---
"It's easy to sit by the fire and watch telly"
Angus Gallie, president of Linlithgow Athletic Club, has also been pleased to see people signing up.
Due to the pandemic, the group had to cancel their annual 10k and fun run event, which normally attracts over 1000 people.
But throughout lockdown they've managed to adjust and hope to be able to help people keep up their new found love of running throughout the winter.
Angus said: "We've usually got quite a big programme of events going on, and during lockdown we've had to adjust all that, but we've very much kept ourselves alive and kicking and not gone into hibernation. In actual fact, we've increased our membership for both seniors and juniors.
"We've been on the go for 40 years so have a lot of things well established. In lockdown we started out by putting up training plans for people to do themselves, and maybe some people have come through that. We've also had virtual races, where people go out and time themselves over a course. Some of that's been open to non-members too."
The group are preparing to put together a winter programme, including pacing runs, their Let's Go Linlithgow jogging group, and programmes to form next steps from completing Couch to 5k.
"Lockdown's certainly not stopped us, we've not sat on our hands," Angus, 64, said.
"One of the things we started up last year was winter paced runs, where we go round the streets of Linlithgow under the street lights and we were getting about 40 people turning up to that. That's the sort of pace you'd be at after Couch to 5k.
"We're trying to organise that so it fits in with the guidelines. It's about getting folk to maintain their motivation during the winter and getting out there. It's very difficult to motivate yourself in the winter but with company it's much better."
Angus reckons having the social commitment to join up with your running buddies will make people more likely to stick with it.
"It's easy to sit by the fire and watch the telly but if everyone's out, you fell you'd better go along too," he laughed. "It makes a big difference I think, especially in winter.
"I started off as a cyclist but then took up running in the marathon craze. I've been doing a combination for 50 years! I can still run, still trying to compete with the young guys. As long as you can do it, do it. One day you might not be able to."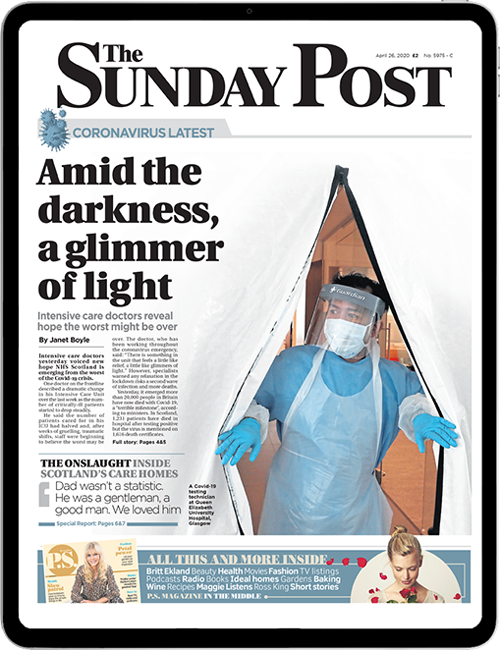 Enjoy the convenience of having The Sunday Post delivered as a digital ePaper straight to your smartphone, tablet or computer.
Subscribe for only £5.49 a month and enjoy all the benefits of the printed paper as a digital replica.
Subscribe