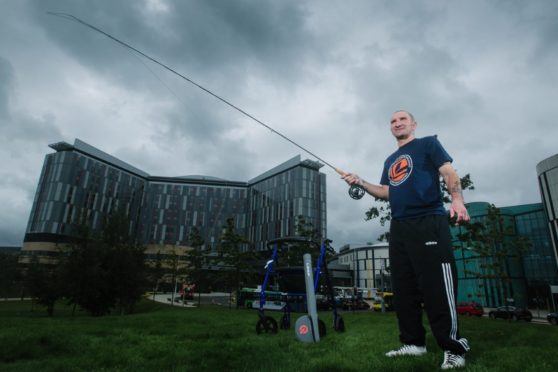 A keen angler who ­suffered a serious ­spinal injury is undergoing unusual therapy to help him recover – ­casting with a fishing rod ­outside his hospital.
Robbie Bell had an ­accident two months ago as he cycled back to his home at Vatisker, on the Isle of Lewis, after meeting friends.
The 44-year-old labourer was rushed to hospital in Stornoway then flown by air ambulance to the Queen Elizabeth National Spinal Unit in Glasgow for specialist tests and treatment.
"When I came round from the fall I could feel nothing from my neck down," Robbie said. "I was told there was a possibility I would never walk again. The whole experience was terrifying."
Robbie said he thinks he hit a stone in the road, which threw him off balance. "I was out cold for about five minutes and I was fortunate that, when I woke up and shouted for help, my friends who I had just left heard me and came to my assistance. Things could have been a lot worse…it was after 10 o'clock at night and it was dark."
As Robbie began to recover slowly at the spinal centre, he said the thought of one day returning to his beloved fishing kept him going.
"I have had a few near-death experiences before when I worked as a trawlerman," he said. "I have been tipped into the sea, been in a sinking boat and had to climb into life rafts, but nothing has been as frightening as this.
"I was told I might not be able to move again properly but I set a target for myself to be back out on the water fishing before the end of the salmon season in October."
Swedish fishing tackle company Loop heard about Robbie's plight, and Loop team member and radio producer Christina Mackay recalled hearing of a charity called Casting For Recovery, which helps women and men with breast cancer recuperate by fly-fishing.
Casting For Recovery hosts retreats for patients where they learn the sport from professional guides, to aid their mental and physical well-being. "I thought this technique might help Robbie, so we got in touch with him to ask if he would like a new rod to practice casting with," Christina said. "Robbie is well known in fishing circles, as is his passion for the sport."
Loop arranged to have a 9ft fly rod delivered to Robbie's ward. "The nurses are great and they help carry my fishing stuff outside, so I have started calling them my ghillies," Robbie quipped. "I also get some very strange looks from passing motorists who must be wondering who this man is who seems to be fishing outside the hospital."
Hospital staff say they are impressed with Robbie's determination to fight his way back from his condition, which is known as Incomplete Tetraplegia.
Susan Gilhespie, specialist physiotherapist at the spinal injuries unit, said: "The important thing was that Robbie came to us quickly and this has helped him a lot. We were unsure what the outcome would be but he has made amazing progress very quickly."
Occupational therapist Amanda Howit is working closely with Robbie throughout his recovery. She said the arrival of the fishing rod has given him an added incentive. "What is important is that the action of casting is important to him," she said. "Just as helpful has been learning how to put the rod, line and reel together.
"This requires some tricky touches, which helps with his grip and finger movements."
Robbie is now using a Zimmer frame to slowly get around and wears a neck brace, but he practises casting with the rod as often as he can in the hospital gardens.
"Just a few weeks ago I thought I might never walk again," said Robbie, "but I am due to get home in a couple of weeks and the thought of getting back out on the river before the salmon season finishes is driving me on."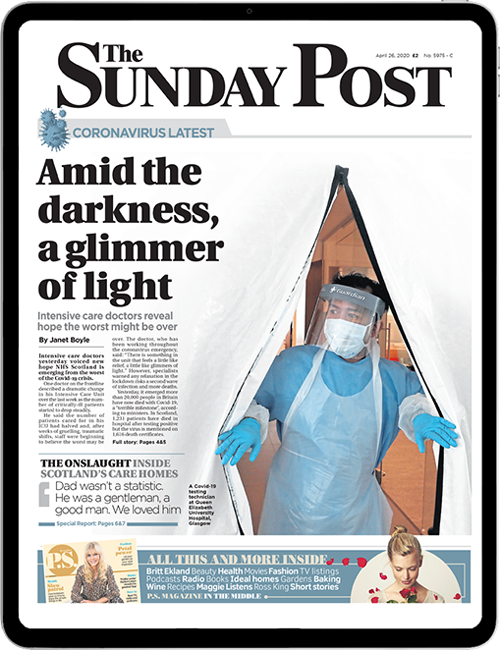 Enjoy the convenience of having The Sunday Post delivered as a digital ePaper straight to your smartphone, tablet or computer.
Subscribe for only £5.49 a month and enjoy all the benefits of the printed paper as a digital replica.
Subscribe