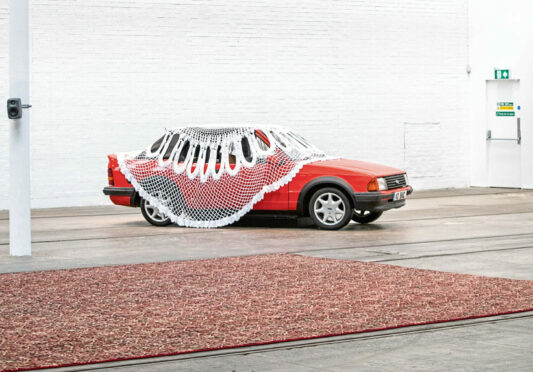 A red Ford Escort Mk3 Cabriolet XR3i draped in a giant crocheted doily, old family photographs dotted with bits of roti flatbread dyed orange by Irn-Bru and a perspex sky over a giant Axminster carpet.
These are just a few of the meaningful objects peppering Jasleen Kaur's first major solo exhibition in a public gallery.
For Alter Altar, Kaur has filled Tramway's main gallery, an old tram shed in Glasgow's Southside, with carefully crafted sounds and visuals.
The idea, according to Kaur, born in 1986 in Pollokshields, is to create a temporary space for people to gather.
When I meet Kaur in Tramway on the day the show opened last week, it was hard to hear ourselves as her voice soared around the gallery via a series of speakers, only to be succeeded by a booming bass from the Ford Escort's boot.
In this temporary temple, Kaur has recorded herself improvising with practices from her Sikh upbringing, mixing it with political pop, Sufi Islamic devotional music and the sound of colonial instruments.
Her work simultaneously "conceals and reveals", she says, and walking into the space is an immersive experience. "I pull this from all sorts of places," she says. "Images, sounds and materials all gather in my studio and gradually it all comes together,"
There are many layers in Kaur's work. The perspex sky – based on a photograph of the sky over Pollok Park in Glasgow – is a heavenly metaphor. Among the clouds are items important to her own personal history; political leaflets, newspaper cuttings, scarves, tracksuits, mass-produced imagery of Sikh martyrs and even dangly car air fresheners.
Kaur studied jewellery and metalwork at the Glasgow School of Art and admits there is "very much a maker element to this exhibition". It all knits in with her upbringing as a second generation immigrant.
There's also a playfulness to experiencing Alter Altar. The red Ford Escort draped in a giant white doily has been turned into a big boom box and riffs on the idea of Kaur's father's first car, not to mention his "migrant desires". Red Escort dreams. So hard to beat…
Alter Altar runs until October 8
---
An exhibition showcasing work by 30 artists now living in Europe whose lives have been impacted by displacement and migration has opened at Edinburgh Printmakers.
The show is the culmination of a three year Creative Europe funded project hosted by five printmaking studios on the fringes of Europe. Together, they have hosted artists on month-long residencies.
Artists came from Ukraine, Syria, Iran, Yemen, Turkey, Somalia, Sudan, Iraq to create new work for this thoughtful exhibition in a beautiful setting.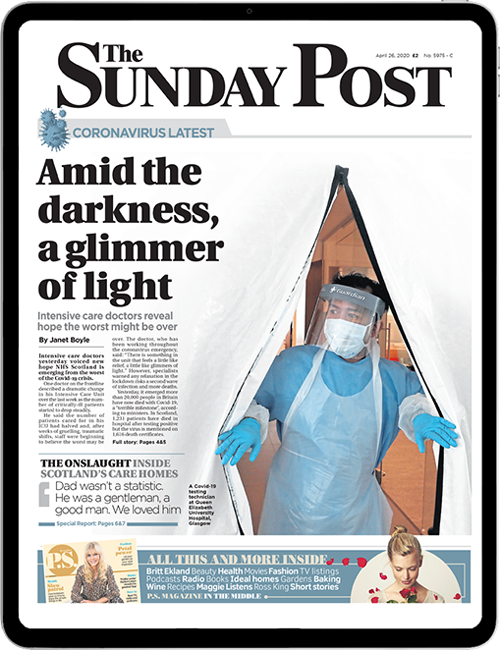 Enjoy the convenience of having The Sunday Post delivered as a digital ePaper straight to your smartphone, tablet or computer.
Subscribe for only £5.49 a month and enjoy all the benefits of the printed paper as a digital replica.
Subscribe