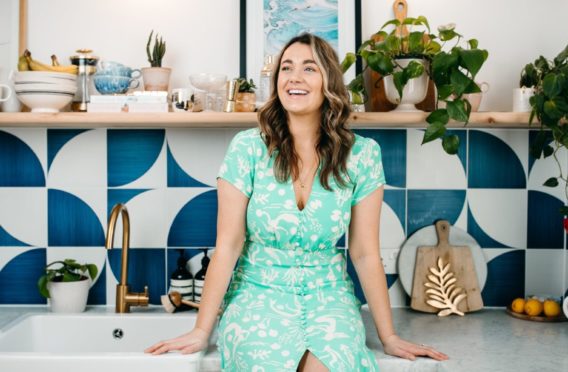 They say home is where the heart is. And Kate Spiers couldn't agree more, especially over the past year.
Like the rest of us, restrictions have meant the Scotland's Home Of The Year judge has spent more time indoors in the past 12 months than ever before.
And the Instagram sensation is thanking her lucky stars she pushed on with her own painstaking renovation project in spite of the pandemic – so she at least has a nice house to look at.
"It's certainly been a labour of love, but I love my new home," the 30-year-old said. "For me, home is a happy place, somewhere you want to be and always want to come back to. It's a lovely space to enjoy – and we have certainly been doing that lately, as we haven't been able to go anywhere else!"
Kate, who boasts 295,000 followers on Instagram, 148,000 on YouTube and 313,000 on Pinterest, turned lifestyle blogger long before it was popular.
More than a decade ago, she started posting pictures of her outfits and advice on how to do beauty on a budget. She only "fell into" interiors by accident.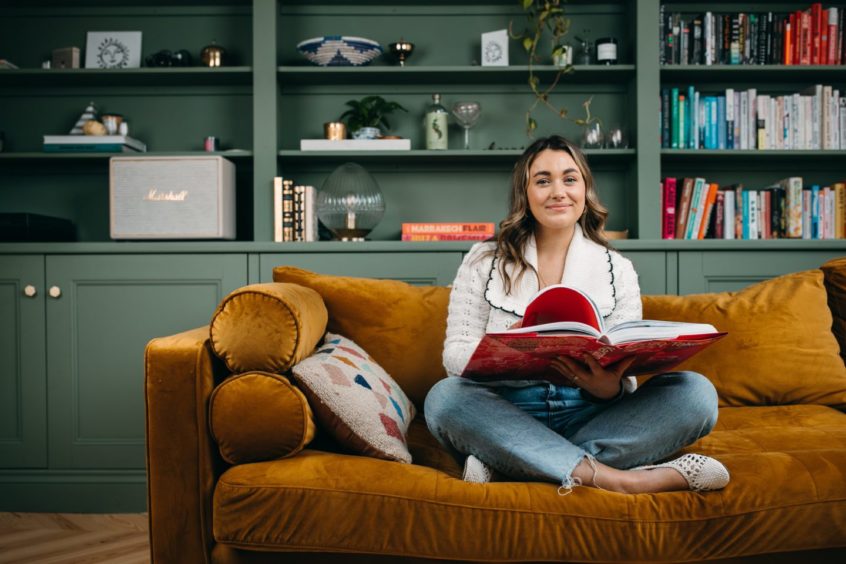 "I'm not quite sure where my passion for interiors comes from," said Kate. "It was never something I was crazy about as a youngster. I began blogging at 19. Then I started sharing renovation pics of our old flat. I got so many questions about it that I ended up falling into interiors. Now it's just my niche. I have my own style and I think it is just I know what I like and what I don't like. I know what works.
"And it seems to be popular because people love seeing my home."
Kate is adored by her fans, not only for the photos showcasing her stunning flat on Glasgow's south side she shares with husband Jordan and cute cats Babyman and Mouse, but also for her transparency. From down days during lockdown to grief from the loss of her mum Lois to motor neurone disease a few years ago, Kate is an open book on social media and her blog, Kate La Vie.
"It's important to talk about these things," she said. "Some Instagram accounts are just full of highlights, but the truth is that can get people down. I'm quite honest. It's important to show that, while my life may be aspirational, it isn't unattainable. And there are downsides too. It has been pretty tough this last year with the pandemic, and it was hard for me in the run-up to Mother's Day. After my mum died, I had grief counselling and found it really helpful. I definitely struggle with it but I'm close to my dad and my brother, which definitely helps.
"I post about these things, but I always say to followers that if my content doesn't make them happy, they should unfollow me."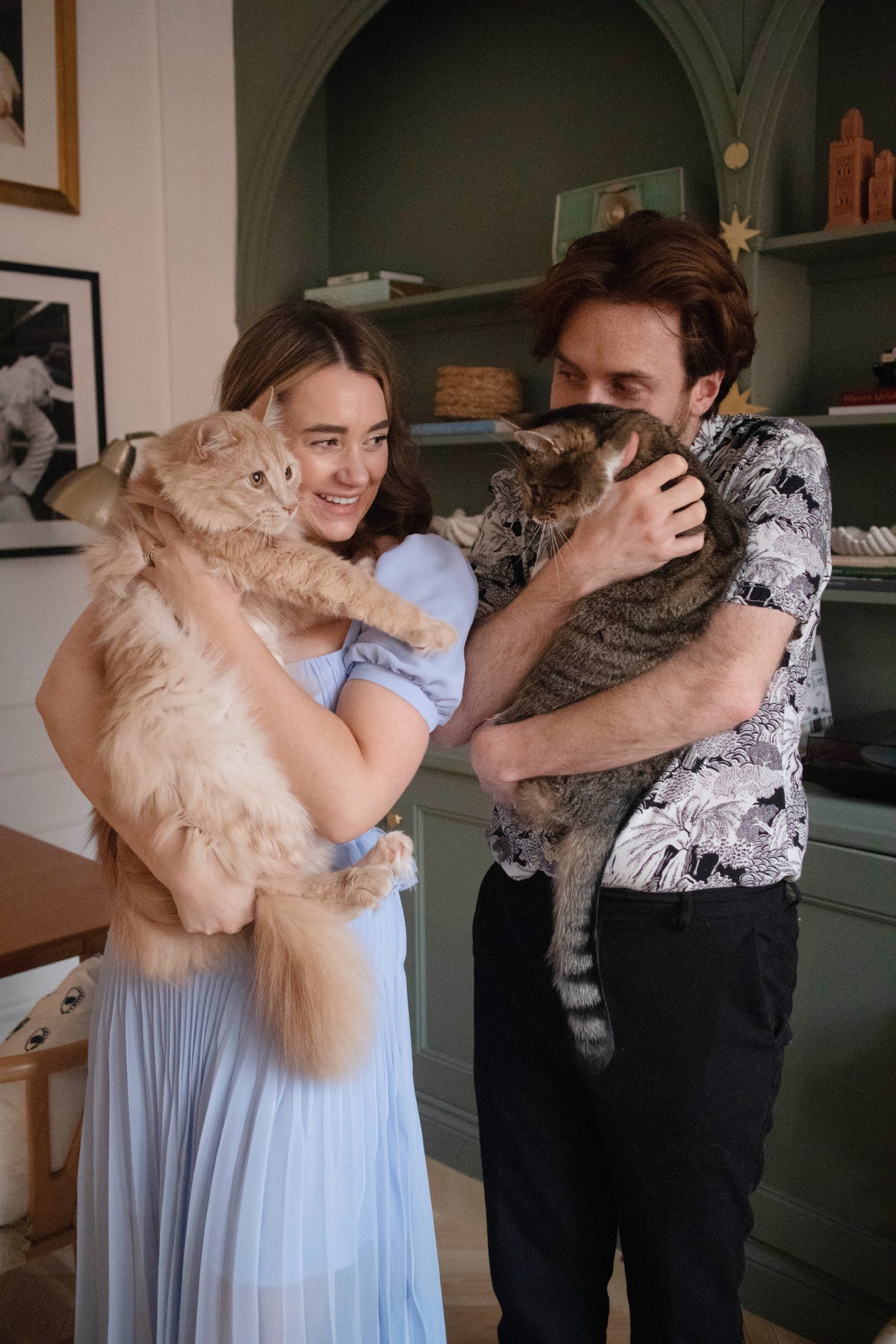 A huge number of Kate's loyal followers have been with her since she was a teenager so they've grown up together. "It's funny," she said, "because as I have grown, my audience have grown with me. Like getting married and buying their first home…now we're all obsessed with interiors!"
Kate will grace our screens again next month in the third series of Scotland's Home Of The Year, joining interior designer Anna Campbell-Jones and architect Michael Angus on a tour of some of the nation's most stunning homes. From traditional farmhouses to contemporary new-builds, the trio rate the properties on functionality, distinctiveness and clever design, eventually crowning their favourite at the end of the 10-episode run.
"It certainly was a tough contest this year," said Kate. "It was even so close between the finalists. People will be buzzing by the end."
The show has grown in popularity, accelerated by lockdown. Last year's show saw double the viewers of the first series and over 1million download requests on iPlayer, making it the second most watched programme on the BBC Scotland channel. Kate admits she is happy but surprised by the success of her first foray into TV. "When I took on the job, I just thought it was going to be a little side, a one-off, but it has become this massive thing," she said. "I just can't believe it. The reaction has been incredible."
Kiwi Kate, who moved from New Zealand to Aberdeenshire when she was 10 due to her dad's work in the oil industry, added: "We filmed the new series in September. We got lucky because the restrictions opened up for that little window.
"Of course there were a lot of restrictions. We couldn't be in groups, we had to have Covid tests every few days and our temperature checked a couple of times every day. I mean, we couldn't be taking Covid round the country with us.
"But we formed a little bubble, the three of us. It was certainly a very different experience than usual. But we had been in our homes for months, so we were just excited about getting out, and to see some of Scotland.
"Touring Scotland has been amazing. I've been to places like Harris and Shetland – the kind of places you always say you want to visit but never quite get there. And the homes have just been incredible. The special thing this year is that there's a real variation, a really diverse mix, from dark extravagant builds to small, charming cottages."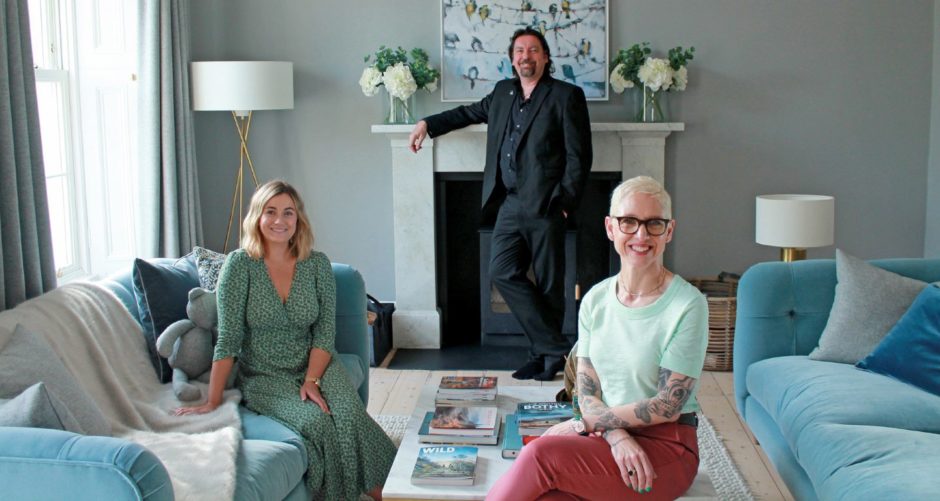 Since doing the show, Kate says her blog has attracted a more mature set of followers. "In the last few years, I have felt this shift with my audience. Before, it was mainly women from 24 to 35, but I now seem to be reaching the 35 to 45 age group too – and they're so lovely.
"I always find it strange because Anna has been working in interiors longer than I have been alive. She's just incredible. She has so much knowledge. Whereas I have come in completely uneducated and fell into it – and have this big audience."
Creating a stunning abode has been a grind at times for Kate and barista Jordan. The couple have had a busy lockdown, ripping out the old tenement and starting again from scratch.
"We were just starting to get into the proper renovation towards the end of 2019 but by the time we got started lockdown hit," she said. "It was a bit of a struggle. In the beginning, our tradesmen couldn't come into the house, we couldn't get supplies, everything had shut down. But we managed to move in in July and just live out of one room and by that time, we could start. Of course, with a renovation, there are always hurdles to overcome…it's always more expensive and takes longer than you planned.
"We renovated our first flat but that was about seven years ago, and we just did it as we went along and it was basic.This time round we were able to save up and have the money to what we wanted."
Kate says part of her success is due to people's innate love of having a nosy behind closed doors. "I'm obsessed with Rightmove," she laughs. "I look at the houses on it every day. I just like to see what people are doing with their homes.
"Our home is fantastic and we absolutely love it, but I don't think it's our forever home. I would live in a flat forever if I could, but my husband wants a house with a garden so I think eventually we will move. But, for the time being, it makes us happy – and it's where we have spent all our time of late.
"Before the pandemic, I would travel quite a lot. Probably three times a month. But for the last year, this has been our happy place."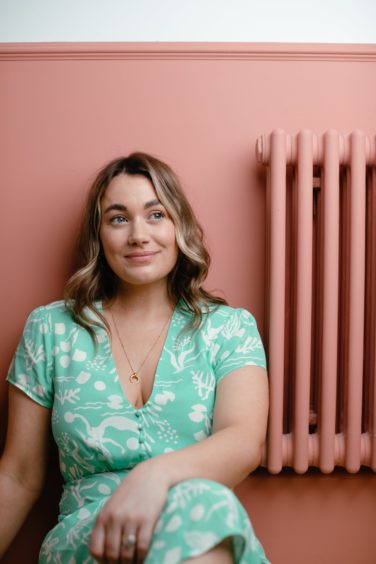 For Kate, it's the personal touches that make a house a home.
"Having your personal possessions out on display as well as flowers, plants – and art. I like to walk around a home and get a feel for who lives there, so that's a big thing for me. For us, there's lots of vinyl because my husband loves music – and for me, who loves to read, it's shelves full of books."
But when posting photos of her home every day, how does Kate keep on top of the mess?
She sais: "I have lots of storage and obviously I clear up before taking any photos to post, but I like a little bit of mess. I'm certainly not a minimalist. I like everything out on display.
"It's great how people are taking inspiration and just doing their own thing, playing around and having fun with it. "
---
Kate's flat is big on colour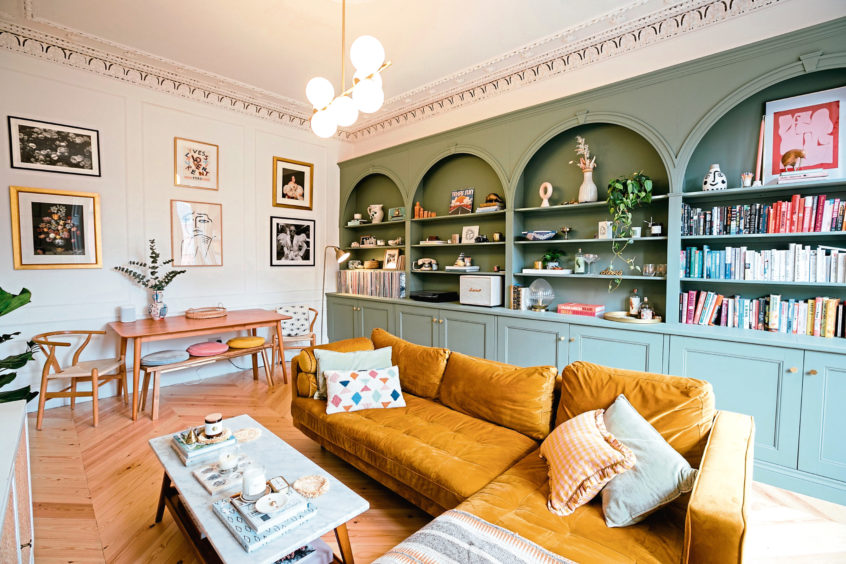 From the gorgeous green shelving taking up a full living-room wall, to the pretty, pink-tiled bathroom and cool kitchen with tremendous terracotta walls, every bit of Kate's Glasgow flat is worthy of an Instagram post.
"We've gone big on colour, so there's pinks and blues and greens," said Kate. "Our bathroom and spare room are pink – but Jordan doesn't mind. He grew up with three sisters! He's pretty chilled and trusts me when it comes to décor.
"I can be indecisive so always narrow it down to two then get him to make the final choice. That's my secret."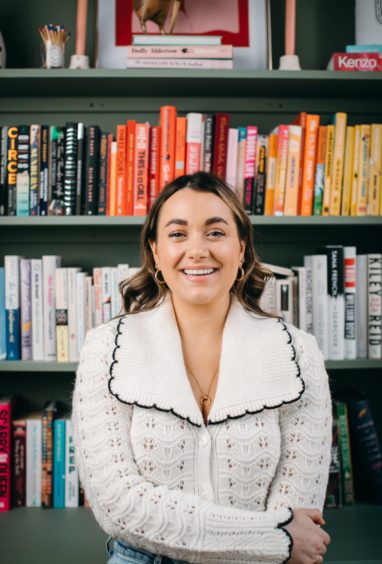 The couple really had to compromise when it came to the kitchen, due to Covid closures.
"We wanted custom-made units but the place was closed, so we went with the cheapest Ikea kitchen, as it was the only place open," Kate revealed.
"I'm really pleased with how it turned out. The layout is a bit iffy, but that's the thing with tenements… they aren't built for a modern kitchen.
"In tenements you need to keep the style with the era of the building, so we added panelling and dado rails and radiator covers. But they're definitely having a moment.
"People are loving that Victorian era."
---
Scotland's Home Of The Year, Wednesday, April 7, BBC Scotland, 8pm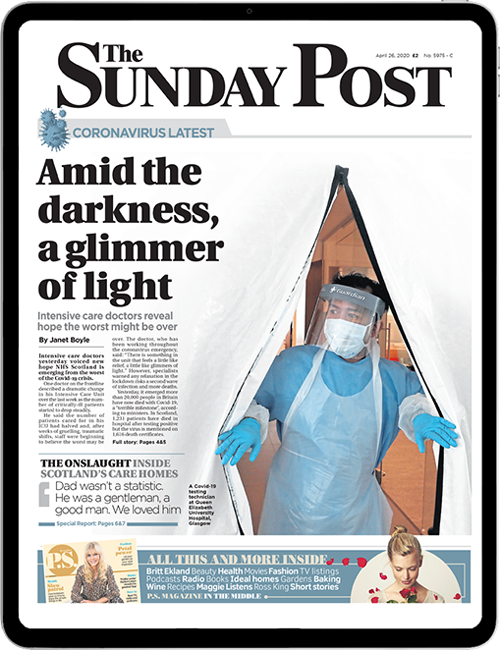 Enjoy the convenience of having The Sunday Post delivered as a digital ePaper straight to your smartphone, tablet or computer.
Subscribe for only £5.49 a month and enjoy all the benefits of the printed paper as a digital replica.
Subscribe