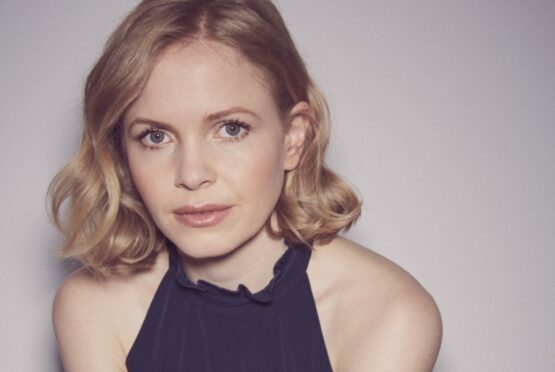 Kate Phillips was still a student when she successfully auditioned for a major role in the BBC's big-budget adaptation of Wolf Hall.
Playing Jane Seymour in the 2015 mini-series was the 33-year-old's first professional job and it began an incredible run of parts in high-profile period dramas on the big and small screen.
She has become the go-to actor for period TV shows and films, but she still isn't sure quite why.
Her CV includes being in the first season of The Crown as Winston Churchill's young secretary Venetia Scott, playing Linda Shelby in the final three series of Peaky Blinders, and portraying Princess Mary in the first Downton Abbey movie.
She also appeared opposite Keira Knightley and Martin Compston in post-Second World War movie The Aftermath, as poet Hester Gatty with Jack Lowden in the recently released Benediction, in mini-series War & Peace and in Netflix's series about the birth of modern football, The Beautiful Game.
She said: "I don't really know how it happened but I feel very fortunate to be allowed to have done a lot of that work. They can be put under the umbrella of period drama, but they are all very different and from different periods, too, so they require different energy and tone and it's felt very varied.
"There is a lot of period drama being made but you never know as an actor why you are cast in something and why you aren't – sometimes it's good not to think about it and to just keep putting myself up for parts."
It was that positive attitude that led to her auditioning for Wolf Hall while she was in third year at Guildford School of Music and Drama.
It was, incredibly, her first audition. "Third year is your showcase year, when you hope people will come to see you in plays and I was very lucky to be put up for the Wolf Hall role and I couldn't believe I got it," she said. "The school was happy for me to leave early, and I had an amazing experience.
"I think I was lucky the part was of a nervous woman, and I just leaned into that!
"I remember Peter Kosminksy, the director, announcing to the crew on my first day that I had never shot before, or even been on a film set before, and I received a round of applause. I thought it was so generous of him and I then felt I had permission to be a bit rubbish, and that made me feel better.
"I still get nervous on the first day of a new job, because it's new people, a different energy, different skills and challenges, and you never know what you'll be faced with, and I think that's true of anything where you need to have a first day, but obviously your first ever day is something you will always remember."
Phillips had studied theatre at Leeds University prior to being accepted at Guildhall as she searched for a career in the arts without thinking she could ever be an actor.
She said: "We moved around a lot and I found a lot of comfort when I arrived at a new school by opting to do school plays. I also did classes outside of school. The rehearsal room felt like a safe place – there's something unique about being in that space with other people. Suddenly you're all the same and invited to play. It was a really precious space – one I'd always seek out.
"But I didn't think I'd be an actor because I just didn't know how to be one. I went to university to study theatre hoping to find a profession that excited me within the industry, but it became clear that I just wanted to act. I did a lot of plays while I was there, which made me happy, so I made it my business to get into the industry. It took me a couple of years, and I didn't get in the first time, but eventually I arrived at a school that I loved.
"It's a very competitive world and even if you are lucky enough to be accepted into drama school, it is still a long climb."
It was a hike to the top that Phillips appeared to make with relative ease, with an eye-catching role in Peaky Blinders as part of that journey. The series, about a Birmingham crime gang operating in the aftermath of the First World War, recently concluded after a sixth season.
She said: "The journey Peaky went on, it felt like it took off at season three, which is where I entered, so just going on that journey with the show is something I'm so grateful for because it's a rare thing in an acting career to be part of a show that captures so many people's imaginations.
"As for my character, Linda, I would not have seen her becoming a drug addict in season five, but it was awesome to play. You relish the chance to play characters who are really flawed and to be given permission to do things you don't do in your own life."
Last month saw the cinema release of Benediction, the story of First World War poet Siegfried Sassoon, played by Jack Lowden. Phillips, who played Sassoon's wife and fellow poet, Hester Gatty, described it as a "gorgeous experience working with him, having crossed paths on a couple of shows but never being on set together" until Benediction.
This week sees her back on the small screen as the second series of Miss Scarlet And The Duke begins. Set in Victorian England, Phillips plays Eliza Scarlet, who finds herself in a man's world when she becomes the era's first female detective, taking over her father's agency when he passes away and leaves her penniless. She strikes up a partnership with a detective known as The Duke, played by Stuart Martin, from Ayr, and together they investigate crimes in 1882 London.
It was the first job Phillips didn't need to audition for, approached to play the strong-willed character early on in the process.
She added: "It was a novel experience for me and hasn't happened before or since. I was approached a year before we started making it, which made me feel very much a part of it, and trusted. I couldn't quite believe it when the offer landed in my inbox.
"Neither myself nor Stuart had read for the part by the time it came to our read-through, so there was this nervous moment when we thought, 'What if they don't like what we do?' It was a shot in the dark."
Thankfully for everyone involved, they had the necessary chemistry and the first series was a success when it aired here and on its American network. The announcement of a second series was a happy moment for Phillips, albeit commencement on the new episodes was delayed by Covid – but not by quite as much as they might have been had producers not found a way to film in Serbia.
"We shot the first season in Dublin and we did very little filming in the studio; it was mostly done on location in these beautiful houses we had access to," explained Phillips. "So when we found this amazing studio in Serbia that was going to help us make the second series, there was a huge amount of work involved. It was all done in their studio, but it was quite extraordinary because it was just like being in Dublin.
"You would walk on to these sets and it was as if we'd been transported across Europe within a second. They built a number of different London streets for us to shoot on. The amount of preparation that went into creating this world was something else. The minds that came up with it all are amazing. It was absolutely stunning what they did.
"We were all really thrilled to get a second series, because we all loved making it the first time and it feels like the sort of show that could run and run. It felt like there was so much more we could tap into with the characters and I think there is a richer, more emotional depth, in season two.
"Eliza has a lot of strength and will, she's wily and has good instincts, and she's the kind of character who is very good at sparring with people."
Campaign calls for change
Kate Phillips is a member of Era 50:50, an organisation set up to see women represented on screen, television and theatre in equal numbers to men.
Research has shown that men outnumber women two to one in acting roles on our screens, and Era 50:50 is campaigning to change that.
"When I first went along, I wasn't fully aware of what Era 50:50 was doing, but they would meet every Tuesday morning at the National Theatre's café, and so I timidly went along one day to show my support and find out more," explained Peaky Blinders star Phillips. "Immediately I was swept into the full movement.
"I really admired what these women were trying to achieve and it feels essential for everyone in the industry.
"What they are asking for is equal visibility of men and women on screen, which has an impact on little girls and boys in a really important way. When you look at it like that it feels like it has to happen, so I got very fired up and felt like I needed to help, and I was part of a visual campaign and a launch at Bafta.
"It's one thing to get people excited in the moment but you have to sustain that level of change, so that is the challenge and it is one we need to keep talking about and keep the discussions going."
---
Miss Scarlet And The Duke, Alibi, Tuesday, 9pm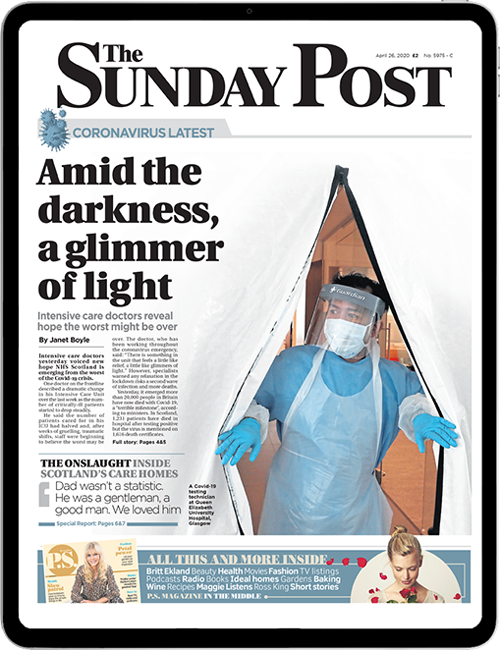 Enjoy the convenience of having The Sunday Post delivered as a digital ePaper straight to your smartphone, tablet or computer.
Subscribe for only £5.49 a month and enjoy all the benefits of the printed paper as a digital replica.
Subscribe