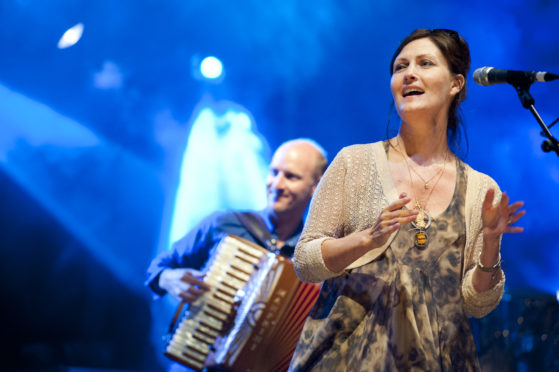 Karen Matheson reckons Scotland's folk music scene has become a lot cooler over the years – although it means she and her Capercaillie bandmates now feel rather old.
The group, who have been fusing folk, Celtic and Gaelic sounds together for over 35 years, share the bill this weekend at an event to celebrate Belhaven's 300th birthday with the likes of young stars Tide Lines.
"We feel old enough to be their grandparents," Karen laughs. "It's really cool to see them getting such recognition, and it's fantastic to see all these young people dancing around and getting a buzz out of it.
"When we started doing it there wasn't anything like the energy or enthusiasm or respect for it."
Also on the bill are the likes of Elephant Sessions, Assynt and Kinnaris Quintet. Talisk, Breadbach and Niteworks are also playing, as well as the legendary Dougie MacLean.
"Celtic music has had such a resurgence," Karen says. "It's gone through many permutations in the time we've been in it and it's just been such an exciting journey that we're lucky to be part of.
"Donald [Shaw], my husband and bandmate, tells a tale about taking his accordion to Oban High School and being completely laughed out for doing so.
"Now it's pretty cool if you play an instrument – maybe not an accordion!
"Other musicians have helped there because they've given it the thumbs up in other genres of music, whereas in the past it was maybe frowned up and people thought it was just really dreary. Now it's considered cool and respected by other genres too."
Starting out in music as a teenager alongside Donald, Karen puts the incredible longevity of the band down to a general mutual respect between its members – and a "good dod of luck".
"We're very fortunate to be able to do this for a living, it's a sheer joy," she says.
"There are hurdles in every band's life and it's like a marriage – if you manage to get through the rocky bits then you're in a different mindset.
"I do think we all really respect each other musically. We have taken time out at various times over that 35 year period where we've all gone off and done individual projects.
"I think that's very healthy too, so that you develop individually as well as as a unit. I think we had the good fortune to be able to do that as well.
"There have been points where things have been tough. I'd be lying if I said otherwise. But we always managed to see the other side. It's probably a lot of luck and respect."
We've been doing this as a career for over 35 years so I don't know anything else! Every so often we have a laugh and say 'ok, maybe it's time to go and sell shoes'.
Capercaillie have played gigs around the globe, and Karen never ceases to be amazed by the fact that their sound gets a reaction in all corners of the world.
"It's very organic, and for the most part it's acoustic, even if you've got drums and bass you've always got fiddles and something that people can connect with, something very soulful that's danceable," she explains.
"It's also got sad laments where people are drawn into something they maybe don't understand linguistically but they can buy into it because of the emotion of it.
"We've played from Brazil to Iraq and we always get a positive reaction."
The band are soon playing a festival in Madrid and are just back from gigs in Brittany and Shrewsbury.
Karen says: "It's generally festivals that keep us going. The last album we made when we celebrated our 30th anniversary we thought would be the last. But there's still maybe another album – never say never! As long as we're still enjoying it then there's no reason to stop."
Sir Sean's seal of approval
Among Capercaillie's famous fans is a certain Sir Sean Connery.
He was once quoted describing Karen's voice as "a throat that is surely touched by God".
And it's a quote that's stuck with Karen throughout her career.
"The record label at the time threw that around because it was such a lovely quote to have," she recalls.
"It always comes back to haunt me but obviously it's always good to have something and Sean Connery – what better, a cool dude!'
---
Belhaven's 300th Birthday Bash, Belhaven Brewery, Dunbar, September 21, More info at Belhaven.co.uk/Birthday-Bash