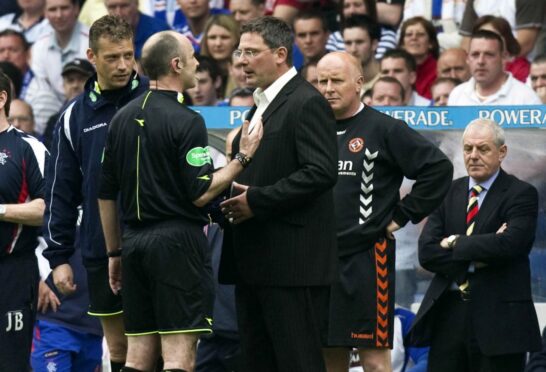 Craig Levein is a man with a sense of humour.
Why else would the former Scotland manager have agreed to a half-time penalty shoot-out against Dick Campbell at Brechin City's friendly with Arbroath yesterday?
Yet as much as he was laughing when he delivered the line last week, he was being serious when he claimed on BBC Sportsound that the Old Firm could have cause to regret the imminent arrival of VAR.
Questioned on the comment, he made it clear he felt referees had, up until now, been swayed by home crowds at Ibrox and Celtic Park.
They were, he said, only human, and the overwhelming majorities at the grounds were lobbying for decisions in favour of Rangers and Celtic respectively.
That made a difference, he believed, and it was the opposition teams who suffered as a consequence.
Levein's views will come as no real surprise to anyone with knowledge of his back catalogue.
When manager of Hearts in 2018, he ranted about an "abysmal" performance from Bobby Madden, claiming he had been Rangers' 12th man in the visitors' win at Tynecastle.
That earned him a one-game touchline ban, with another match suspended.
A full decade earlier, he earned himself a £5,000 fine from the SFA when in charge of Dundee United for accusing Mike McCurry of bias, again after a game against Rangers.
What is interesting about his VAR suggestion is his notion that the Old Firm stand to lose from the introduction of an improvement they both pushed for.
Clubs will always look after their own interests, and to imagine that Scotland's two powerhouses would knowingly pursue something that would cost them a sporting edge makes no sense.
Certainly, they believe the extra help for referees at the top level will make the game fairer in this country and, through doing so, enhance its reputation.
Statistics that show that VAR can raise the percentage of correct decisions made from 94 to 99, tells you that much is true.
Equally, however, they also expect that increased level of fairness will benefit their own sides.
That will apply not only in big moments where millions of pounds can hinge on the outcome of one specific decision.
It should also be the case in the more mundane matches throughout the season.
Why? Because both clubs spend much more money on transfer fees and players' wages than the opposition they are playing against.
They want the playing field to be as level as possible. Provided that is, that they should then win.
That is not just hyperbole, but fact.
Rangers captured the title in 2020-21 with an "invincible" league run, winning all 19 of their home games.
In 2016-17, Brendan Rodgers' first season in charge, Celtic had an "invincible" season that encompassed the entire domestic campaign.
While those were outstanding efforts, both rivals will head into every campaign believing they have the capability and opportunity to dominate.
They will, of course, be aware that the other may well prevent them doing so. Yet at the same time, as Monty Python's classic sketch reminds us: "Nobody expects the Spanish Inquisition".
The game's governing bodies argue that Scotland's delay in making use of the technology has allowed the game to learn the lessons from England, where it has been in operation in the Premier League since 2019-20.
Handily, that time lapse also means there are already plenty of statistics to guide us as to the likely impact.
So far, they point to an increase in the number of goals and the number of penalties, with the big clubs not noticeably favoured by the decisions.
You would suspect it might be a different story in Scotland, where it is not uncommon for Rangers and Celtic to enjoy more than 80% possession in games.
If they are doing the majority of the attacking in those matches, common sense tells you attacks are likely to be the source of the majority of VAR calls.
And here is where there could be an interesting twist on Levein's observation about referees only being human.
When you have already given one – or even two – penalties against a team, it takes a strong character, indeed, to pile on the misery by then awarding a second or a third.
When that decision is made from a remote hub situated somewhere along the M8, the potential for a little bit of on-field compassion to be exercised is removed.
In the coming year, Rangers and Celtic will almost certainly both benefit and lose out from VAR calls in Premiership fixtures – just as they have done in European campaigns.
However, if their wins and goals tally are boosted through more forensic analysis of their disputed calls, then it will be they who have last laugh – not Craig Levein.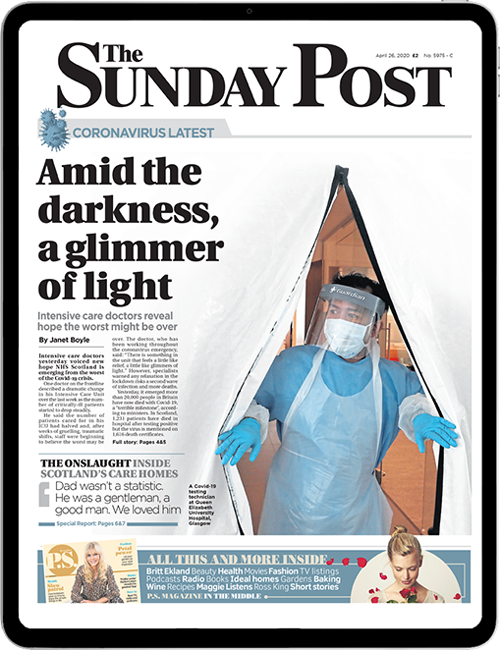 Enjoy the convenience of having The Sunday Post delivered as a digital ePaper straight to your smartphone, tablet or computer.
Subscribe for only £5.49 a month and enjoy all the benefits of the printed paper as a digital replica.
Subscribe