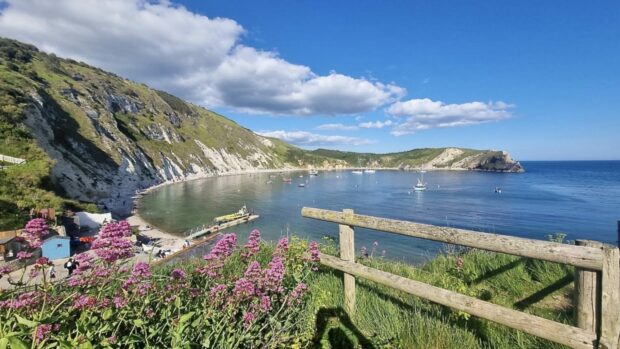 Planning an early-summer mini-break on the south coast of England had me laughing to myself whenever I shared the destination with friends.
I'd enthusiastically declare: "I'm off to walk Jurassic Park."
It just tripped easily off the tongue. They'd look puzzled. The penny would drop. I'd correct myself: "I mean the Jurassic Coast."
It was easy to mix up the pair, with both laying rightful claims to be labelled true visual blockbusters – one on the silver screen and the other a spectacular coastline that for more than 20 years has been a Unesco World Heritage Site.
What differentiates them is that the movie took a couple of years to make and is less than three hours long while the coastline bearing the name took at least 185 million years to form and is 95 miles long.
But, aside from its age, what makes the Jurassic Coast so special?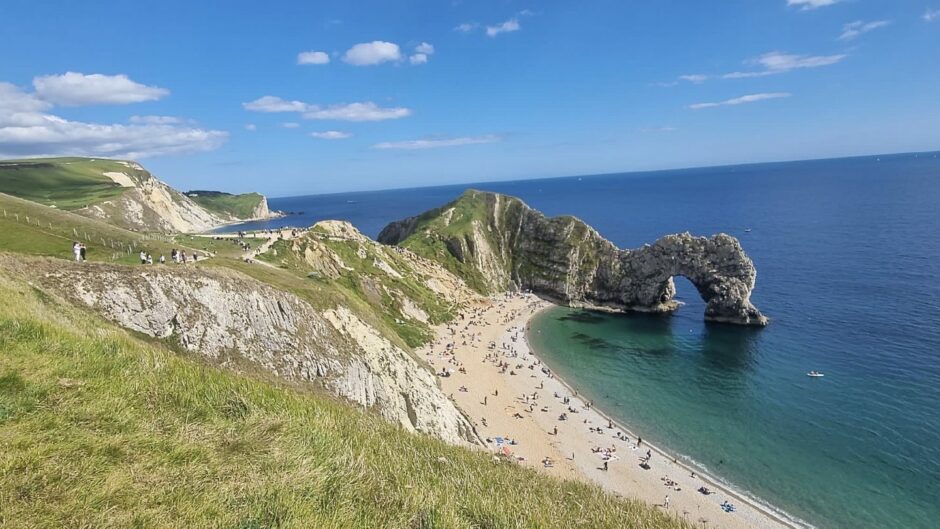 It showcases no fewer than three geological key time periods called the Triassic, Jurassic and Cretaceous.
Those three time periods of Earth history collectively make up the Mesozoic Era, running from about 250 to 65 million years ago. Rocks that offer an almost complete record of that entire time are spread out along the Jurassic Coast, a bit like pages of a book. Local tourist chiefs sum it up as "a walk through time"…and I can't disagree with them.
Visitors to the Jurassic Coast – stretching from Orcombe Point in Devon's Exmouth to Old Harry Rocks near Swanage in Dorset – get the opportunity to see a landscape showcasing the remarkable rocks that record millions of years of the Earth's evolution.
What's worth bearing in mind is that, with natural erosion, chunks of that evolutionary-important coastline may simply vanish in 50 to 100 years.
So, there was no time to waste as we headed off to Poole in Dorset, the base for our Jurassic Coast adventure.
Poole is a pretty, coastal town steeped in maritime history. It's what I'd call easily walkable. Our self-catering apartment there was aptly called Ammonite – after the shelled ocean-dwelling creature that died out some 60 million years back. Along the Jurassic Coast many fossils are discovered each year, with fossilised ammonites making up much of that prehistoric treasure haul.
Our first destination was to Old Harry Rocks. We drove from Poole to Swanage and, with my best walking shoes on, headed up to Handfast Point on the Isle of Purbeck.
An easily accessible, pretty climb took us to the point to see the three giant chalk formations that mark the most eastern point of the Jurassic Coast. Blessed with a sun-kissed day, our viewpoint was enhanced by the clear, blue skies and azure-coloured sea.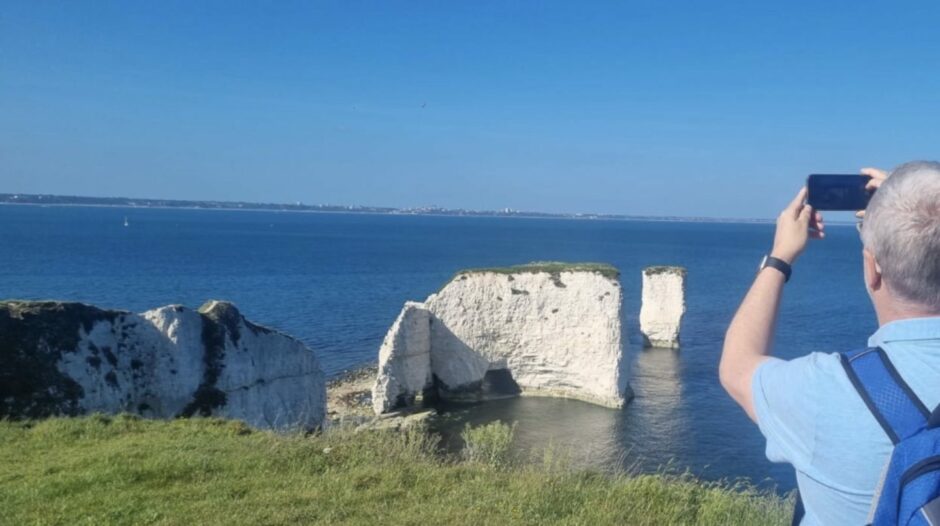 By my research, I reckon you can easily spend a week or longer exploring the Jurassic Coast. If stunning views, wonderful walks and cute villages with thatched cottages tick your boxes then it's a must. You could also opt to walk the entire 95-mile stretch – taking between six and nine days, depending on your stamina level!
But, as we were on a mini-break, we zoomed in on one of the coastline's other must-see points.
Durdle Door earns the accolade of being the most famous stone arch on Earth, created when the sea pierced the Portland limestone 10,000 years ago. It's important as it shows where, many moons ago, an older coastline existed further south.
Hugely popular viewpoints are high above it or beachside. Both are worth seeing. The little beach areas are lapped by the clearest of seas and, had my swim shorts been packed in my rucksack, I could have been tempted!
Visit Durdle Door and you also get the chance to see the super impressive Lulworth Cove, which sits just a few minutes' walk away.
The oyster-shaped cove is a photographer's paradise with the crystal-clear waters and panoramic views leaving us well impressed.
Lulworth Cove comes under the apt heading of "quaint village", with many stunning traditional cottages, several thatch-roofed.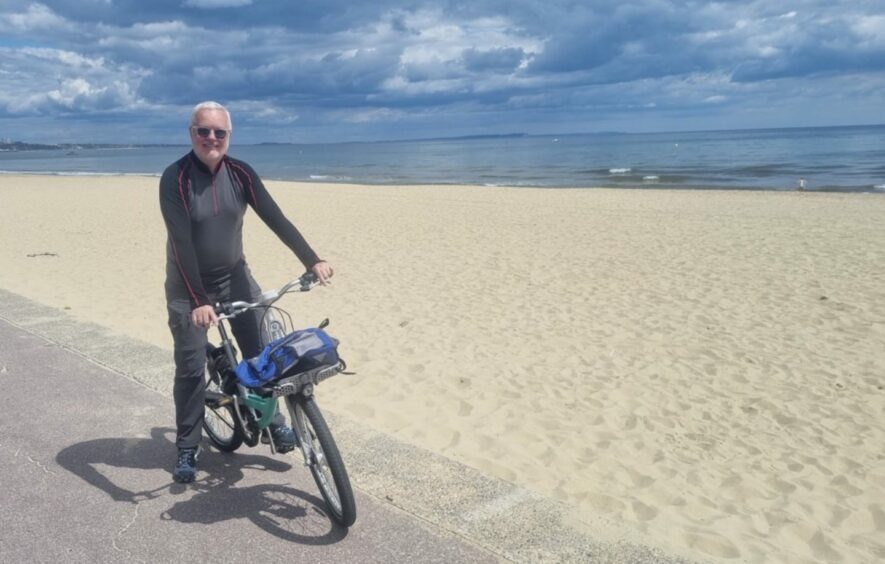 During our time in the area, we took a sneak peek at nearby Lulworth Castle, once an 18th-Century hunting lodge. Destroyed by a fire in 1929, it's partially restored and features a beautiful 18th-Century chapel with an amazing ceiling mural.
Because we stayed in Poole, we decided to cycle from there to Bournemouth, taking in Sandbanks Beach, famed for holding the Blue Flag "best beach" award for 35 years thanks to its fine golden sand and sparkling clean waters.
We hired Beryl Bikes – operated by the local council – to complete the 15-mile round-trip. Most of it was on cycle tracks – all of it offered impressive seaside views.
The Jurassic Coast was certainly a new addition to my travel destination portfolio but one that impressed, and its picturesque panoramic views were certainly worth seeing.
---
P.S. The Jurassic Coast earned its World Heritage Site status in 2001, putting it on a par with the Grand Canyon and the Barrier Reef. Prince Charles unveiled a five-metre obelisk marking the western end.
---
Factfile
Peter Samson drove to and from Dorset, spending four nights in the area, booking the Ammonite apartment via booking.com.
For walking tour info visit maximumadventure.com and macsadventure.com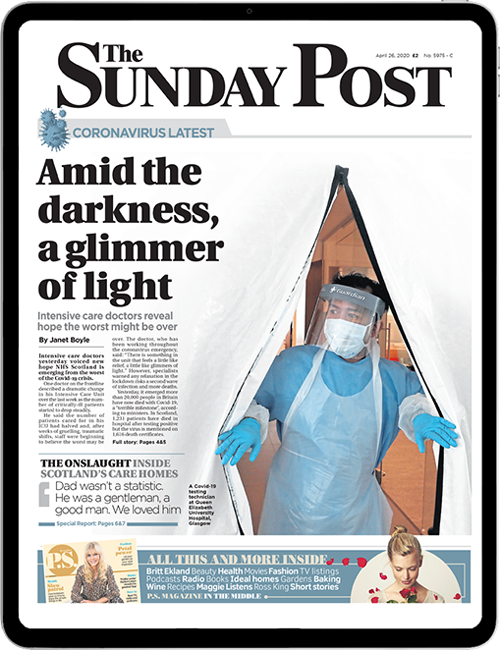 Enjoy the convenience of having The Sunday Post delivered as a digital ePaper straight to your smartphone, tablet or computer.
Subscribe for only £5.49 a month and enjoy all the benefits of the printed paper as a digital replica.
Subscribe