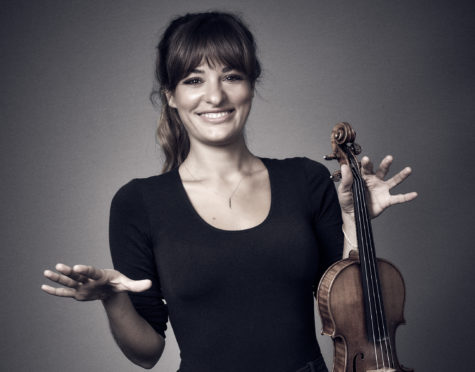 Reality shows may dominate the TV schedules and millions of viewers have spent months obsessing over the romantic entanglements of Love Island.
When they come out, the Islanders will get their 15 minutes of fame and doubtless enjoy lucrative endorsements.
Many others have found a brief place in the public consciousness through nothing more than simply being seen on TV.
But Scots violinist Nicola Benedetti, who has honed her remarkable talent since the age of four and delighted audiences around the world, insists celebrity and being famous just doesn't register on her radar.
"I have no feeling about it at all," Nicola, 31, tells P.S.
"My intention and drive has nothing to do with being well known.
"If that was my goal, I'd be proud of it, but it's just a by-product of what I happen to do.
"I've never tried to blow up this celebrity thing. I think the notion of what a celebrity is now is utterly ridiculous.
"Really, what are we celebrating these people for?
"Yet they will have 'fans' screaming for them. It's a load of rubbish.
"For me, a sense of achievement comes from having worked really hard on something and put myself through hardship. Then I can have a better night's sleep and be proud of myself.
"But even then I'm always looking for more and hoping for better."
West Kilbride-born Nicola is back in the public eye this month with the release of her new album, Wynton Marsalis' Violin Concerto And Fiddle Dance Suite.
It features two works written especially for her by the acclaimed jazz musician and Nicola says she couldn't wait to work with him after seeing a concert that made her heart soar.
"I went to see a performance of a piece he wrote for symphony orchestra and jazz bands and there were 120 musicians on stage," said Nicola.
"It was so uplifting. A lot of classical music can be powerful and some can be joyous, but you don't often get that feeling of wanting to break out of your seat. He did that and I left thinking, 'This guy has to write a violin concerto'. I spent the next two years convincing him to do so.
"Everything I've ever done that's out of my comfort zone is very personal. This is another one of those things where I've gotten to know and love a person."
Nicola spent the latter part of last month performing with the San Francisco Symphony Youth Orchestra and is at the Cheltenham Music Festival on Friday.
While she could be endlessly travelling, playing and recording all around the world, Nicola admits she'd love to reach a stage where she could be more free with her time and not be on a constant schedule.
"It really bothers me and I don't like it," she says as we catch up with her on a visit back to Glasgow from her London home.
"Anyone who is freelance wants to know they have a lot of work, that's just normal.
"But sometimes you feel like you're tied to a certain trajectory.
"I can be terrible for being asked to do things and not being able to make up my mind.
"I always procrastinate and deal with the mountain of things I have to do now and when I say I want to do it much later they tell me I can't take six months to decide."
In the past she's confessed that hour after hour of rehearsal was her "bread and butter", but she has learned to cut back on the constant studying and honing of her craft.
"There is no longer a guilt that I do something just because I think I should.
"I have great stamina and if I have something new to learn I can practice ten hours a day.
"But when it comes to regurgitating old things I know already, I'm far better at practicing smart and that frees up so much more time to do other things."
One of those other things is the not-so-small of setting up the Benedetti Foundation.
Nicola has spent half of her life involved in educational projects and has worked with more than 2,000 pupils and 500 teachers in the past year alone.
Now she wants to formalise that with the Foundation and have a series of orchestra-based weekend workshops.
It's just one of the big changes in her life. Asked how she's different now she's in her 30s, the words that spring to her mind are "open, humble, confident and aware".
"I realise now that the more I know, the more I don't know," she says thoughtfully.
"I have more time and space for other people's opinions and having confidence is very different to arrogance."
Although she had a violin in her hands before most children even start school, Nicola says her passion for her multi-million pound Stradivarius has grown, not waned, over the decades.
"The violin brings me much more joy now as I'm more relaxed and I play it better.
"It's an awkward instrument to play and I've been physically very uncomfortable. It's taken a long time to find a physical oneness with it. I'm closer to that now."
While many of us relax by putting on a bit of music around the house or in the car, it's such a massive part of Nicola's life that it's often not what she turns to.
"I like silence actually," says Nicola, who split from her long-term cellist boyfriend Leonard Elschenbroich in 2017.
"I'm too captivated by music, I'm always paying attention to it when I put it on.
"So I just like to have nothing playing and just cook, clean and take care of my home. That's a luxury for me. I'm on my own quite often and occasionally the TV will come out but I have to be so careful.
"I won't start a Netflix series if I think there's any danger of getting hooked. My sister lent me her password and the first thing I came across was Making A Murderer.
"I started watching late at night and I'd seen the whole thing by 10 in the morning. That's how little discipline I have."
Nicola was made a CBE in the New Year's Honours List. The honour was presented by the Prince Of Wales but Nicola has had encounters with the Queen, one in particular which she'll always cherish.
"I was receiving the Queen's Medal for Music and it was quite extraordinary. It was a one-on-one meeting where you're pretty much at Buckingham Palace alone.
"There was a lengthy conversation with the Queen. I was so excited, I wasn't nervous at all. She's so funny and astute, she's not scary at all."
With the clock ticking and a schedule to keep, a taxi was waiting, but being back in Scotland still brings joy to her heart.
"I always feel a sense of homecoming," she says a she heads off to the airport.
"I love it to bits."
---
Nicola Benedetti: Wynton Marsalis Violin Concerto & Fiddle Dance Suite, out on Friday