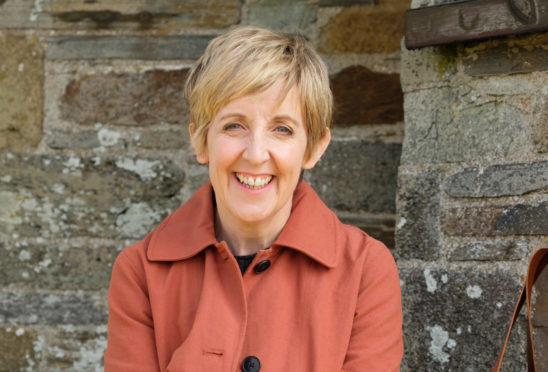 For years, Julie Hesmondhalgh has spoken on behalf of others.
Being an actor reading a script, that's part and parcel of the job, of course.
The talented Lancastrian earned plaudits for portraying Hayley in Coronation Street for 16 years before taking on pivotal roles in iconic series Broadchurch and Happy Valley.
Beyond the witty and heartfelt performances she seems to deliver effortlessly, though, Julie's work often has a point. There is, typically, an underlying cause there.
Whether it's Britain's first transgender soap character, or a middle-aged sexual assault survivor in Broadchurch, her characters and their storylines often have a point to make.
Even when she's getting chased by aliens with Time Lords.
"Even my episode of Doctor Who was about Amazon-style working and the roboticisation of work," she laughed.
"These sorts of roles seem to follow me around, but that suits me fine.
"I like it when my job involves politics with a small p, and roles where the writer has something to say about the world. That's the sort of stuff that I like.
"It's constantly a privilege to do things that you would choose to watch.
"But I don't always have to be representing somebody."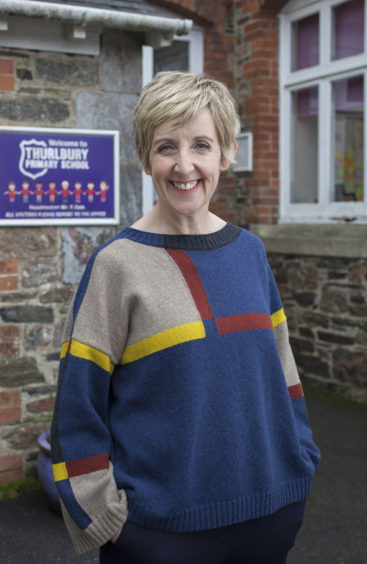 Perhaps that's why she's chosen her latest project, The Trouble With Maggie Cole, alongside comedy icon Dawn French.
There are few similarities with this role and her one in, say, Broadchurch, apart from the picturesque seaside setting.
Choosing the project wasn't so much about doing less important roles as it was working with the programme's star.
"It was something different to what I've normally done and, to be honest, it was the people involved that made the decision for me," she explained.
"Obviously I've been a massive Dawn French fan for most of my life so to get the opportunity to work with her, Vicki Pepperdine and Mark Heap – these are comedy gods to me.
"It's not a knockabout comedy – it's not Catastrophe – I thought it would be good to be involved in something a little bit lighter.
"I seem to have been associated, even though I've done Catastrophe and Inside No 9, with some really gritty, hardcore stuff.
"So it was nice to do something a bit lighter with people I admired.
"Although it can be worrying to work with people you admire for such a long time. In case they're a***holes, ha-ha!"
It's difficult to believe Julie wouldn't get on with anyone, though. She is reportedly popular among her cast-mates and is known for her generous performances where she allows other to shine.
Her performances as Hayley in Coronation Street is where she earned the reputation, and it's a role she may always be identified with.
Her work in highlighting issues faced by the trans community was lauded but in recent years the atmosphere around these issues has changed, with controversy over things such as the Gender Recognition Act.
Julie says she wouldn't play Hayley now – roles like that should ideally be performed by trans actors, she believes – but she is proud to consider herself a trans ally.
"I feel there's been a real backlash against the progress that's been made when it comes to trans issues, and I understand the nuances of the arguments in the Gender Recognition Act and respect the need for conversations about safe spaces and what that means for everyone," she said.
"Women's refuges have been supporting trans women for years as survivors of domestic violence.
"People talk about male privilege when it comes to trans people. I have seen, firsthand, the lives and difficulties these people have had and to suggest they have privilege over me? I don't agree with that."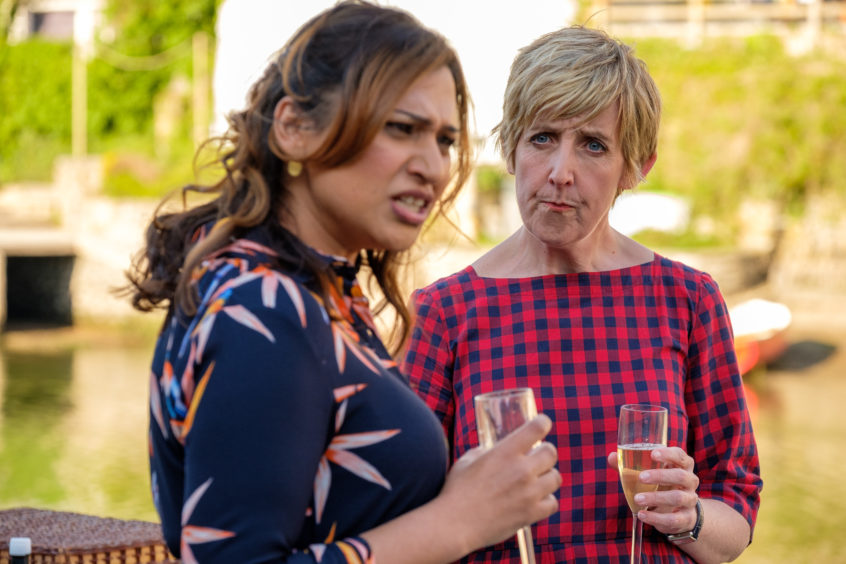 Julie speaks, in her warm Lancastrian tones, with compassion about the issue and that humanity is what she wants to see reintroduced into discussions about trans issues.
"Sometimes I feel kindness, understanding and empathy has been removed from the way we look at trans people," she added. "It's just got so nasty now. The reason Hayley made so much of an impact was a mass audience was getting to know and live with her and care for her. And that's how you get rid of prejudice – by getting to know someone.
"I have always been and will continue to be a trans ally. I have represented that community for a long time. I have been embraced by them and I stand by them."
In The Trouble With Maggie Cole, Julie plays Dawn's slightly dowdy, single friend. Despite being a change of pace, it's another role which eschews glamour. She is not and never has been, she says, a starlet.
The pressure over being judged about her looks isn't something she has escaped, however. Playing a middle-aged woman on Broadchurch with short hair did spark an internal crisis of sorts.
"I'm a woman, and we're constantly held up against some arbitrary standard of beauty," she added.
"And I'm not immune to that. I had to have some really big conversations with myself around Broadchurch because I knew it was a really, really good thing that they'd cast me in that role.
"It sent out a clear message that rape and sexual assault could happen to anyone, that it's not an act of desire.
"The fact it happened to an 'ordinary' woman made that point really clear, but I was nervous about people's reaction to that. It was a sort of internalised misogyny on my part that I got caught up in being worried if someone wanted to rape me. I wasn't just worried about that as a person but as an actor who knows how things would be consumed, I was worried about how it would be seen in the wider world.
"I had to give myself a really stern talking-to. And it is hard seeing yourself on screen when it doesn't match up to what you think you look like.
"But I feel that women – and this is borne out by successful programmes which are female-led – want to see programmes with people that look like them."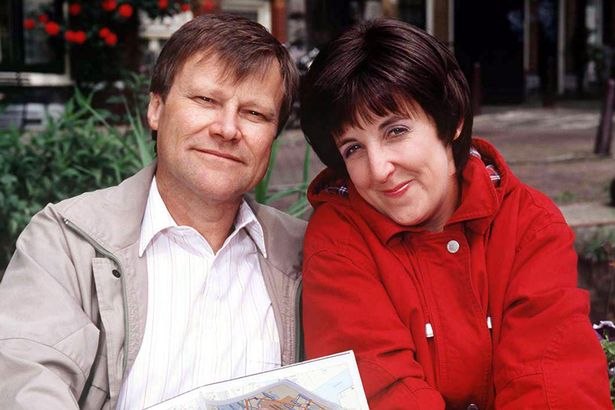 Julie feels lucky about her career, especially as she was told in her 20s to forget about taking on roles earmarked for more traditionally beautiful young women.
"People said I would have to wait to middle age to work because I was a character actor," she added.
"So I was so lucky to get Hayley to carry me through those 16 years. It would have probably been very hard for me to get many parts back then because I wasn't a starlet. I came out of Corrie at just the right time – I emerged a fully-fledged, genuinely middle-aged woman…as opposed to a 27-year-old, playing a middle-aged woman, like I was on Corrie!"
Looking back on Maggie Cole, Julie says she'd love to do more series, especially as it would give her a chance to work with Dawn French again.
Their chemistry is evident and Julie beams when she talks about working with her.
"When she does comedy she's quite sort of broad and has a persona of being daft, but in person she's very witty," she said. "I'm very proud to be able to call her a friend. That was probably the best bit about working on Maggie Cole.
"We're kind of in each other's lives now. Even me saying that now is like…wow! This is more than I could have wished for in my wildest dreams when I was growing up, or even in Corrie."
---
Dawn and Julie are heavenly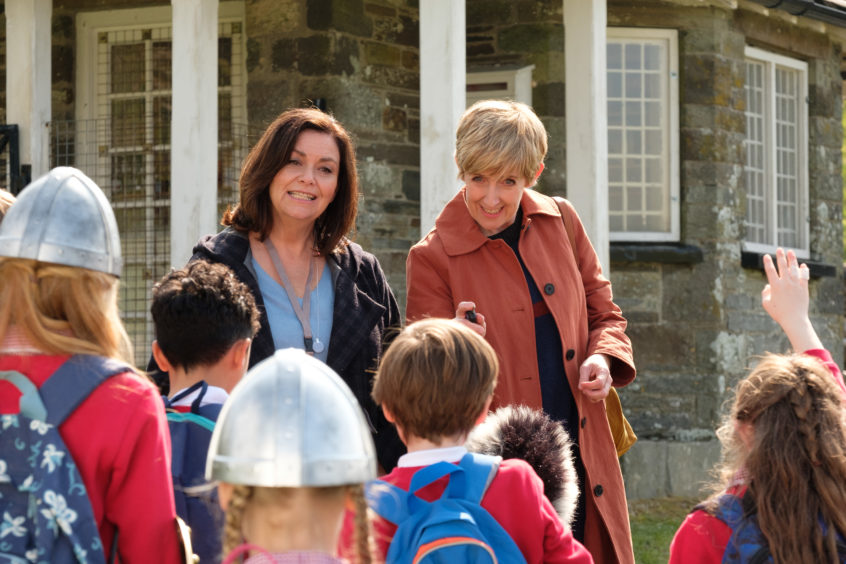 Teaming Dawn French with Julie Hesmondhalgh is a casting match made in heaven.
"That's the good thing about this trade actually," said Dawn when asked about the former Coronation Street star.
"At moments like this these worlds can collide.
"You've admired somebody from afar and thought, 'I love that actress. I'm sure they'd be great. I like their politics. I like their attitude. I like everything that they've done. I'm sure I'd like that person'.
"Then you need to find a best friend for a part and you think, 'Oh, God, wouldn't it be great if it was her?'
"I was really chuffed when she said yes."
The Trouble With Maggie Cole sees both characters fall out over comments made in a radio interview.
For Dawn, forgiveness is becoming a lost art.
"I can be just like anyone else and be quick to condemn," she said.
"But we all know in our hearts that there is no future to anything unless you can forgive.
"It's just some things are harder to forgive than others.
"Very personal things are very hard to forgive. Being misrepresented can feel very closely akin to bullying.
"That's the feeling of being helpless and needy, and all the things you hope you aren't ordinarily."
---
The Trouble with Maggie Cole starts Wednesday March 4, ITV, 9pm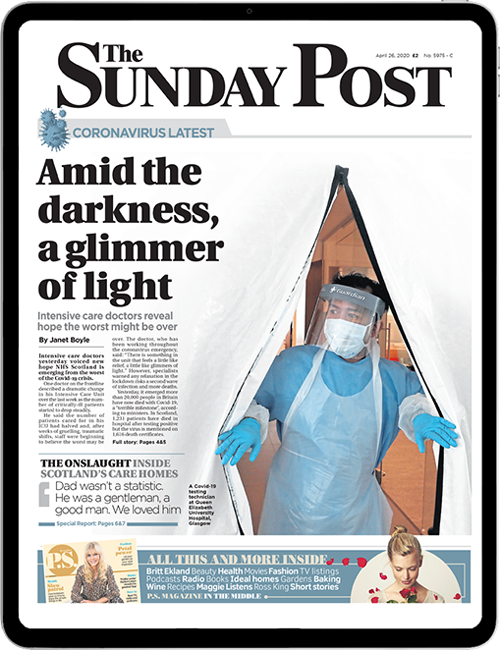 Enjoy the convenience of having The Sunday Post delivered as a digital ePaper straight to your smartphone, tablet or computer.
Subscribe for only £5.49 a month and enjoy all the benefits of the printed paper as a digital replica.
Subscribe