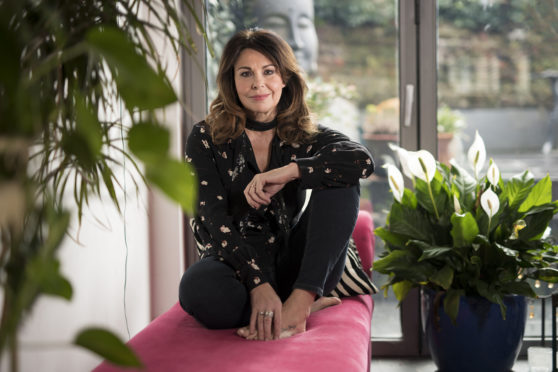 It had bothered her for years, so when lockdown came along it gave Julie Graham the opportunity to do something about it – to address the way menopausal women are portrayed on our screens.
The Shetland, Bletchley Circle and Benidorm star has written a nine-part comedy series, completely filmed, produced and released during the past three months.
It tackles head-on a subject that for many used to be taboo – and that Julie says is still hugely understated on stage and screen today. "That is one of the reasons I wrote it," said the 54-year-old from Irvine.
"When I was going through menopause I didn't often see it being reflected in TV, film or theatre. Any time it was, usually the character was the butt of a joke or a figure of ridicule, written by a male writer.
"I got fed up with it. This is a demographic that is huge but very under-represented. We are half the population and if you live long enough you will go through it, so I decided it was time to shine a spotlight on it and comedy is a great way to put a point across without sounding educational or preachy.
"I also wanted to create parts for older women. I've been lucky with work but for a lot of women actors my age the work does tail off to an extent. I heard myself moaning too many times about there not being enough jobs for older women, so I decided to shut up and write something."
Mum-of-two Julie had been playing around with the idea in conjunction with a production company for a year, with a view to knocking it into shape and approaching broadcasters with the concept when ready.
But, when lockdown happened, Julie's producer decided there was no time like the present and said they should film it themselves – now. "He felt it was a waste of time downing tools and sitting around when we could be doing something proactive, so he came up with the mad idea of me writing nine 10-minute episodes and filming in lockdown.
"We had three great producers and I'd first worked with the director, Robin Sheppard, 20 years ago on At Home With The Braithwaites, so I really trusted her. She got the floor plans of everyone's houses, had camera equipment delivered to our homes, then sent us idiot boards explaining what to do – where to stand and where to put the camera.
"It was quite daunting at first, but my kids and Davy, my husband, helped and it became a cottage industry by the end."
Julie assembled an impressive cast to star in the online drama, called Dun Breedin', alongside her, including Denise Welch, Tamzin Outhwaite and Angela Griffin. "The cast are all my mates," Julie continued. "I thought of who I wanted, rang them up and they immediately said yes. I was so chuffed, because it was a mad experiment and they were putting their necks on the line to an extent, trusting I'd come up with the goods.
"I'd only written about three episodes when we started filming, and then wrote it as we went along, so it was a huge leap of faith for them.
"We decided we didn't want to set it in lockdown, because we felt people had enough of that, so it was fun to come up with solutions, like an actor on the side of a door in their house and another actor in a completely different part of the country pretending to be having a conversation on the opposite side of the door.
"Having the project to work on kept us all sane to an extent. We began filming in April and finished the ninth episode three weeks ago. We had a socially distanced wrap party in a garden in London last week and it was strange seeing everyone in the flesh. I forgot that some people had never actually met before.
"We've sent the episodes, which are on YouTube, to broadcasters and have had interest, so hopefully when things are back to normal we can make the series properly."
Dun Breedin' isn't the only project Julie has been working on in lockdown. She is part of the wealth of talent taking part in the National Theatre of Scotland's ongoing Scenes For Survival project, a series of more than 40 short films created and produced during quarantine, and the platform for a hardship fund for those who have been affected most as the industry struggles to survive lockdown.
The online shorts have featured some of Scotland's best-known acting, writing and directing talents in a wide range of films, spanning comedy, tragedy and all points in between.
Julie's film, Disco With Mum, sees a mother and daughter, each isolating in their own homes, coming to terms with a recent bereavement, and reflecting on happier times while contemplating an uncertain future for their family. "The arts have given us so much solace in this period," said Julie.
"Storytelling is about connection and the human experience, so I loved the idea that this project provided people with a platform, new young writers, and it spoke to a commonality between us all. Some of the stories are tragic, some are funny, some are just about ordinary families and experiences.
"Hannah Lavery's script had such beautiful writing and it really spoke to me a lot about what everyone is going through, so I jumped at the chance. I have huge admiration for the National Theatre of Scotland, and it's also an opportunity to raise money for the hardship fund."
Julie is glad to see the government announce investment of £1.7 billion into the arts sector, but hopes it hasn't come too late for sections of the industry.
"I don't know why they didn't do it sooner, because they were warned at the start the arts were going to suffer badly," she said. "It feels like 11th-hour stuff and has taken people to the brink. We made so much noise about it that the pressure was on the government.
"I think some people have this idea of the arts being poncey actors striding around on stage showing off, but the majority who work in the industry aren't rich and do jobs like carpentry, paint the scenery, make-up – ordinary people in an extraordinary industry. It brings so many jobs and opportunities to young people, and not to invest in it is ludicrous. It's cultural vandalism."
This year had already been a prolific one for Julie, with Channel 5 mini-series Penance and two films, but her guest role on two episodes of Doctor Who was a special moment for her.
"The show is a British institution and I was so chuffed to be part of it," she said. "I was offered it years ago and couldn't do it because it clashed with another job, but I would always say to the casting director not to forget me, because I wanted to do it.
"It was great to get the call because it's so iconic."
While Julie has been kept busy, one task not on the agenda has been home-schooling her daughters, Edie, 16, and Cyd, 13.
"My eldest was supposed to be sitting her GCSEs but that went by the wayside," added Julie. "My 13-year-old showed me a maths paper and it was like reading Chinese, I didn't recognise anything!
"There's been no home-schooling from me – that would be the worst. They are both bright girls and will catch up, so I have told them to do what they can and haven't put pressure on them."
Disco With Mum can be viewed at nationaltheatrescotland.com
---
Julie can't wait to get back to filming island drama
Julie started her career on Taggart and Blood Red Roses, an East Kilbride-set mini-series for Channel 4, but soon had to look outside of Scotland for regular work.
So she's happy to finally be able to return north from her home in Brighton much more frequently as the industry here goes from strength to strength.
As well as shooting mini-series One Of Us and film The Party's Just Beginning in Scotland in recent years, Julie also has a regular role on crime series Shetland, with Douglas Henshall, as fiscal Rhona Kelly.
"I should have been filming the sixth series, but that has been postponed until next year," she said.
"I don't think the Shetlanders will be wanting a load of germ-ridden outsiders coming on to the island, and we're also so dependent on the light of the summer months while filming there.
"There is so much great talent in Scotland, but for quite a long time the country was woefully ignored by the industry. At one stage there was just a couple of productions – Taggart in Glasgow and Rebus in Edinburgh.
"It seemed like a ghost town for a while, and I would work with Scottish crews who were having to travel elsewhere to work. If I could work there all the time, I would.
"It's lovely coming home and it has so much to offer."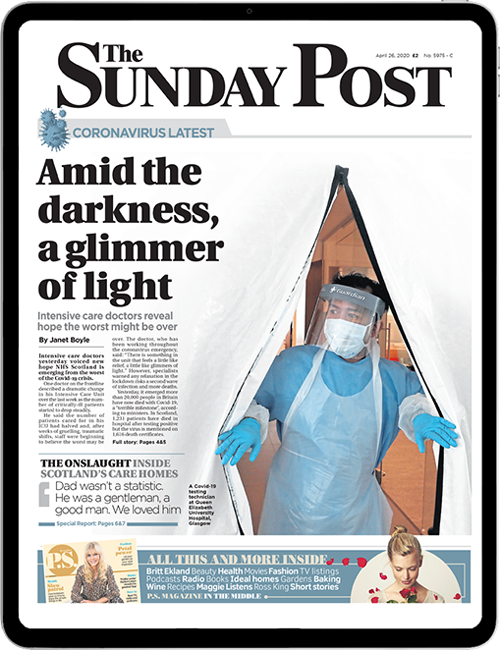 Enjoy the convenience of having The Sunday Post delivered as a digital ePaper straight to your smartphone, tablet or computer.
Subscribe for only £5.49 a month and enjoy all the benefits of the printed paper as a digital replica.
Subscribe