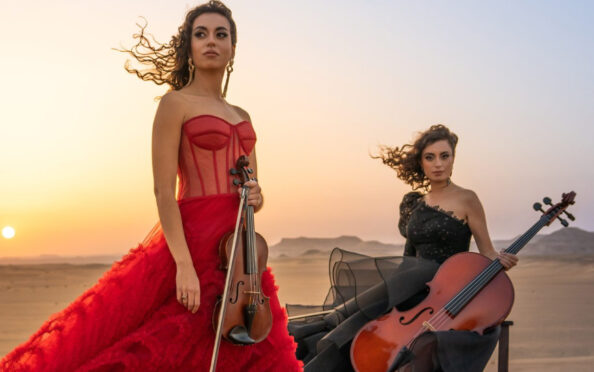 It has taken five years but, for their long-awaited second album, classical sisters Sarah and Laura Ayoub have gone back to their roots for inspiration.
Their new collection may be coloured by their family's Arabic cultural heritage but it is tempered by their own resolutely Caledonian upbringing.
"There is one we wrote called The Scottish Egyptian, which we wrote as a musical description of us as people," said Laura. "It has a Celtic melody but Arabic rhythm and percussion throughout, a bodhran but also Moroccan percussion.
"It's a total hybrid of the two. It's a humorous, light piece of music but it's an example of how we feel as people, that juxtaposition of being absolutely Scottish, born and bred in Glasgow but also being Arabic blooded."
Sarah said the album, coming out in the summer, will be called Arabesque, adding: "We've finished recording it and it is dedicated to and inspired by the Arabic world. It has folk melodies from places like Lebanon, Egypt, Tunisia and Algeria, completely re-orchestrated in a classical style.
"It's finally a chance for us to pay tribute to that part of our heritage, which we are very proud of. We have been wanting to create a piece of art that represents that part of who we are for a while."
Their dad, maxillofacial surgeon Professor Ashraf Ayoub, came to Glasgow from Egypt with his wife Hanan to complete his PhD at Glasgow University more than 30 years ago, and the couple decided to settle in the city. The new album features music the sisters heard around the house as they were growing up and on their annual holidays to Cairo, as well as songs from elsewhere in the region and a couple of self-penned compositions.
Whereas the first record contained everything from covers of Michael Jackson's Billie Jean to Shostakovich, the follow-up focuses on a singular theme.
Sarah added: "People talk about the second album syndrome – the pressure of following up on the first. I know so many artists struggle with it but we didn't think about it seriously until last year, when we felt we wanted to put together a larger body of work. Thinking about what was important to us and having something to say musically, this seemed like the right thing to do and what felt right for us.
"We're looking forward to getting back out in front of audiences again as well. We have lots of recording and filming coming up so it's going to be a very busy time."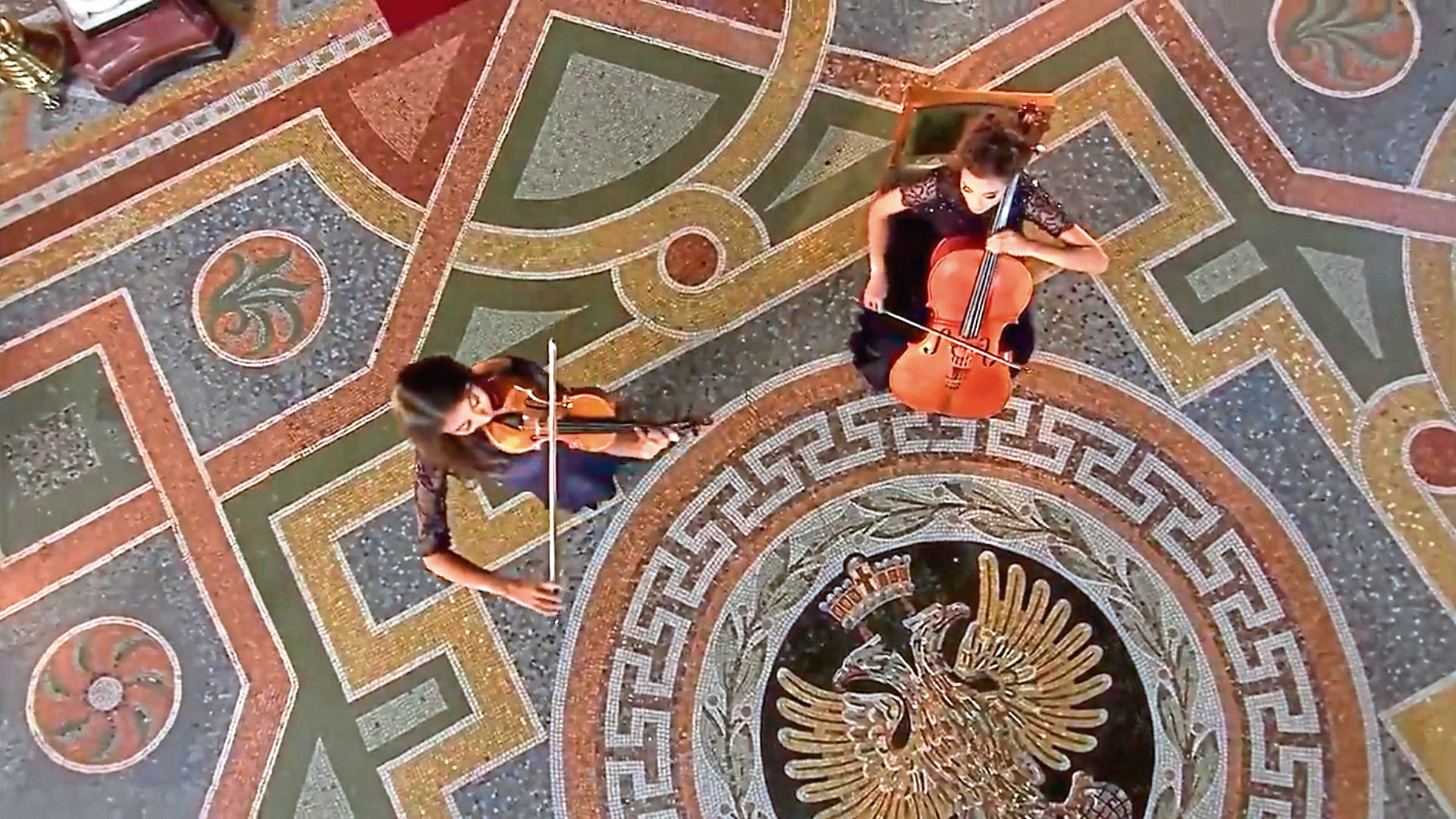 The sisters, from Bearsden near Glasgow, admit it took time to adjust to the unexpected level of fame that came with performances at the Royal Albert Hall, a record deal with Decca, and a collaboration with Uptown Funk producer Mark Ronson.
In fact, if they hadn't had each other to lean on, they're not sure how they would have coped. "Overwhelming is one of the right words but also excitement," said violinist Laura, who was 21 at the time of their debut album's release five years ago and still a student at London's Royal College of Music.
"We were getting unbelievable opportunities to play in amazing places and venues, and to have music we'd written be played by orchestras we'd looked up to but then I also had an 8am lecture the following morning, so it was a strange time for me and our whole family. None of us had an idea of how the industry works, and what was normal and what wasn't normal. It was very much a case of reacting in the moment and hoping for the best, to try to be as unique and authentic as possible and not to be too overwhelmed.
"But we were in it together – every meeting, every unique and bizarre situation – and having each other was the biggest comfort."
Cellist Sarah, who studied at the Royal Scottish Conservatoire and is three years Laura's senior, agreed: "Both us were in it together. It must be daunting and lonely as a solo artist, I really admire them, but it was still a launch into the unknown. A lot of self-discovery comes into play. Laura was still a student, I had just moved from Glasgow to London, and we were really young – arguably in our infancy as musicians and creators. But with time comes experience, knowledge and personal growth.
"The way I would describe the experience is like diving into a really deep, cold, swimming pool – you're like bang and then swimming, swimming, swimming. It was completely different to what I'd been used to in Glasgow – freelancing, living at home – which was all very comfortable and predictable."
As well as family support, Laura also credits her final-year lecturer for his sage advice as she tried to balance her studies with an unexpected and blossoming mainstream career.
"Mark Messenger, the college's head of strings, was so supportive and encouraging of what we were doing, to the extent he conducted the Royal Philharmonic Orchestra on our first album at Abbey Road, and has also worked on the second album, so he is still very much involved in what we are doing," she said.
"Without him, I would have struggled with trying to get the right balance of being a student and doing this. At the end of the day, I wanted the degree I'd worked for but equally the things outside of college were extremely time consuming.
"College is four years but your career is for life, so it was a constant battle over what I should be prioritising and he made it easier for me to navigate that."
The classical music industry's reaction to them, Sarah recalled, seemed one of intrigue.
"We were two sisters who played together, worked together and lived together. They were wide-eyed and curious, which is probably good. They were also encouraging," she said.
"We had a lot of creative discussions which opened our minds to endless possibilities. We had never dreamed as big as what was being said in the conversations, and it was an environment that allowed us to dare and dream much bigger."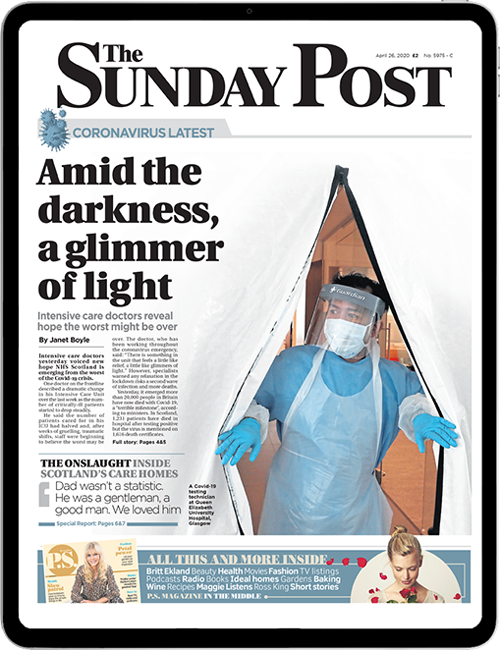 Enjoy the convenience of having The Sunday Post delivered as a digital ePaper straight to your smartphone, tablet or computer.
Subscribe for only £5.49 a month and enjoy all the benefits of the printed paper as a digital replica.
Subscribe