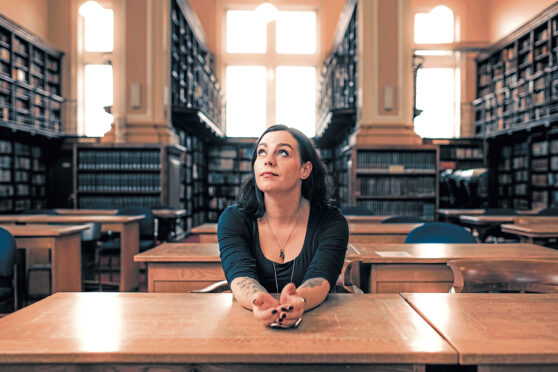 When Jenni Fagan wrote her memoir on a borrowed typewriter when she was in her 20s it was just "for herself". She stored the manuscript away, never wanting to look at it again, much less put it out into the world.
But coming face to face with her own mortality during the Covid-19 pandemic forced a change of heart and mind and, two weeks ago, she finally handed the finished book to her publisher.
The award-winning novelist, poet, playwright and screenwriter has much to share. She grew up "voiceless" in the care system and was homeless at 16. She knows from bitter experience how the powerful few hold the future of the many in their hands. Her timing, as the world reels with uncertainty, couldn't be more significant.
Speaking from her Edinburgh home, Fagan says: "I submitted the memoir to my publisher and editor at the weekend. I started writing it 20 years ago and had no intention of writing it again, or even looking at it again. Then I became extremely ill with Covid-19.
"I had a little pile of clothes folded up neatly by my bedroom door with a phone charger on top. If I did go into hospital, I knew that I was taking that charger with me in the absolute horrifying reality that it could be to say 'goodbye' to the people I loved.
"In those circumstances we assess what we have done with our lives and what we are leaving behind. I considered what piece of work I should have done that I hadn't, like that memoir. The memoir was a politically important book and would be a much bigger story than my own personal one.
"I felt that I had to contribute politically in any way that I can. It was a real moment submitting it and feeling that I had pushed myself to the best of my ability."
It adds to an impressive body of work delivered in the past 11 years by the woman once dubbed the Patron Saint of Literary Street urchins. Her latest novel Hex – part of the Darkland series based on real or fictional accounts of Scottish history – springs from the North Berwick witch trials in which she powerfully conjures a meeting across the centuries between Geillis Duncan, a young girl on the night before her execution for witchcraft in 1591, and Iris, a contemporary witch.
Fagan, who left school at 15 without qualifications, has produced three other novels, as well as poetry collections, and earned three degrees all within an 11-year time-frame.
Her first was at London's University of Greenwich, followed by an MA from the city's Royal Holloway while she was pregnant with her son, and finally, a doctorate in philosophy from the University of Edinburgh. That this was achieved in the shadow of agonising bereavement makes her success all the more remarkable.
But the writer prefers not to focus on heartache. She simply says: "I got my third degree in lockdown. It was in structuralism. Looking at the structures of society is one of my long-term obsessions. I was raised in the care system. I was a child of the state. I was brought up by policy and government-implemented ways of managing individuals. I watch the way that individuals' lives are impacted by these wider structures. And Hex is very much about that; how people's lives can be annihilated by these wider systems and how helpless we can be at times in those situations.
"It's about celebrating the actual existence of every single individual on this planet. They have the right to safety, they have the right to live their own lives out, they have the right to decide their own futures to the best of their ability.
"But we live in structures that don't afford that; they certainly don't make it easy and sometimes they make it impossible."
Fagan's passion for her subject also saw her write and direct a short film titled Heart of Glass as part of Skint, a feature-length collection of monologues on poverty for the Glasgow Film Festival that culminates today.
Her film tells the story of 16-year-old Mia, living in homeless accommodation, who is influenced by counter-culture and in a band.
Fagan, now 44, says: "I was thinking a lot about the experience of kids in care and my experience when I left the care system. I was thinking Blondie, Iggy Pop or Kurt Cobain; lots of people who had quite difficult journeys through their teenage years who had gone on to be these counter-culture icons or even mainstream icons."
Fagan's love of film springs from escaping into cinema during her childhood, as does her love of poetry and books. "I adore film," she says. "It's a massive treat for me. I love going to the cinema on my own in the afternoon.
"When I was a kid, it was such an amazing escapism. I used to go the Odeon up in the south side of Edinburgh, which was quite fancy at the time. It felt like a big deal. I was struck by the power of Watership Down as a child. I used to watch Grease over and over.
"I loved Stand By Me and when I was a little bit older it used to be Beetlejuice or Nightmare On Elm Street. There is something really magical about being a little kid growing up in Scotland – which I then thought was the most un-exotic, most stark place on Earth – and escaping and engaging with these different worlds. I lived in a caravan between the ages of five and 12 and used to go to the library van that came once a week. That is what really set me on the path of being able to become a writer. I read constantly… It was the escapism and the potential to transcend the way you think about things, the place that you are in and what's possible.
"I wrote my first poetry collection in the caravan when I was seven for no reason whatsoever. I never used to tell anybody I was writing but English teachers used to pick up on it.
"I was raised in a system that was voiceless, so when I saw words on a page that I could go back to and I could read again, it made sense right from the start. In the care system, you are constantly told the story about who you are by people who don't know you. So storytelling and the purpose of storytelling always fascinates me."
The writer, who has "lived in 47 places in 44 years" is, like the rest of the world, watching with increasing alarm the horror of what is happening in Ukraine and what it says about our humanity.
Fagan, who spent time in the United States during Trump's rise to power, says: "Psychopaths and malignant narcissists, and those who seek to only profit from other humans, are in no way fit to serve the people they are elected to govern, or sometimes not elected to govern.
"Those people are, however, very efficient at being able to get themselves to the top and because they do not have the same constraints of empathy and decency, they are playing a completely different ball game."
On the current conflict, she adds: "What is going on in Ukraine is a massively extreme representation of different world leaders who are there to serve a purpose that is in no way in the benefit of humanity. The ordinary people – especially those without any sense of security and living with financial instability – pay the price for an elite who use them to further their own wealth and own sense of omnipotence.
"All the structures of privilege that have allowed those personality types to feel God-like and to feel so superior to every other human that they have the right to decide whether we live or die, is a crime against humanity.
"What gives me hope is that ordinary people do extraordinary things all the time. These people are doing small or greater acts of kindness or heroism, and are facing their own insurmountable difficulties. There are so many good and interesting people out there.
"And that is what I am interested in. I am interested in how they manage in the given time in which we are here."
And what does she see when she looks back on her own life? "I have a lot of gratitude for having lived long enough and having had the ability to dig in my heels and achieve things that I really shouldn't have achieved.
"I lost people in the last 10 years who were extraordinarily close to me. I lost a best friend. Certainly watching other people go at young ages and not have the potential to fulfil their hopes and dreams, see their children grow up; it changes you quite drastically.
"I have led a very dislocated life. In some ways I still do. So it made me very determined to do what I wanted to do whilst I was still here.
"I never assumed that I would be here tomorrow, that I would get another opportunity. I have never assumed anything, and so I have always worked incredibly hard. If I never wrote another word I would be happy and proud of what I have done. I have achieved what I set out to achieve."
---
Hex by Jenni Fagan is published by Polygon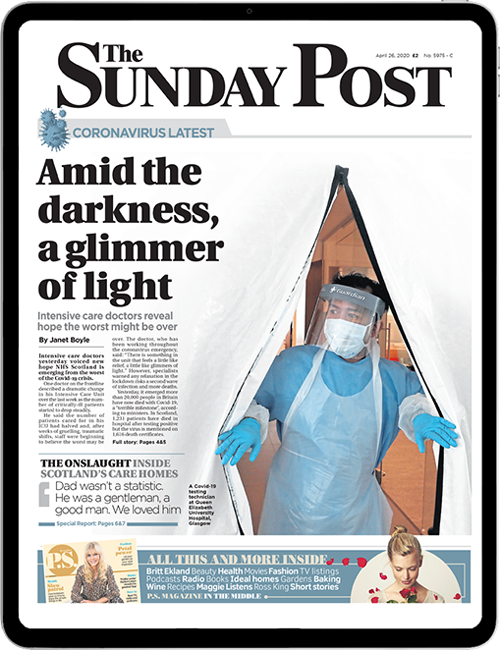 Enjoy the convenience of having The Sunday Post delivered as a digital ePaper straight to your smartphone, tablet or computer.
Subscribe for only £5.49 a month and enjoy all the benefits of the printed paper as a digital replica.
Subscribe