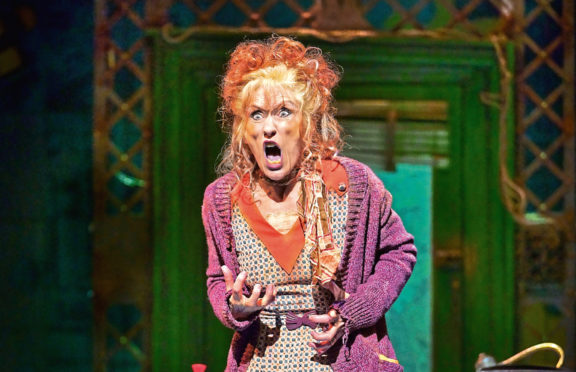 Anita Dobson doesn't tour, as a rule.
But she has made an exception for Miss Agatha Hannigan, the child-hating, booze-loving warden of the Municipal Girls' Orphanage in Annie.
"I'm enjoying the tour," says the former Angie Watts, one-time denizen of Walford and much-loved landlady of the Queen Vic.
"It's tiring, of course, because I haven't done one for a long time but it's a lovely part to play and a great show.
"I haven't done a really big tour like this with a big musical since Hello, Dolly! really, and that was more than 10 years ago.
"I think it's just as you get older (Anita turns 70 at the end of this month) and you finally get the house you've always wanted, you want to be in it!
"I do short stints, and this isn't a long stint, really. Dolly was seven months but this was one month of rehearsals and now three months on the road before Craig Revel Horwood takes over!
"The role was a huge temptation. As soon as the phone rang and my agent said I'd been asked to do Miss Hannigan in Annie, I said: 'Oh, yeah!' straight away.
"With some parts you just know immediately you're asked, your gut instinct is: 'Yes, I want to do that, please.'"
Set in New York in 1933 during the Great Depression, Annie tells the tale of a young orphan who's taken in by billionaire Daddy Warbucks, much to the jealous and vindictive Miss Hannigan's displeasure.
To be honest, I always got the impression Miss H must be quite fun to play?
"Yes, she is," says Anita, who's been happily married to Queen guitarist Brian May since 2000.
"She's not the most glamorous but in a way I like that, too. I love all of it, it doesn't have to be a glamorous part for me, I had my days of being a glamour puss!
"I've been asked if it's more fun being the baddie but while it is fun, and I've played a lot of villains in various pantomimes, all parts are great fun.
"That's what I'm in the business for and I love it. Some parts are so fabulous but I wouldn't say they were fun.
"Frozen, for example, a play in which I played the mother of a 10-year-old girl who disappeared, was a very dark, sad story but it was a brilliant part to play. Different roles have different lures."
Miss Hannigan, then, is a lure that has been long-lasting.
When Annie first transferred from Broadway to the West End in 1978, Sheila Hancock played Miss Hannigan and Anita recalls: "I actually saw Sheila Hancock play the part and I thought she was terrific."
Anita has played the baddie in a few musicals, including Madame Morrible in Wicked and Mrs Meers in Thoroughly Modern Millie.
Did she bring anything of those roles into Miss Hannigan? I'd guess Mama Morton, the warden of Cook County Jail she played in Chicago might have some similarities with the warden of Annie's orphanage?
"Not really, It didn't cross my mind though I'm sure there's a tiny little bit of something I do in the show which is reminiscent of stuff I've done before.
"You have to approach each part brand new. Clean slate. You can't think of what anyone else has done with the part before, you can't compare it.
"You can try and lift bits of other stuff but you've just got to take it on its merit alone."
Having done musicals before – not to mention having a top-four hit in 1986 with Anyone Can Fall In Love, a song based on the EastEnders theme tune – Miss Hannigan's musical numbers held no fear for Anita.
"It's not singing as in proper singing, it's very much character-led singing!" she laughs.
"It takes a lot more out of you as you get older and this kind of dancing is hard-core. It took me a while to get a hook on this.
"But it's such fun. While I'm still fit enough to do it, because I'm getting on now, then I'll do it. They say what doesn't kill you makes you stronger!"
Miss H has three numbers, including You Make Me Happy and Easy Street, but I'll guess Anita's favourite is the brilliantly funny Little Girls because it's her big solo?
"No, I love it all! I'm not somebody who has favourites. I try not to as if someone asks: 'What's your favourite drink? What's your favourite food?', you say something and then that's it for the rest of your life!
"But your tastes and thoughts and feelings and attitudes change so it might be one night the song in your head is Little Girls but the next night it might be Easy Street."
Annie is touring the UK until November. For information and tickets visit www.anniethemusicaltour.uk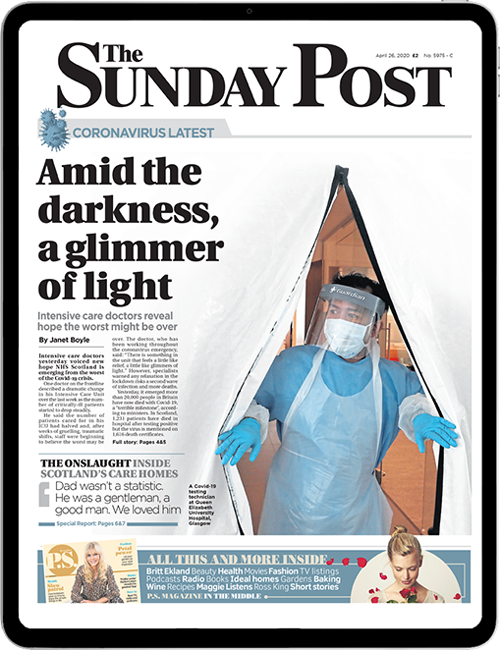 Enjoy the convenience of having The Sunday Post delivered as a digital ePaper straight to your smartphone, tablet or computer.
Subscribe for only £5.49 a month and enjoy all the benefits of the printed paper as a digital replica.
Subscribe