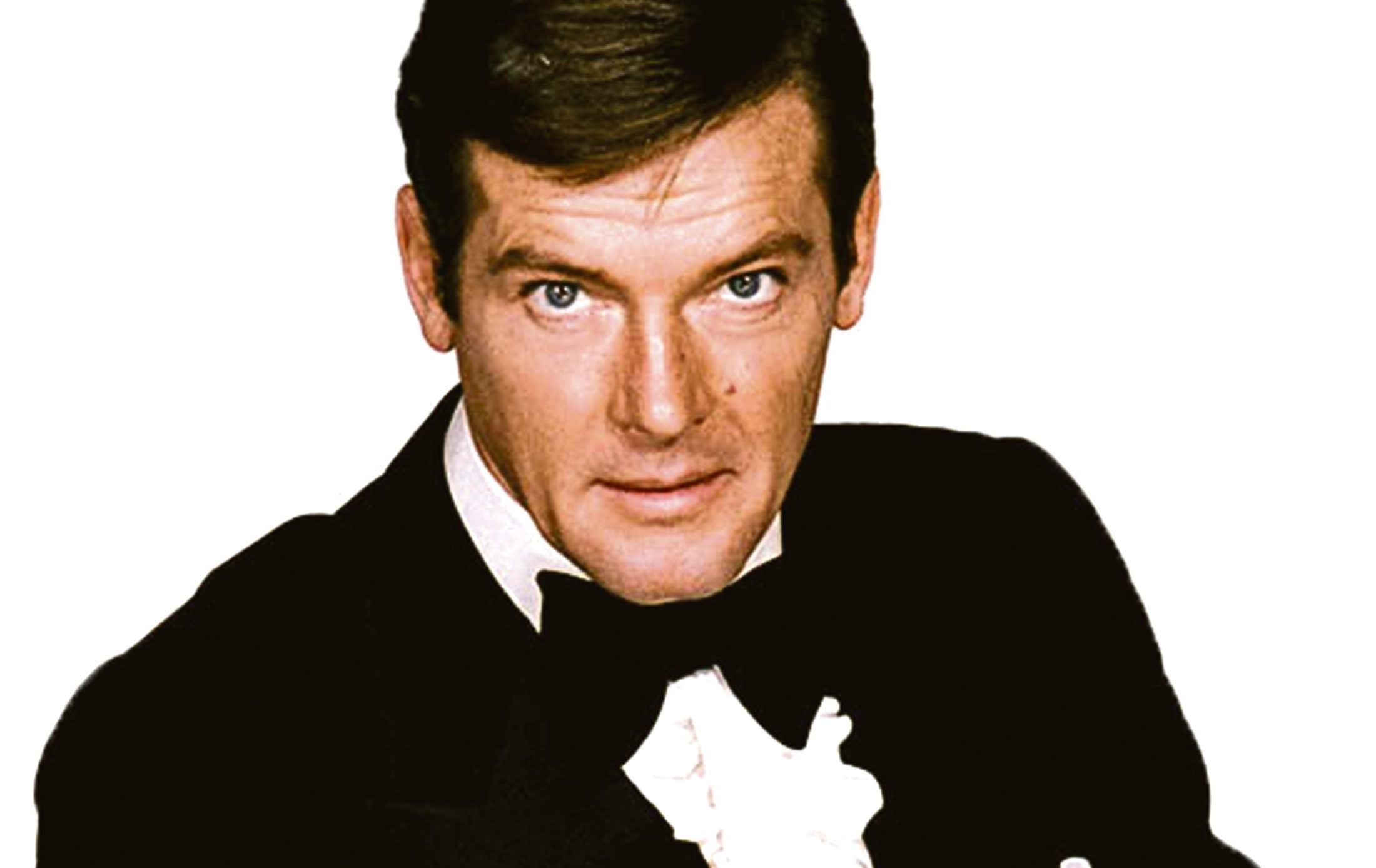 THEY reckon "your" Doctor Who is the first one you remember watching.
In which case, mine is probably Jon Pertwee, whose adventures I watched from behind our typically-brown couch in the mid-70s, though I clearly recall Tom Baker, too.
But there's no dubiety as to who "my" James Bond is — Sir Roger Moore.
True, as a proud Scot and lover of the classic 60s films, "Shir Shean" Connery is my favourite 007 by far, but I don't have a clear memory of watching him as a kid.
I do, however, have a very strong recollection of one Friday night in 1977 when my dad asked me what I was doing that night.
As I was seven years old, the answer was obviously "Not much", but that soon changed when he suggested we jump in the banana-yellow Vauxhall Victor and make haste to the Odeon on Glasgow's Renfrew Street, to catch the latest 007 film, The Spy Who Loved Me.
Now, it might not be the best Bond film ever made — and watching it now, Barbara Bach is comfortably one of the worst actresses ever to be a Bond girl, all cheekbones, no acting chops — but I loved it.
Right from the classic opening sequence when 007 skis off the edge of a mountain — and a Union Jack parachute billows out above him.
And what wasn't to love?
A giant supertanker swallowing nuclear submarines? A towering Bond villain with metal teeth? A cool car that TURNS INTO A SUBMARINE?
It could have been made with me and every other seven-year-old boy in mind.
And, from that point of view, Roger Moore was the perfect Bond.
When he wasn't karate-chopping big bad Jaws or seducing ladies simply by lifting an eyebrow, 'ol Rog was tickling us with a string of one-liners — some so saucy even Sid James would have thought twice about them.
As he says after he shoots the film's main villain dead: "Hmm, maybe I misjudged Stromberg. Any man who drinks Dom Perignon '52 can't be all bad."
And that gives you the flavour of Roger Moore's Bond, a very different animal to that created by his predecessor Connery.
With typical self-deprecation, Moore labelled himself "the fourth-best Bond" after Daniel Craig ("the Bond"), Sean Connery and, ahem, George Lazenby.
But he's the longest-serving super-spy, having carried the Walther PPK for 12 years from his debut in 1973's Live And Let Die.
And you could argue he actually tripled that spell, having appeared as Bond, alongside Samantha Bond who played Miss Moneypenny in the Pierce Brosnan era, in a 2004 promotional video for the London Olympics.
His Bond had to be different to that of his close friend Connery as times had changed and the scripts were different.
As Moore said: "Sean played Bond as a killer and I played Bond as a lover."
Only on Fridays did he seem like the cold-blooded assassin of the books, explaining: "That was the day I received my pay cheques."
Authors like George MacDonald Fraser of Flashman fame delighted in writing scenarios in which 007 was a seasoned, debonair playboy who always had a trick or a gadget or a quip up his sleeve when he needed one.
Moore's Bond was more light-hearted, more so than any of the other actors to have played the role, and it's generally accepted his portrayal was the furthest removed from the character created by Ian Fleming of all six actors to don the dinner jacket — don't start with your David Nivens and Woody Allens.
Connery played 007 as a focused, determined detective while Moore's version of the secret agent had panache and his tongue firmly in his cheek.
Connery and Daniel Craig ramped up the psychological tension, Timothy Dalton and Pierce Brosnan tried that touch too hard, and only Roger could get away with accidentally inhaling a gold bullet from a belly-dancer's navel before grimacing and felling some henchmen prior to a trademark quip.
Moore explained: "My whole reaction was always: 'He is not a real spy.'
"You can't be a real spy and have everybody in the world know who you are and what your drink is. That's just hysterically funny."
Much of this came from the decade-long apprenticeship Moore served before finally landing the role.
There are a lot of apocryphal stories as to when his name was first mooted as Bond, with producer Cubby Broccoli claiming in his autobiography that he was considered for Dr No and had been Fleming's favourite for the role after he'd seen him as Simon Templar in The Saint TV series.
The problem with that is The Saint first aired on October 4, 1962, the day before Dr No premiered.
Moore's seven years as Simon Templar in The Saint earned him credibility with detective-fiction fans, and Broccoli's fellow Bond producer Harry Saltzman stated he'd make a good 007 in 1967.
When it became clear Connery was indeed stepping down permanently, Moore's was one of the first names bandied about, but once again, his television commitments got in the way.
He was not only a star, but a producer of The Persuaders, in which he was a playboy detective not a million miles from his Bond persona alongside Tony Curtis.
It wasn't massive in the States, but it was a huge hit in Germany, where apparently they dubbed the dialogue with a different script!
But Moore finally got the gig and made his debut in the aforementioned Live And Let Die, which cashed in on the "Blaxploitation" craze of the time.
He followed it up with The Man With The Golden Gun, starring Christopher Lee as one of the all-time great Bond baddies, and after The Spy Who Loved Me, the studio decided to cash in on sci-fi's popularity with the enjoyably-barking Bond-in-space that was Moonraker.
Moore had been older than Connery when he got the job at 45 and by now, his Bond was beginning to show his age.
For Your Eyes Only, Octopussy and A View To A Kill weren't exactly vintage 007, if you see what I mean, and at 58, Moore hung up his safari suit.
On the aforementioned eyebrows, Spitting Image had a sketch in which a Moore puppet, when asked to display a range of emotions, simply raised one eyebrow or the other.
They also ran a spoof starring their latex 007 called The Man With The Wooden Delivery, in which he received orders from Margaret Thatcher to kill Soviet Premier Mikhail Gorbachev.
Other comedians also mocked Moore, but while Rory Bremner is said to have received a death threat from an irate fan after one such routine, the man himself took this in typically-good humour.
He claimed: "I only had three expressions as Bond.
"Right eyebrow raised, left eyebrow raised and eyebrows crossed when grabbed by Jaws."
Sir Roger Moore died of cancer in his home in Crans-Montana, Switzerland in May of this year, aged 89.
You could argue that Moore's successor, Timothy Dalton, served an even-longer apprenticeship for the role than Roger.
He was approached to replace Connery for On Her Majesty's Secret Service, but turned it down as he felt he was too young.
He did the same when offered Live And Let Die, and was all set to film For Your Eyes Only only for Moore to decide to continue in the role.
Dalton took the films back to the grit of the novels, saying: "Roger was fine as Bond, but the films had become too much techno-pop and had lost track of their sense of story.
"I mean, every film seemed to have a villain who wanted to rule or destroy the world."
Dalton's been described as the nearest to the Bond of the books and he was often seen reading Fleming's novels on set, while his 007 was a more-reluctant and questioning hero who didn't always enjoy or agree with his assignments he was given.
His spy was closer to the one in the later Daniel Craig films, a burned-out killer who may just have enough energy left for one final mission.
After The Living Daylights and Licence To Kill, Dalton was meant to make a third film, but explained: "It was cancelled as MGM and the film's producers got into a lawsuit that lasted five years.
"After that, I didn't want to do it."
Tomorrow — the Pierce Brosnan and Daniel Craig years.