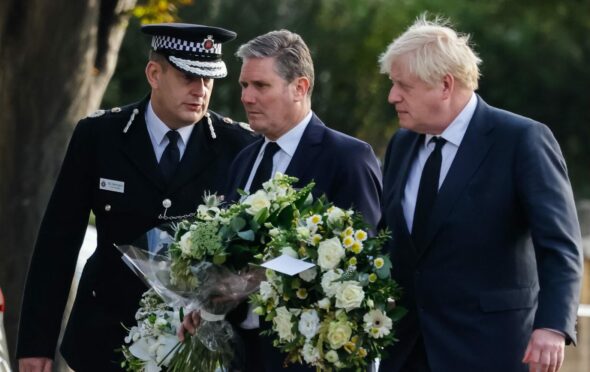 Scottish politicians paused face-to-face meetings with constituents yesterday after the murder of Tory MP Sir David Amess.
MPs and MSPs across the main parties closed their offices to the public as Police Scotland offered advice on security and personal safety "as a matter of urgency".
The safety guidance was ordered after Amess was stabbed to death while meeting constituents in Leigh-on-Sea on Friday, five years after Labour MP Jo Cox was killed by a far-right extremist.
Yesterday, the police confirmed the murder of Amess was being investigated as an act of terrorism.
A 25-year-old man was arrested immediately at the scene on suspicion of murder.
Police on Saturday were granted a warrant of further detention, which allows detectives to hold the man until October 22. He is in custody at a London police station.
Carol Monaghan, SNP MP for Glasgow North West, was among the Scots politicians unnerved by the violence. She was recently forced to move her family to a police safe house after a campaign of threats and harassment by a stalker.
Yesterday, Monaghan said: "I'm shaken because I've lost a colleague, but I'm also shaken because the vulnerability of MPs and their staff has been exposed once again. We are feeling nervous, threatened and very exposed at the moment, as well as in a state of shock because we've lost a colleague."
Monaghan, who blamed an increasingly toxic and hateful online debate for more politicians being threatened, said she would be pausing face-to-face meetings with constituents.
She said: "It's not just about my safety but also the safety of my staff.
"When I have surgeries, I have one or sometimes two members of staff present. I have a duty of care to them. So I won't be having any face-to-face surgeries until I have a discussion with my staff and the police about how I can do this safely.
"I know many MPs want to carry on because they don't want to be seen to be reacting to perceived threats, but I have to think about my staff. One thing the pandemic has taught us is that we can do a lot of things by Zoom calls, phone calls or other ways of meeting people.
"It's not ideal but there are other ways of doing it. So, for the time being, I will be pausing face-to-face meetings with constituents."
In July, Jonathan Bell was ordered by a sheriff to do 180 hours of unpaid work and put under supervision for two years after targeting the MP because of her opposition to Brexit. Monaghan said she was concerned an increasingly hateful and heated political debate online was fast becoming about attacking the politician rather than their politics.
She said: "Politics is ­becoming more toxic. Seeing what happened to Sir David, and of course Jo Cox, we are starting to come to an understanding of what it means to be an elected representative. We certainly are targets for certain individuals who want to attack the person rather than the politics."
She also said politicians needed to improve the level of debate. She said: "There are some politicians, and these people exist in every political party, who enjoy attacking the person rather than the politics.
"Elected representatives have a duty to show some leadership and to make sure we can attack the politics of other people without attacking the individual and trying to discredit an individual because other people see what politicians do and they copy it.
"Then the whole situation becomes poisonous and more and more toxic. So I think we have a real responsibility to show some leadership in that."
MP Lisa Cameron says her stalker has to be helped to stop offending
Ian Murray, Labour MP for Edinburgh South, has also told constituents that he will be closing his office until further notice and using phone and email instead.
He said: "All our thoughts are with David's family, friends and his team. He was a loyal public servant dedicated to representing the people of his constituency. He epitomised our democratic belief that our constituents should have free and easy access to us and our offices. We should cherish and celebrate that aspect.
"Our staff and MPs must be kept safe while we continue to embrace the democratic process, and the answers to how we ensure this aren't straightforward."
Joanna Cherry, SNP MP for Edinburgh South West, said that threats against MPs must be taken more seriously. In July, Grant Karte was ordered to stay away from the MP for five years after sending her abusive Twitter messages, which she believed were threats of sexual violence.
Cherry tweeted yesterday: "It was a little-reported aspect of the case that he had a previous conviction for carrying a knife. We need to take threats against MPs more seriously."
Conservative MP Tobias Ellwood, who was hailed as a hero for his attempts to save the life of PC Keith Palmer during the Westminster terror attack, said face-to-face meetings with MPs should be paused until a security review has been completed.
Meanwhile, Holyrood's head of security has written to MSPs advising how to stay safe when meeting constituents face to face. The letter from the Scottish Parliament head of security said Holyrood would fund improved security at their offices and lone-worker devices that can track a person's movements and send an alert to authorities if they do not check in.
Both measures were made available to MSPs following a previous security review in 2018 in the wake of the ­murder of MP Jo Cox.
The advice includes MSPs holding surgeries away from their constituency offices to "consider using venues where people are close by so you can attract attention if need be", such as a supermarket cafe.
They have also been advised to "place a table or desk between you and your visitor so this can act as a barrier if necessary" and set up a "seating arrangement so the exit is behind you, enabling you to get out of the area quickly if you need to".
In a separate letter to MSPs, presiding officer Alison Johnstone said yesterday: "I have spoken to Police Scotland, who have confirmed they will contact all MSPs individually as a matter of urgency. This will provide an opportunity to discuss any concerns that you may have and receive further security advice.
"As we reflect on the tragic events of the past 24 hours, what is clear to me is the dedication and commitment of all members of the Scottish parliament.
"What happened on Friday was an attack on our ­democracy, but I know we all remain committed to representing the people we serve as best we can. And the parliament will provide the support and advice you need to do that safely.
"I will be in touch with party leaders and business managers to discuss the Scottish parliament's addressing of this deeply devastating event as the first item of business on our return."
Amess's death has prompted police forces to contact all MPs to discuss their security and personal safety.
Police Scotland confirmed all MSPs and MPs would be given advice.
Assistant Chief Constable Steve Johnson said: "Our sincere condolences go out to the family, friends and community of Sir David Amess MP.
"While there is no specific threat to Scotland, we are working closely with UK policing colleagues to ensure all MSPs and MPs are aware of relevant personal safety advice.
"We have well-established relationships with elected representatives and will discuss individual security arrangements further with them."
Yesterday morning, Boris Johnson laid flowers at the scene of the fatal stabbing of Sir David, 69, who had been an MP since 1983. The Prime Minister, accompanied by Labour leader Sir Keir Starmer, Commons Speaker Sir Lindsay Hoyle and Home Secretary Priti Patel, laid a wreath at the front of Belfairs Methodist Church in Leigh-on-Sea, where Amess was killed on Friday.
Amess, described by Johnson as "one of the kindest, nicest, most gentle people in politics", was married with five children.
The attack came five years after Labour MP Jo Cox was killed in her Batley and Spen constituency in West Yorkshire.
Patel said a balance could be found between the democratic process and the security of MPs, adding that "we cannot be cowed by any individual or any motivation to stop us from functioning".
Speaking at Southend police station, she said: "He was killed doing a job that he loves, serving his own constituents as an elected democratic member and, of course, acts of this kind are absolutely wrong and we cannot let that get in the way of our functioning democracy."
She added that she was making sure "all measures are being put in place" so MPs could continue to do their jobs safely.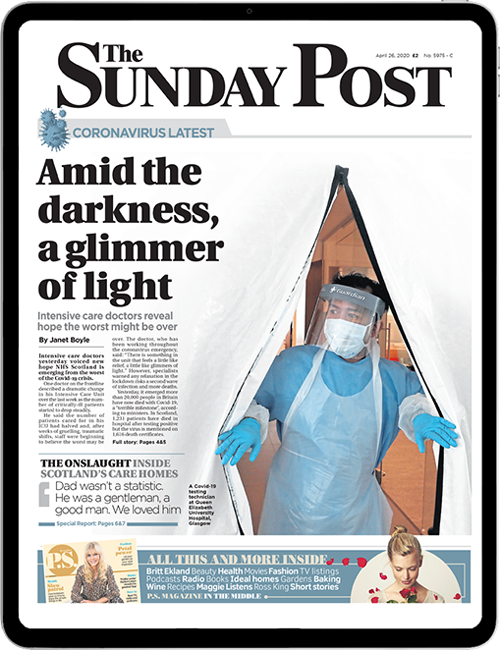 Enjoy the convenience of having The Sunday Post delivered as a digital ePaper straight to your smartphone, tablet or computer.
Subscribe for only £5.49 a month and enjoy all the benefits of the printed paper as a digital replica.
Subscribe