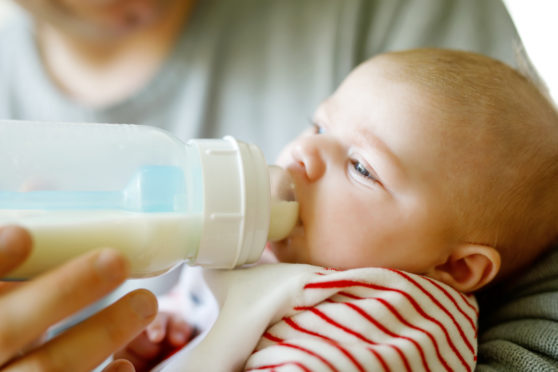 Mothers are buying, giving away and selling breast milk through an unregulated online trade in an effort to feed new babies.
Medical experts last night warned that the growing internet market for breast milk is putting babies at risk.
Last week two websites had breast milk available from Scottish mums.
Only the Breast had live ads from Fife, Ayrshire, Aberdeen, Dundee and Inverness selling human milk for an average of £1 an ounce.
It also has ads from adults looking for breast milk, including men wanting to feed from lactating mothers as well as body builders, who claim breast milk helps build muscle mass.
NHS Scotland donor milk bank coordinator Debbie Barnett warned milk bought online could pose a real health risk to babies.
"This is utterly horrendous and very concerning to see," she said.
" At least with a milk sharing group women are likely doing it because they're good people and just want to share surplus milk.
"But selling is a nightmare for a number of reasons – it turns milk into a commodity. When you add money to the situation, there's no telling what people could be selling. It could just be white water.
"Women in financially unstable positions could even be selling the milk rather than feeding it to their own babies, so this is very worrying."
On Facebook online group Human Milk 4 Human Babies has Scottish mums offering to share breast milk for free.
The milk is sourced by mums who are struggling to feed their babies themselves.
Infectious diseases expert Professor Steve Green, of Sheffield University  said unscreened milk posed a clear infection risk.
"There are no regulations for breast milk, in the way we have them for cow and other animal milk.
"You do not truly know the origin of the milk and have to question how safe it is – or what's in it."
"You have to question why someone wants to sell their breast milk and why they desperately need money."
But there was concern too as to why mothers feel they need to go online to source extra milk.
If your baby doesn't take to formula and you can't produce enough breast milk yourself, what are you supposed to do?
Mary Ross-Davie, director of the Royal College of Midwives in Scotland, said more needs to be done to help mothers needing extra milk.
"Whether this is looked at by the NHS or by another third sector organisation, I think there could and should be better access for mothers in need of regulated donated breast milk.
"I had no idea about online sales of breast milk in Scotland and it does raise concerns. We need to focus on the ethical questions raised by mothers selling milk online.
"In the UK, we don't officially offer any income for bodily tissue donations because of the problems this can bring."
The Only the Breast site is a global site which charges users to post adverts.
One ad from a mother in Fife reads: "£54 for 50 oz. I have a supply of frozen breast milk which my baby will not drink. He won't drink from a bottle.
"I don't mind if the milk is for a baby or an adult. If milk is to be posted buyer will cover all postage and packaging costs and arrange with courier. Alternatively, if you live locally you can collect in person."
Another ad from a mother in Ayrshire selling milk for £1 an ounce says: "Healthy professional mother who does not smoke or use any medication. We try to eat as much organic food as possible.
"Would prefer to sell all frozen milk in bulk. Approximately 40 x 6 oz bags available. Probably more."
The Human Milk 4 Human Babies UK group has more than 21,000 likes.
The group offers guidance for anyone considering using it and urges people to discuss medications, alcohol or drug use.
It suggests using a health care provider for further testing if parents are worried about the milk they are given and suggests asking for copies of their test results. It also bans buying and selling of breast milk on the page.
Many Scottish mothers who have used this group say they have been forced to source unregulated donated milk as they are unable to access fully screened milk through Scotland's only NHS milk bank in Glasgow, which is currently predominantly reserved for premature and sick babies.
I'm not saying that if you feed your baby milk you've sourced online that something terrible is going to happen, but the reality is there is a risk.
Annemarie Stokes, 32, from Midlothian, who used donated milk from Human Milk 4 Human Babies, said it was the one of the only options to feed her new child at the time. She was under-producing breast milk and her baby wouldn't take to formula milk, but she was also turned away by the NHS milk bank as her baby wasn't premature.
"You don't want your baby starving basically. She lost a lot of weight in the first few months and I couldn't keep up with how much she needed," said Ms Stokes.
"The NHS wouldn't let me use the donor milk they had – I asked about using it in the hospital but because my daughter wasn't premature they said she wasn't entitled to it, so that's why I opted to use the donor milk online."
Mothers using the site believe that the benefits outweigh the risks and say their experiences of milk sharing have been positive, with friendships and shared experiences providing support in an emotional and vulnerable time.
"I wasn't worried about the health risks with getting milk online because I knew the mothers were feeding it to their own babies as well," said Ms Stokes.
"Mums also clearly state whether they've been drinking any alcohol while they've been breastfeeding so if you don't want to use that milk you don't have to. I also used some milk from a good friend so I knew that would be safe."
Some experts think that the Department of Health's 'breast is best' campaign has made mothers struggling to breastfeed reluctant to use formula.
Food Standards Scotland advises breastfeeding mothers to contact their GP, mid-wife or health visitor to discuss how best to feed their baby.
A spokesperson said: "To ensure safety, we recommend that all mothers who wish to receive or donate their breast milk should contact their local donor breast milk bank to make sure that the relevant checks are being followed.
But SNP MP and chair of the all-party parliamentary group for infant feeding, Alison Thewliss, believes there needs to be more support and guidance for new mothers, as well as greater access to screened milk.
She said: "It is welcome news that there is growing recognition of the unique qualities of breastmilk, and in some ways I think the sharing of milk is linked to this. The sharing of milk may also speak to a lack of available support.
"Breastmilk shouldn't have to be commoditised, and where there is a requirement for donated milk it should be provided via a properly regulated service.
"Where people are donating or using milk through other channels they should take steps to ensure it is free from contaminants. There will however always be a degree of uncertainty in this regard when people are sharing milk online.
Ross Stewart, owner and personal trainer at Improve Glasgow, said that while some bodybuilders believe breast milk builds muscle, there was no evidence for this.
"I have heard of bodybuilders buying breast milk online. However, the evidence appears to be anecdotal at the moment as I'm not sure there have been any studies undertaken to quantify breast milk's effectiveness in helping bodybuilders gain muscle."
---
Nahomie's Story 
Nahomie Hann, 30, a photographer who lives in Glasgow with husband Simon and four children, has donated breast milk to the NHS milk bank and the Human Milk 4 Human Babies UK Facebook group.
Nahomie's donating journey began when she found out she was an overproducer of breast milk.
She said: "I tended to make way more milk naturally than what my babies needed.
"I first donated to the NHS milk bank but they limit you to how long you can donate after your baby is born. But I was still producing milk after that time so I found myself with a stash of milk not being put to any use."
Due to the nature and effort of expressing breast milk, Nahomie also believes anyone like her who has donated for free is doing it for the right reasons and thinks risks are low.
"Because of the way my body works, when my babies were just newborn – one of them couldn't attach and breastfeed directly – so producing milk was about an eight hour shift a day. So it feels like a waste if it just goes down the drain," she said.
"I know some mothers charge for their breast milk and I've heard of incidents in the USA where people have been given cow milk not human.
"But I have yet to meet a mother who would want to donate milk when she's not in a good condition – because it's so demanding you would only really do it for a good reason."
---
Charlotte's story
Charlotte Bell, 38 is a vet and lives in Edinburgh with her husband, Peter and one-year-old son George.
Charlotte turned to the Human Milk 4 Human Babies UK Facebook group after she was unable to produce enough milk to feed baby George at the start of his life.
"I had a C-section so my milk supply was quite slow to come in which is apparently quite common," she said.
"And as a consequence, George lost quite a lot of weight in the first few days after he was born.
"We also had the problem that he really didn't take to formula, he kept regurgitating it back up – he wanted breast milk."
After being told about online donor milk banks Charlotte and her husband decided to go for it.
"We mulled it over a lot, but we realised that mothers are one of the most screened populations in the country because when you're pregnant you get tested for everything.
"So we took the leap of faith and thought they're probably kind hearted individuals like us and just want to help someone out."
Charlotte and her husband put a post on the HM 4 HB and got a huge response.
"People also sent really supportive comments saying they'd had similar experiences after they'd had a C-section or that they'd had babies not drinking formula.
"And when it's your first baby, it just helped to make me feel like it wasn't all my fault and that other people have had this problem as well."
She received donated milk from a number of mothers for free and says it was a very positive experience.
"One time we had to drive quite a long way to get it, and the mum had a huge amount in her freezer, like litres of the stuff, and she donated the whole lot to me for nothing.
"Breast milk also has a shelf life in the freezer so you can't keep it indefinitely.
"I also got some from a friend who has a baby of a similar age which we got couriered up to Edinburgh. At one point we had to almost dump all the contents of our freezer so we could accommodate all the milk."
---
Expert opinion – Debbie Barnett, NHS Scotland wide milk bank donor coordinator
We have to recognise that wet nursing or milk sharing has been going on for millennia, since the beginning of time.

And if it's your sister or a very good friend for example, you know that that milk is more than likely going to be safe. The difference is when it's an online shop or source, you don't know for sure and that's the problem.

I'm not saying that if you feed your baby milk you've sourced online that something terrible is going to happen, but the reality is there is a risk.

You don't know how that milk has been stored, how it's been managed, how it's been expressed, so there's lots of questions about its safety.

The biggest risk is bacteriology. The transfer of things like HIV and Hepatitis is much less likely. It's actually to do with what bugs and unwanted bacteria is in the milk. Those are the things I'd be much more concerned about.

With the donated milk we process through the milk bank, the mothers are tested and then the milk is tested, it's heat treated and pasteurised, so we know the milk we're putting out has no risk from transmittable infections or any bacteria we would be worried about.  We have very tight limits to ensure the milk is safe.

If those mothers donating online were all able to donate to a certified milk bank like ours, we could then provide greater services to mothers who are looking for milk from those sites, with clear, screened milk.

At the moment, we are only able to accept milk up to 10 and a half months after a baby is born because of the tracking device we use. But we are updating this and my hope is in 3-6 months, we should be able to accept open-ended milk and look into providing it to a greater range of babies.

But it's important to note that for mothers turning to online groups, it isn't just as simple as them resorting to another mother's unregulated milk because they can't produce it – there's also something in there about the lack of breastfeeding support for them at the beginning.

We have to look at why it is it that such a large number of mothers aren't able to establish breastfeeding.

They need more guidance and there's something that is happening that means these mothers aren't able to establish their own milk supply. It's not just that we need to provide mothers with more donor milk, we need to improve breastfeeding services as a whole."