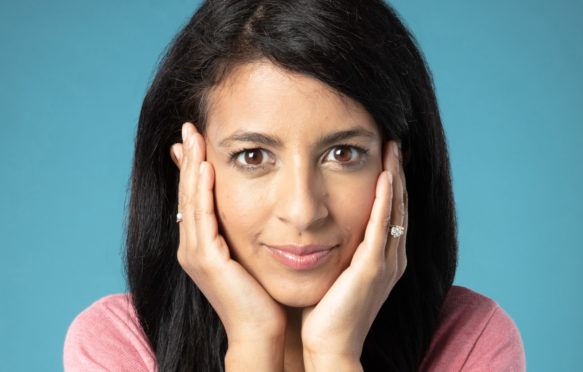 She holds the title of Blue Peter's longest-serving presenter and was voted the children TV show's all-time favourite host in a Radio Times readership poll.
So most parents will be comforted to know that even Konnie Huq found home-schooling her two children a "complete nightmare".
Konnie, 45, spent her time in lockdown with her husband, fellow TV presenter Charlie Brooker, and their two boys, Covey, eight, and Huxley, six, in their London home, trying to teach them using the online school portals many of us will now be all too familiar with.
She said: "Lots of people would say I am tech savvy but, when I compare myself to my husband and my kids, I feel like I'm in the Stone Age.
"We're homebodies in our house so it's all been fine except for home schooling, which is quite a nightmare because obviously kids listen to teachers, but they don't particularly listen to their parents. Apart from that it's been fine and we're all together.
"One of them had their birthday just before lockdown. The other one had to have their birthday party cancelled and he was not pleased with that at all. They're at that age where they're a law unto themselves. We can only do so much as parents."
Konnie's own parents came to Britain from Bangladesh when her father landed a job with the Prudential insurance company. Her heritage and the Black Lives Matter movement has recently made her all too aware of the debates over racism in the UK.
Konnie said: "My dad got a job as an actuary. He probably wouldn't have come if he hadn't been given this job in the UK out of university as a graduate, which was something he couldn't pass up.
"He saw that growing up here you have things like the NHS and schooling for all and opportunities. So they came over to Britain to give us a better life."
Konnie was Blue Peter's first Asian presenter when she joined the BBC children's television programme in December 1997 and she admits she had to put up with accusations of being a "token Asian". But she is proud she led the way for more diversity on our screens.
She said: "Most people don't realise racism can be really subtle. Some say 'I'm not racist' but everyone has prejudices. Skin colour is there and I do think a lot of people came over to the UK and because of the situation they felt they had to stay in their communities because it's scary.
"They'd come with the dream of being totally accepted and integrated but it's a slow process because of the ignorance of prejudice. It is historical and goes way back.
"Young Asian boys are much less likely to get a job than their counterparts so being rejected early on means they start losing their confidence and it becomes a self-fulfilling prophecy.
"Which is why people don't understand why quotas are needed and comment on my being on Blue Peter and being the first Asian presenter. But I'd think, 'I can present. I'm just like everybody else'. In a way you do have to be a token before it can be the norm."
After leaving Blue Peter in 2008 Konnie went on to present The Xtra Factor and the One Show. Alongside Brooker, who she met after appearing on his review show Screenwipe on BBC One, she co-wrote an episode of the Bafta-nominated Channel 4 dystopian series Black Mirror.
Konnie and Charlie got married at the Little White Wedding Chapel in Las Vegas in 2010 after a whirlwind nine-month relationship and, after becoming a mum, she chose to reduce her television commitments to focus on bring up their boys.
More recently, Konnie turned her talents to writing and illustrating children's fiction, publishing the first of three books starring Cookie, a Asian schoolgirl who is fiercely bright and independent, last year. The next book, Cookie & The Cleverest Girl In The World, is out this week.
She said: "When I was growing up there weren't characters who were black or Asian, particularly as central characters in books. Asian characters picked mangoes in the village for their mum and I couldn't relate to that era.
"So, on the face of it, my book sounds very worthy or box-ticking because it's about a Muslim who is a British Bangladeshi girl who is into science, but is very chaotic with a mind racing at a million miles an hour. So she sees the absurd in everyday life as pictures, which is what is going on in her brain.
"We've all got these cultural things that define us as people but we all relate to the same emotions. It's really funny and laugh out loud."
During the pandemic Konnie was heartened by the outpouring of community spirit as the country rallied round the vulnerable and she has helped launch a new campaign, Virgin Media's search for a "local legend" in Edinburgh, where an individual or community organisation stands to win a £10,000 prize. It could be someone working on the front line or a community group helping people in need She said: "This pandemic has brought out loads of heroes who have gone beyond the call of duty. This is a major initiative that can reward someone in a big way."
The NHS is at the forefront of everyone's minds during the Covid pandemic and it's a subject close to her heart since both her parents benefited from hospital care in their final years.
Konnie said: "My mum and my dad both passed away a few years apart. My dad had cancer and my mum had early-onset dementia. The hospitals, the staff, the support workers and the nurses were amazing.
"I had my kids around the same time so I was bringing them into the world. They were coming on in leaps and bounds while my parents were deteriorating. Everyday words were falling out of their brains. They were losing their ability to talk as my kids were discovering their ability to talk. It was like the cycle of life and through it all the NHS was there for us."
Konnie and her family took part on the weekly clap for the NHS during lockdown but she is keen to see the health service protected in future years.
She said: "My kids would be out with saucepans and banging on all sorts and that is all well and good but it's meaningless unless we look at the bigger picture because the carers need to be paid well. They need to be treated like heroes above and beyond people clapping. Funding is going away from the NHS, not towards it, and that's not right. I do think we take the NHS for granted.
"It's such an amazing institution and I have been hand-clapping through the pandemic, but the bigger picture is to support it and make sure the funds aren't taken away from the NHS."
---
Cookie And The Most Annoying Girl In The World is out now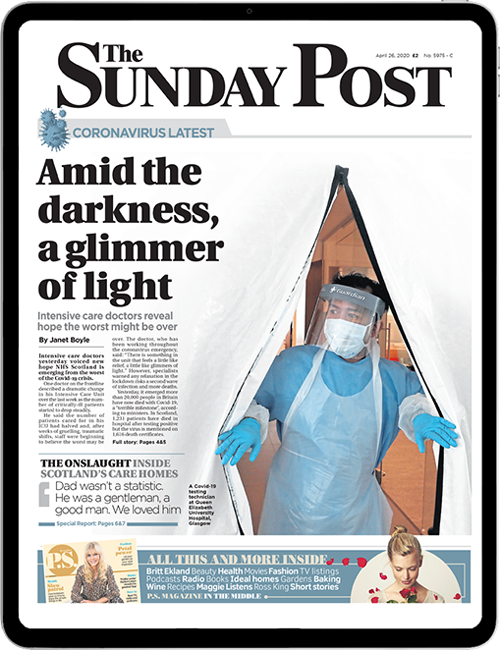 Enjoy the convenience of having The Sunday Post delivered as a digital ePaper straight to your smartphone, tablet or computer.
Subscribe for only £5.49 a month and enjoy all the benefits of the printed paper as a digital replica.
Subscribe