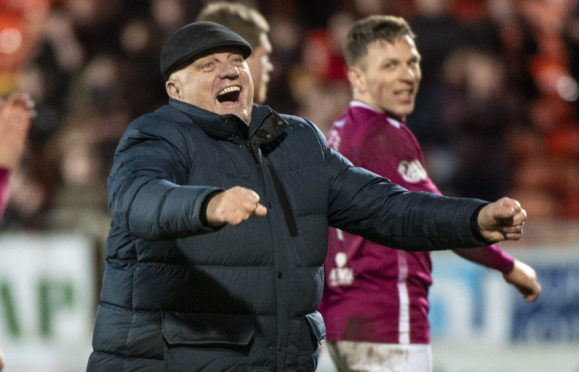 He has been dubbed Scottish management's "wily old fox".
Dick Campbell's response to the charge does nothing to dispel it.
"I'm only 66," grins Campbell, as rival boss Robbie Neilson's summing up is related to him under the floodlights of a midweek Arbroath training session.
"I don't like going to Dobbies on a Saturday. I'm a football guy."
Campbell pauses, pointing to the luminous green of the (artificial) pitch: "Look at this – beautiful. What more do you want?
"What else would you want to do? Sit in the house and watch the telly? Nah, not for me.
"I wouldn't give this up for anything – and I'm not going to."
Campbell's Red Lichties have shone this season. As brightly as the eponymous red light that used to guide Arbroath's fishermen safely back to port, and Neilson, Dundee United's title-chasing boss, knows it better than most.
The disparity in resources and ambition between the two clubs is as wide as the North Sea is deep.
Yet Arbroath's historic victory over the Tangerines last weekend was merely another stunning result in a campaign that would have seemed wildly improbable, if not totally unthinkable, before the big kick-off.
From setting out only to avoid foundering on the rocks of relegation, Arbroath are now steaming merrily around the calmer waters of the promotion play-offs.
Yet Campbell, their keen-eyed, sharp-minded gaffer, is still throwing his most-meaningful glances at the briny deep of the Championship's relegation zone.
"If somebody told me at the start of the season we'd be where we are now, I'd have said: 'Aye, dream on'," he smiles, his iconic bunnet ditched in favour of a bobble hat to keep out the February chill during training in Perth.
"But you see wee things happening. We've won four games away from home.
"We've gone to Inverness, we've gone to Partick, we've gone to Dundee United, we've gone to Alloa and won these games.
"I'm pleased. I'm very pleased.
"Am I surprised? Aye, I'm pleasantly surprised.
"But what can this group achieve? Let's not get ahead of ourselves. Our target is still to finish third bottom.
"We've got 31 points and 14 games left. In every single game there's a chance of achieving three points. That's it."
Talk about pragmatism.
Yet, coming from Campbell, even the clichés sound magical.
His utterly unique brand of Fife-twanged footballing wisdom has, so far, inspired teams he has managed to 10 promotions.
It's a strike-rate that makes him arguably the most-successful boss to have graced Scotland's lower leagues, and it also lends justification to his concerns about how older managers are increasingly passed over.
"Craig Brown was on the phone to me today," says Campbell, conspiratorially bringing another wily character into the discussion.
"This is an interesting statistic I'm going to give you here . . .
"If you think of the last four World Cups, the managers of the finalists have all been over 50. That should tell chairmen something.
"Football is the only game in the world that gets rid of experience.
"I work for my brother during the day. We're in recruitment, you see, and most of the day, what we do is interview people and compare the job description to the requirements of the customers.
"That should be how it is in football management.
"But in football, people seem to think they can take boys out of the environment where they've been a player and make them a manager straight away.
"Sometimes it is successful, But very rarely. It's a big ask for those boys."
Campbell would make one hell of a sounding board for those rookie gaffers, a number of whom he has crossed swords with this season.
This weekend, with no fixture scheduled, the Lichties' boss gave his players time off to spend as they please.
They have earned it, after all. Campbell's finely-honed intuition tells him it will pay off over the coming weeks.
His side, bolstered by the January arrivals of Craig Wighton, James Craigen and Dale Hilson, are probably nine points from safety. Three wins. That's all.
They are within Arbroath's grasp, and with them a shot at an accolade their boss, 33 years into his managerial career, would be delighted to claim.
"Four years ago we were near the bottom of League Two," he ponders, leaning into his conclusion.
"We've done really well since then. Been promoted twice and substantiated ourselves in the Championship.
"Now if we finish above Alloa, we'll be the best part-time team in Scotland."
Campbell already has the unquestioning respect of his players and staff.
If his side does the business, this season will surely be the one that puts the bunnet on his legendary status with everyone else when the awards are dished out.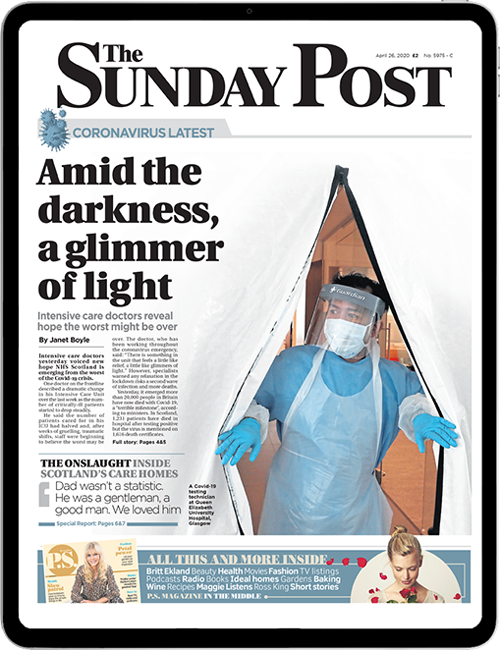 Enjoy the convenience of having The Sunday Post delivered as a digital ePaper straight to your smartphone, tablet or computer.
Subscribe for only £5.49 a month and enjoy all the benefits of the printed paper as a digital replica.
Subscribe