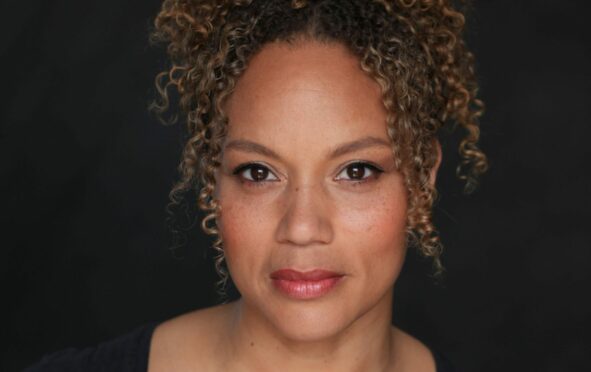 The last time Angela Griffin was in Scotland she found herself dealing with the aftermath of drug overdoses and stabbings.
The scenes she witnessed while shadowing an ambulance crew in Glasgow for a TV documentary wouldn't have looked out of place in any of Irvine Welsh's work, which are characterised by his use of raw Scots dialect and brutal depiction of depravation, addiction an crime.
So when she signed up to star in the Trainspotting writer's latest TV adaptation, Crime, her previous hands-on experience should have come in handy.
The former Coronation Street, Waterloo Road and Cutting It actress plays Trudi, the girlfriend of Dougray Scott's traumatised detective Ray Lennox, who spends the series trying to fight his own addiction demons while hunting a brutal child killer.
Written by Welsh and screenplay collaborator Dean Cavanagh, the series has just launched on UK streaming service Britbox.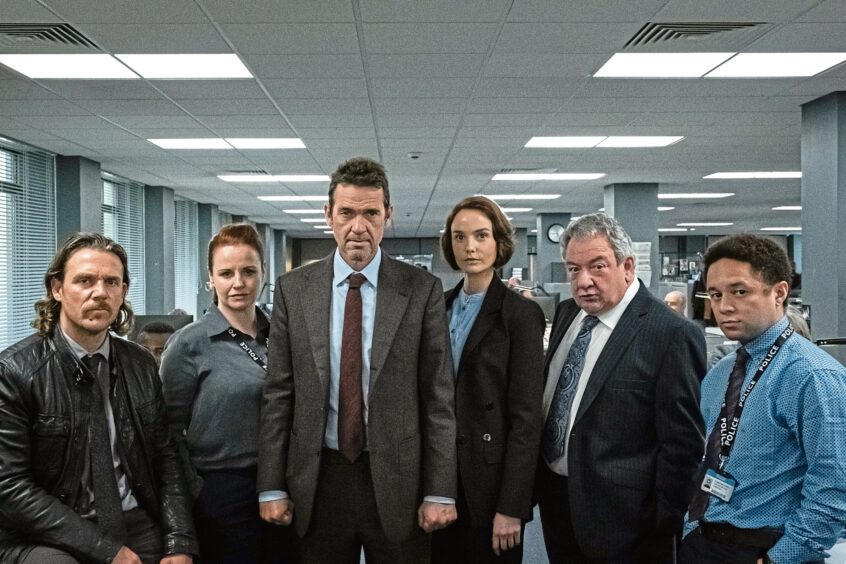 But Angela said the shoot all across the Central Belt was very different from her tour of duty in Glasgow's clubbing and kebab hotspot.
"I filmed a documentary series which went all over the country with lots of different ambulance services, and I spent a lot of time with the Scottish Ambulance Service on Sauchiehall Street.
"It was very interesting, it was Saturday night into Sunday morning, and we did about 15 full 13 hour shifts.
"So when I came to shoot this, I had a different view to maybe what other people would have because I'd only ever been there when people were having an emergency, so I'd seen a very, very different side to it.
"When I came here for Crime, I'm like, 'This couldn't possibly be the same place, it's very different.'"
Different is the most commonly used word when trying to describe Scotland's newest cop show.
While it looks like a police drama, based on the best-selling 2008 book of the same name, it's also a psychological thriller riven with Welsh's trademark dark humour.
Angela said: "I don't think I have ever done anything like this and I'm so proud of it. It's unusual, isn't it? So many people have been going, 'OK, it's another cop drama, it's another guy that has his flaws and his demons'. But it's very different.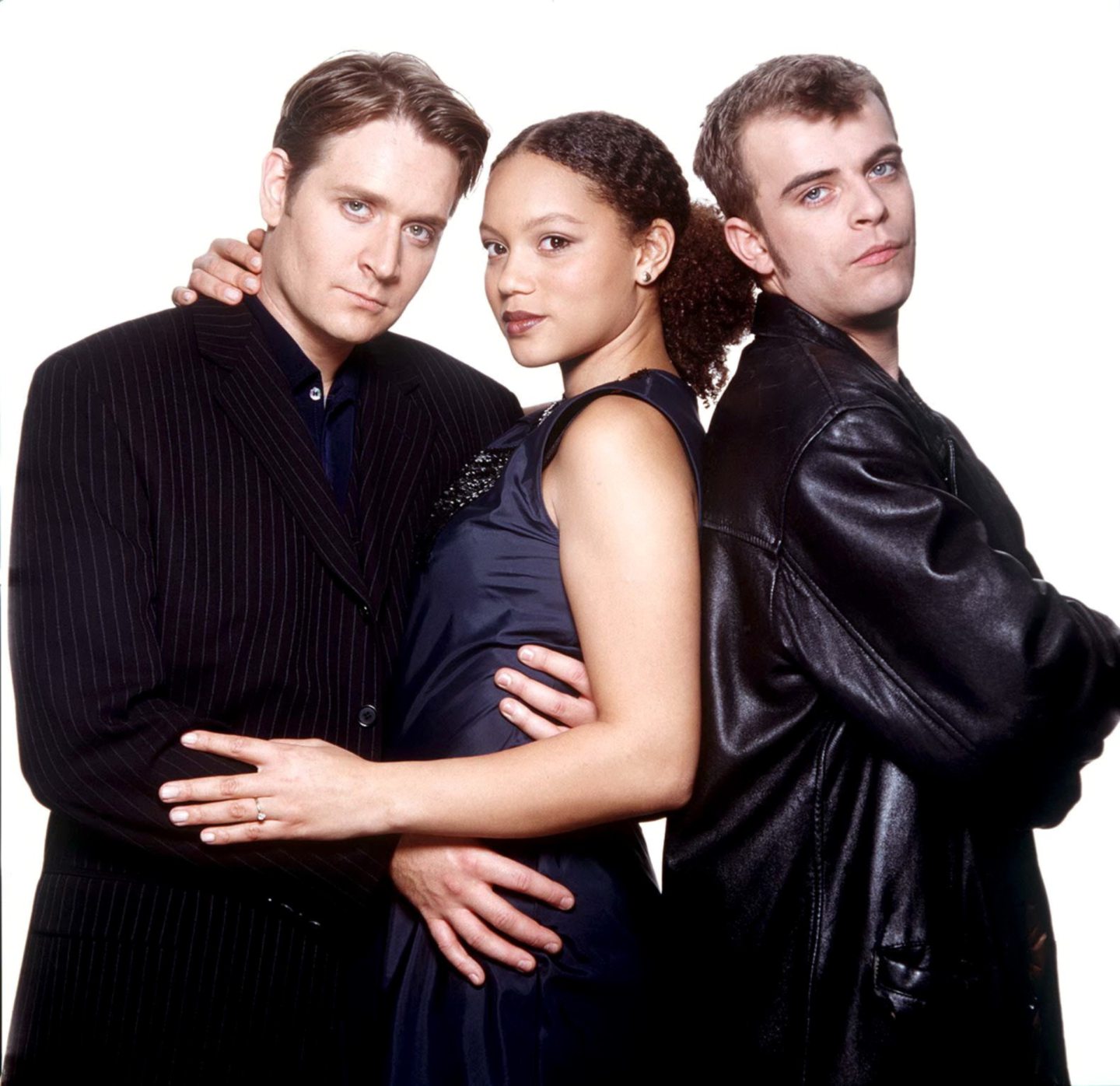 "It's Irvine Welsh, and it's Irvine Welsh all over this. It is one of those jobs that's hard to describe how it is so different, you just have to go and watch it."
Different is also what Angela has been looking for since she left Coronation Street after playing glam young hairdresser Fiona for six years in the 90s.
That saw her become one of the biggest stars in television, and she quit the cobbles to try her hand at other challenges which have since included shows such as Holby City, Waterloo Road, Cutting It, Down to Earth, Mount Pleasant and Lewis.
She made a return to Corrie for a showstopper cameo two years ago but admits that in the public consciousness, in some ways she's never left. "People mention Coronation Street to me all the time, even people who weren't old enough to have seen it – I left the show 25 years ago.
"It's all enduring, I'm always seen as Coronation Street's Angela Griffin, and I have no problem with that, it was my springboard, my drama school where I learned my trade, and I'm so appreciative of it. I'm lucky that I have had quite a bit of work after it so it's not the only thing on my CV."
Angela has been delighted to see that her other much loved series Waterloo Road is making a comeback.
Having made an admittedly brief Corrie return already, would she ever go back to school?
She's quick to reply: "I'd have to be asked first."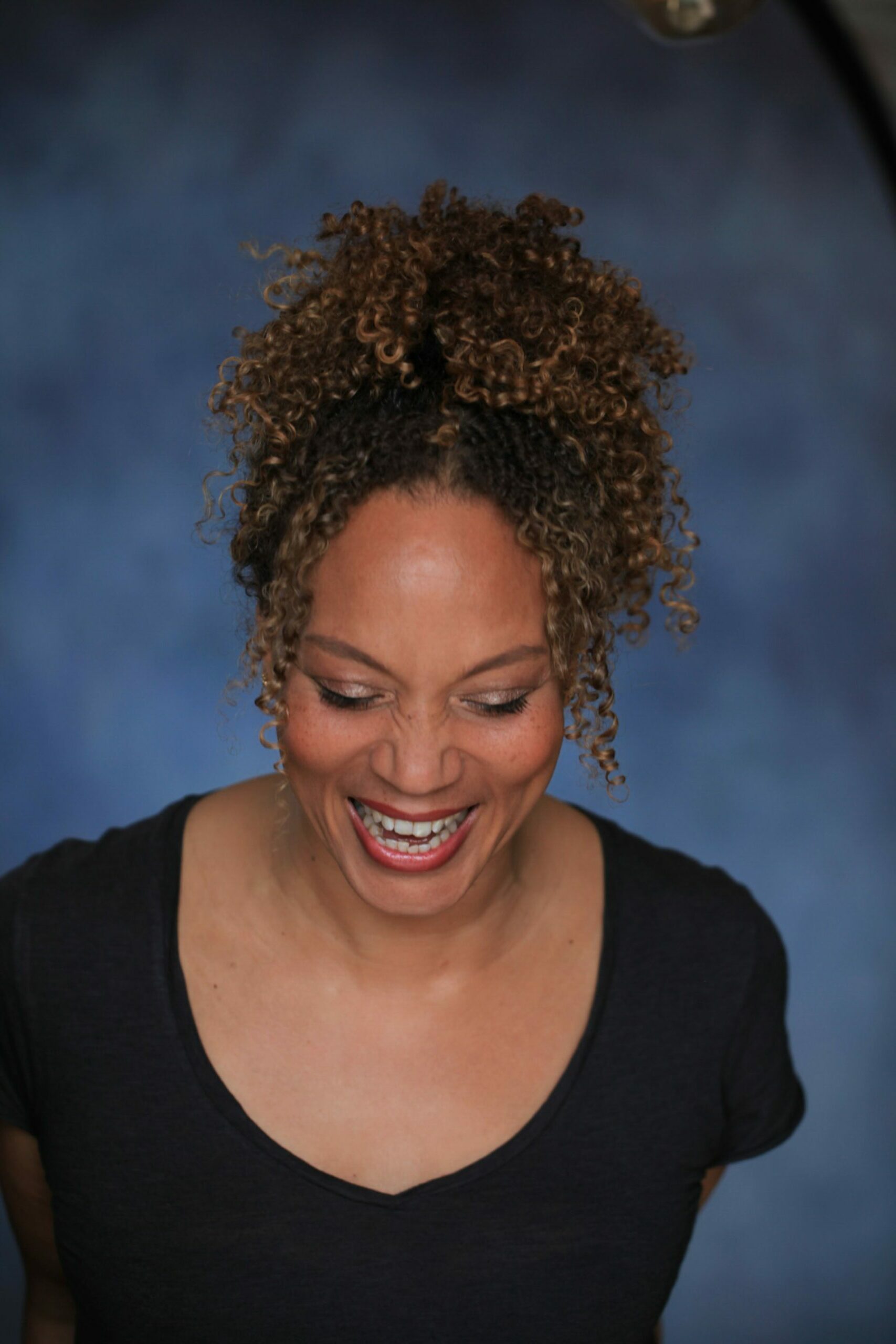 She continued: "I was ridiculously pleased to hear Waterloo Road was coming back. That show was the springboard for so much northern working-class talent, in front of screen and behind.
"I was really sad when it ended, thinking 'where's the show now where someone like me can get their chance, someone who's not gone to drama school for nine and a half grand a year and had to move to London?' I'm so stoked they are coming back."
The mum of two has been enjoying a real hot streak of acting gigs lately, from gritty Netflix series White Lines to period drama Harlots and upcoming horror film CURS>R, as well as upcoming new shows with Aidan Turner and Daniel Mays.
But she says working alongside Dougray Scott in Crime made her "raise her acting game".
The show is based on the book, and is a kind of follow up to Jon S Baird's 2014 film Filth, based on the book which introduced Scott's detective character Ray Lennox in a supporting role, played by Jamie Bell in the movie.
Welsh and Scott developed the new series together as a passion project over the last 10 years, and Angela said she was stunned the first time she saw the Fife-born star properly become Lennox.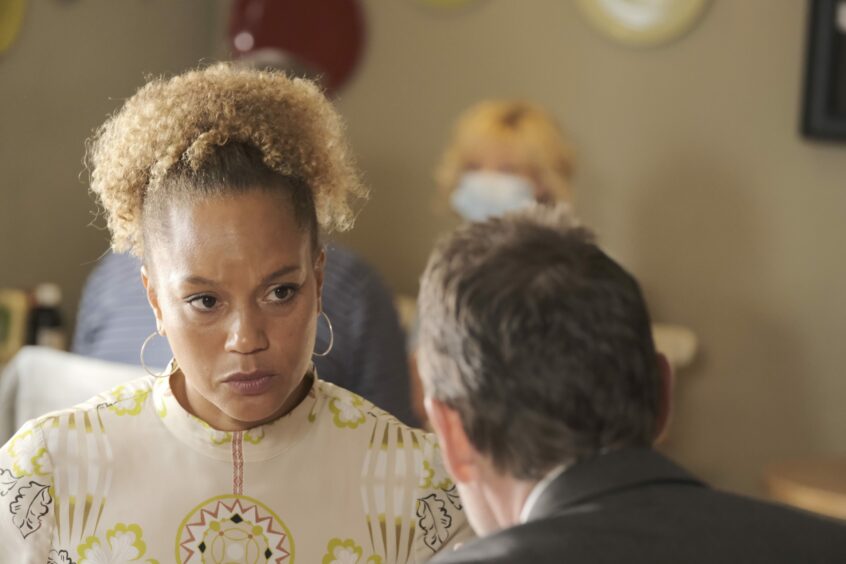 Griffin said: "Dougray is phenomenal. He really embodies that character. I remember the first day filming was a big family dinner and it was really in at the deep end. He has to really flip when we're doing the scene, and he was amazing, he made me go 'OK, he's shown me the level that we're working at here, I'm gonna have to make sure I can match it."
Angela added: "My character was interesting to get into. I'm not just the girlfriend, not just the woman he comes to at night and spills his guts to so we find out what he's thinking. She's got her own space and her own story. I really wanted to show the decline of that relationship and the reality of exactly what it is like to be with an addict."
Angela compared Welsh's use of the Scottish dialect to acclaimed American cop drama The Wire. She said: "I love how unapologetically Scottish it is. It's good to have to sit and really listen to what people have to say and it becomes an extra character in the show.
"I remember watching The Wire with subtitles at some points and I never cared that I had to do that because I didn't want them all to speak in perfect elocution accents. I want to be right there, and I think that not toning down the Scottish accent adds another level and dimension to the whole piece."
And she hopes she gets to keep living in that world for years to come. The writers have plans for further seasons of stories, and Angela wants to return – especially for the more sun-kissed Ray Lennox adventures.
She revealed: "In the book, the story starts with Trudi and Ray on a plane going to Miami on holiday because he's just come off a case that has really messed with his head, and then this whole thing happens over there.
"This series of Crime is about the case that he talks about in hindsight in that book. So even if we just went back to the beginning of the book for another series, there's still a lot of Trudi and Ray to get through.
"I am definitely sticking in there until they go to Miami. If I don't get to go to Miami, there's definitely something wrong."
---
Crime is available on Britbox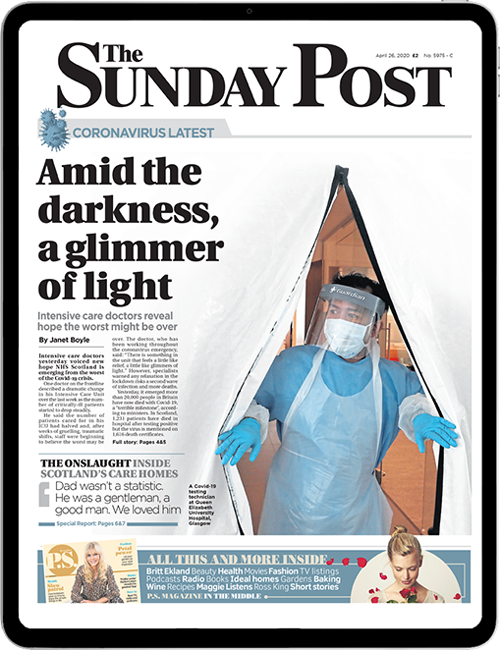 Enjoy the convenience of having The Sunday Post delivered as a digital ePaper straight to your smartphone, tablet or computer.
Subscribe for only £5.49 a month and enjoy all the benefits of the printed paper as a digital replica.
Subscribe