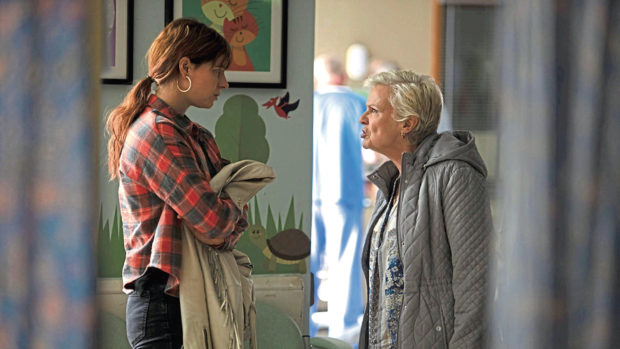 Julie Walters became a Dame in 2017 and has received more Bafta nominations than any other actress.
Turning 70 next year she insists this means there is no longer anything to prove and that ageing has been the magic remedy to giving a hoot.
"Sixty is a real watershed," Julie says. "It's when people used to be called OAPs and when I played Mo Mowlam in a Channel 4 film, I had to shave my head and it grew back white.
"I'd always dyed it, so I let it grow through and I thought, 'It's OK!'.
"You don't care so much about stuff. You're not establishing yourself in life in the same way.
"I'm sort of like, 'Here I am, this is it and it's fine.' It's been fine for 69 years, I know it's fine."
But things could have been very different as Julie reveals: "My mother didn't want me to be an actor, she thought that was absolutely mad!
"I come from a working-class background. I don't come from anything airy-fairy or lovely."
She was the youngest of five children born to her Irish mother and builder-and-decorator father in the West Midlands.
Her mother left school without any qualifications and was obsessed by the idea of her kids achieving more.
Three years into a job in nursing – a profession Julie took up purely to please her mother and to which she was "ill-suited" – she quit the NHS to study English and drama at Manchester Polytechnic – much to her mother's disapproval.
"I wasn't particularly rebellious but we did have a volatile relationship, definitely," says Julie.
There are obvious parallels with the relationship between Marion, Julie's character in her latest film, Wild Rose, and her on-screen daughter Rose-Lynn.
Played by Irish star Jessie Buckley, she is a reckless mum-of-two who, after a year in prison on drugs charges, is fixated on going to Nashville to become a country singer.
Throughout, Marion is supportive as a grandparent but steadfast in her determination to make Rose-Lynn choose parental responsibility over wild ambition.
But eventually she funds her daughter's dream trip with her own savings.
"The pain of both their ambitions, clashing and mixed with love, mixed with fear – fear for the children, fear for her daughter. It's a universal thing," says Julie.
Julie rarely received praise but, privately, her mother was very proud, secretly keeping boxes of newspaper clippings charting her daughter's career.
When Julie progressed to the West End, she finally voiced her support.
"I got a pension and that really cemented everything for her," laughs Julie. "I felt I could make a living and, eventually, buy a flat. She thought that was pretty good."
Julie isn't one for the showbiz lifestyle, explaining that daily life on the organic farm with her husband is "relaxed, really".
These days, instead of "worrying about a part", Julie can be found discussing the farm and doing a bit of home maintenance.
"He's so busy and I've been so busy, the place has been falling apart, so it's about getting stuff done and clearing stuff."
Wild Rose (15) is in cinemas from Friday April 12.