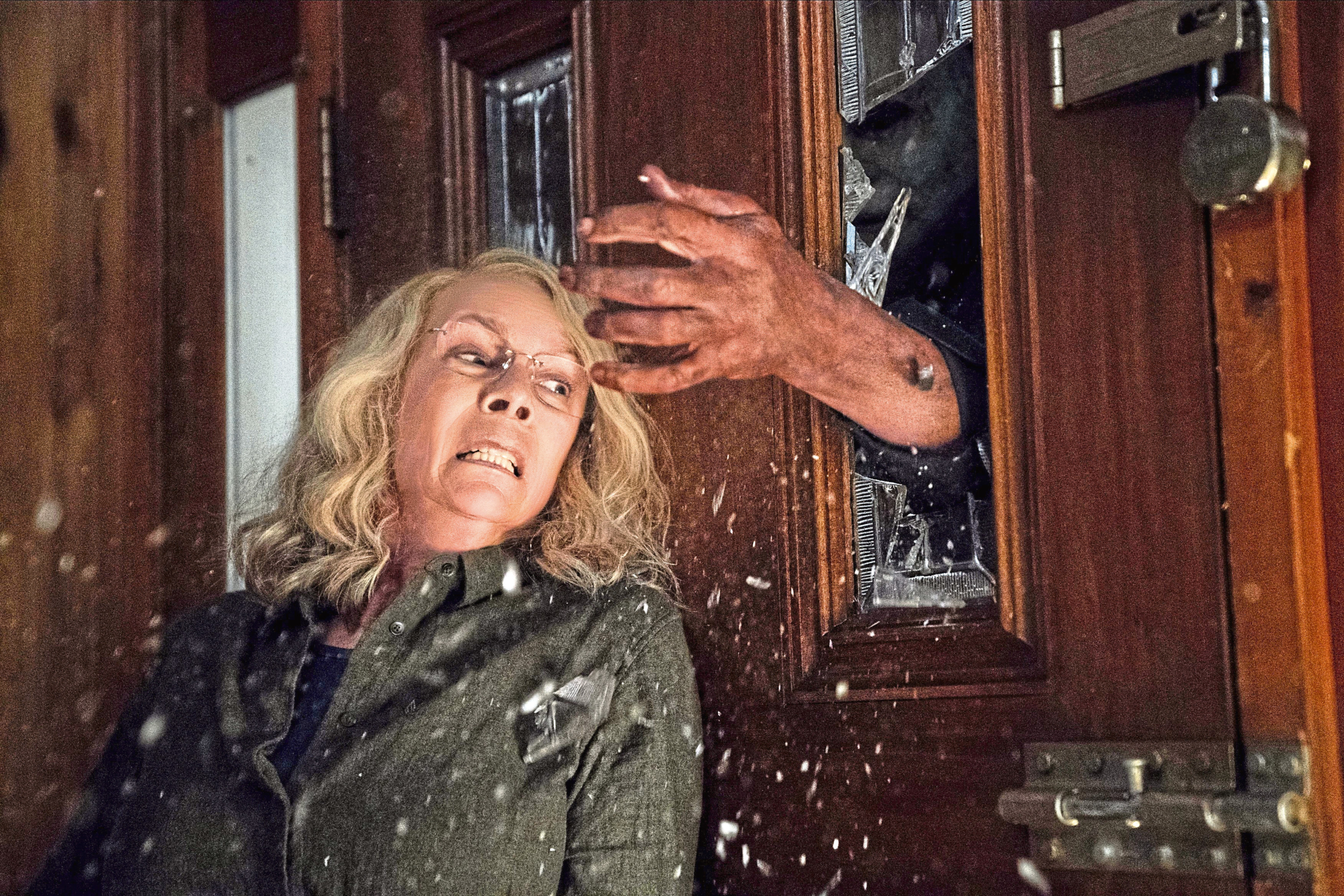 JAMIE LEE CURTIS is true Hollywood royalty.
So, as the daughter of Tinseltown legends Tony Curtis and Janet Leigh, it's only fitting that her horror-film roots earned her the nickname "The Scream Queen".
And even more appropriate that we should, in this country at least, refer to her by her official title – Baroness Haden-Guest.
You see, Jamie Lee became The Right Honourable The Lady Haden-Guest when her husband, British Spinal Tap star Christopher Guest, inherited his father's title in 1996, becoming the 5th Baron Haden-Guest of Great Saling in the County of Essex.
She regularly supported her husband from the visitors' gallery in the House of Lords until most hereditary peers were banned from their seats in 1999 but now, Lady H-G is back to reclaim her original title.
That's because she's returned as Laurie Strode in a reboot of Halloween, the slasher movie in which she made her name – and her Hollywood debut – 40 years ago.
The director, John Carpenter, said: "Jamie Lee wasn't the first choice for Laurie. I had no idea who she was. She was 19 and in a TV show at the time but I didn't watch TV."
She was partly cast because having the daughter of Psycho actress Janet Leigh would be good publicity for the low-budget – she was paid the princely sum of $8,000 – slasher picture.
So if it wasn't the pay cheque, what drew Jamie Lee to the character?
"Nothing. There was a script, they were meeting actresses, I was an actress," says Jamie Lee, 60 next month.
"They were making a movie and there were three parts for girls, and they were having me read for the part of the high-school brainiac. Done.
"What drew me to it was begging for a job."
Jamie Lee's next film was The Fog, another Carpenter-helmed horror, and she followed that up with Prom Night and Terror Train – in both films, as in Halloween, playing the main character whose friends are murdered and is virtually the only survivor.
So linked with the genre was Jamie Lee that the doyen of Hollywood film critics Roger Ebert, who had been pretty disparaging of her early horror output, said: "Curtis is to the current horror film glut what Christopher Lee was to the last one, or Boris Karloff was in the 1930s."
But she broke out and displayed her comedy chops with Bafta-nominated roles in Trading Places – for which she won the award – and the classic 1998 comedy A Fish Called Wanda.
However, Jamie Lee always felt the lure of her breakthrough role and as well as appearing in Halloween II and Halloween: Resurrection, she's already starred in an anniversary movie – 1998's Halloween H2O: 20 Years Later.
In the new movie, the tables are turned and this time it's Laurie hunting her nemesis Michael Myers.
The new Halloween is part of a wave of #MeToo-inspired horror movies in which the women, instead of being the helpless victims as they used to be, take the battle to the bogeyman.
Jamie Lee feels Laurie, the lone survivor of a trio of teenage girls, would, 40 years later, be a "prepper" with an arsenal of weapons, justifiably paranoid that Myers would return – well, he has done for seven sequels now – and aiming to "take back the narrative of her life".
She says: "Clearly this movie will be another voice in that same chorus of women taking back their stories, saying: 'We are not that story, we have arrived, and we will be the ones who write our own stories.'
"This movie will be a part of that wave. I didn't realise it until we were making it, and I realised what Laurie was doing, and that's very powerful."
In the new Halloween, Curtis's Laurie is a twice-divorced, bespectacled grandmother with a long mane of grey hair.
She's not running from Michael, she's waiting for him. She knows he's about to be transferred from one hospital for the criminally insane to another – and she knows in her guts he won't complete the trip.
"When director David Gordon Green and I sat down, I said to him: 'What do you think happened to Laurie on November 1 1978?,'" Curtis says.
"I think she went to school. I think she was told: 'You're OK, you have a cut on your arm, here's a bandage.'
"And she went from being Laurie Strode, dreaming, idealised human being with her future in front of her — she would've gone to Brown, maybe majored in philosophy, gotten her doctorate — to a freak, which is what trauma and shame attaches to.
"When she walked down the hall of that school, all that happened were people going: 'Oh my God, there's Laurie Strode!'
"In the new film, there's a scene of Laurie alone in her truck, watching Michael leave the prison, and it's written in the script like a little haiku: There's a gun, there's alcohol, and basically she relives 40 years of trauma in that moment."
Jamie Lee agreed to reprise her signature role in part because the actress mistakenly believed it wouldn't involve much effort on her part, and that the movie's real emphasis would be on her character's daughter Karen and granddaughter Allyson.
She admits: "I really focused on those characters. When I first got sent the script, I literally said: 'Look, you guys, I'm in it so little, you can shoot me out in, like, five days.'"
Curtis only realised her error when she landed in Charleston, where the film was shot, and began to rehearse, unpacking the damage the masked killer Myers had inflicted on her character 40 years previously.
"I started crying the day I arrived," she says. "I didn't stop crying until the day I left. I didn't expect it.
"I knew Laurie would be fierce and galvanised, I knew I'd be tired and that I would work hard.
"I did not know that it would move me so deeply, the whole experience of the movie. It took me a good month to recover.
"Halloween II was a direct sequel – that movie started the exact moment the first one left off, and I didn't make another horror for many years.
"I did H2O because it was 20 years and I thought it was cool. In that one, Laurie Strode was running. She'd changed her identity, she had moved away, she didn't have the name Laurie Strode any more.
"That movie was about alcoholism and running from your fear.
"I had no intention of pretending to be Laurie Strode again until last June when a phone call came in.
"I liked that it was a movie about trauma and that it explored it through generations, passing that fear on to her daughter and granddaughter.
"And it just so happens that we're in a time in the universe where women are confronting the trauma of their lives and, quite frankly, the perpetrator of that trauma and saying: 'No more. I'm going to take back the narrative of my life.'
"When I got the script, I knew I was going to say yes by page four. Right away, I understood how they'd jumped a generation and now it's my teenage granddaughter 40 years later on Halloween night."
Halloween (18) is in cinemas from Friday October 19.