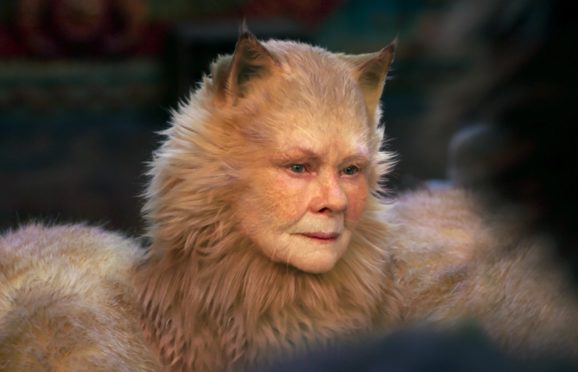 Taylor Swift loved the "weirdness" of Cats.
The singer is one of the stars of the new film that's based on Andrew Lloyd Webber's musical, one of the longest-running productions in both West End and Broadway history.
She appears alongside an impressive ensemble including Dame Judi Dench, Sir Ian McKellen, Jennifer Hudson and Idris Elba.
Following the release of the trailer, film fans were left scratching their heads about why director Tom Hooper – who made the Oscar-winning The King's Speech – decided to place "digital fur technology" over the face and bodies of the actors playing the lead feline characters.
Many found the mutated dancing forms to be troubling, describing them as "cursed" and "like a Doctor Who episode from 2005"!
But Swift, who plays the flirtatious Bombalurina, explains this was actually one of the reasons she said yes to the opportunity.
"I really had an amazing time with Cats," she says.
"I think I loved the weirdness of it. I loved how I felt I'd never get another opportunity to be like this in my life.
"My first memories of performance go back to when I was in Pennsylvania growing up.
"My favourite thing was getting to be theatrical, to tell a story and I've always brought that narrative element to my live shows.
"This musical is timeless and we've got to update it in ways that are just so, so great."
The cast attended "cat school" where they learned how to mimic the physical and behavioural traits of their feline counterparts.
Cats is, of course, based on TS Eliot's quirky poetry volume Old Possum's Book Of Practical Cats, which follows a gang of cats known as the Jellicles – Eliot's nonsense term for "dear little cats" – who are preparing for an annual ball.
This is more than just your average get together, though, as during the festivities the group must choose someone to go to what's known as the Heaviside layer, a sort of cat heaven.
He or she can then be reborn, beginning the next of his or her nine lives. Keep up, I'll be asking questions at the end.
Idris Elba, who plays Macavity, even struggles to explain what's going on when asked.
"Ah, wow," the 46-year-old action star says. "What a way to throw me under the bus there!
"It's a classic. It's a big musical by Andrew Lloyd Webber. I guess it's about a cat? How am I doing?!
"It's one cat's journey towards what is essentially cat heaven," Elba continues. "The idea is we all… you know, we aspire to get towards cat heaven.
"It's this young cat…and she gets sort of… taken on this story about how to get to cat heaven. Or what you should do to get into cat heaven.
"Does anyone know what the story is?!"
Dame Judi – clad in an over-the-top fur coat – stars as Old Deuteronomy and this is second time lucky.
Dame Judi was to play Grizabella in the original West End production, but injury forced her to withdraw.
"I was cast in 1981. Just before we opened, I snapped my Achilles tendon and I thought that was my history with Cats," she says.
"But it turns out not to be. It's a kind of Alice In Wonderland experience."
Sir Ian McKellan appears, fittingly, as Gus the Theatre Cat.
---
Cats is in cinemas from Friday December 20.