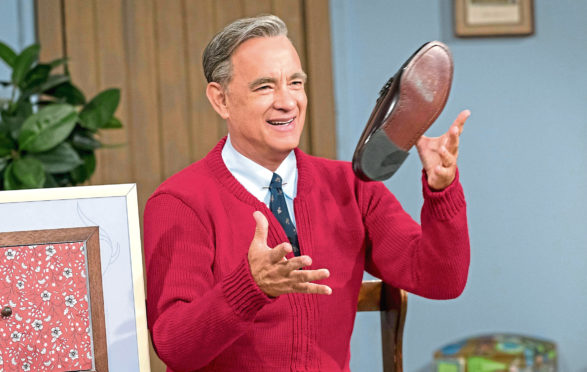 February is probably a bit early to be picking the best movies of the year.
But A Beautiful Day In The Neighborhood may just prove to be the most emotionally moving, uplifting film of 2020.
Tom Hanks plays Fred Rogers, puppeteer, producer, Presbyterian minister and a huge US TV personality for decades.
Matthew Rhys is jaded journalist Lloyd Vogel who has been in a fight with his estranged father, still bitterly recalling how he cheated on his mother while she was dying of cancer.
He is sent to interview Rogers, who seems far more interested in Vogel's own troubled life than bragging about his career for a magazine feature.
It's all based around a real feature from Esquire magazine, and for the umpteenth time Tom Hanks has summoned up an intelligent, sensitive performance that has huge audiences loving it across the United States.
It will surely do likewise at British box offices, and those who see it will leave with a new attitude towards their own lives and their loved ones.
Many a long-standing grudge between relatives will be forgiven and forgotten, if they get the message of this movie and that is quite a claim for a mere film to make.
Chris Cooper, who plays the father who abandoned his kids and cheated on his ill wife, was also profoundly affected by the tale, even comparing a scene he did with Hanks to "seeing the eyes of God".
It's directed by Marielle Stiles Heller, who began her working life as an actress and said that side of the business was her first love.
She later studied theatre, and the 40-year-old Californian even moved to Britain to learn the ropes at London's Royal Academy of Dramatic Art.
She came to prominence after writing and directing The Diary Of A Teenage Girl in 2015 and directed 2018 biographical drama Can You Ever Forgive Me?.
Marielle is deeply drawn to this kind of tale, stories that get to the heart of people and families and how they work together.
She loves ideas that get people "trying to talk about something that people are uncomfortable talking about" and she reckons that motherhood has made her want even more "to do good in the world".
According to the man who carries the whole thing, Tom Hanks: "We are still in the position of waking up and having a choice. Do I make the world better today somehow, or do I not bother?"
Tom turns 64 this summer, and shows no signs of thinking about retirement any time soon.
He will also star as Commander Ernest Krause in Greyhound this year, and then as Finch, last man on Earth, in BIOS, a science fiction drama. Then there's News Of The World, which will be his second collaboration with director Paul Greengrass.
It is set to be released on Christmas Day this year, though who knows? Perhaps he will fit in another before New Year's Eve.
Hanks is a keen collector of vintage typewriters, and even has his own computer app that lets him type while hearing the old-school sounds of the keys being struck and the return carriage ringing.
Next year, he's set to star as Colonel Tom Parker, legendary manager of Elvis Presley, and there's serious talk of him appearing in a live-action version of Pinocchio.
A busy man!
---
A Beautiful Day In The Neighborhood is out on Friday January 31.