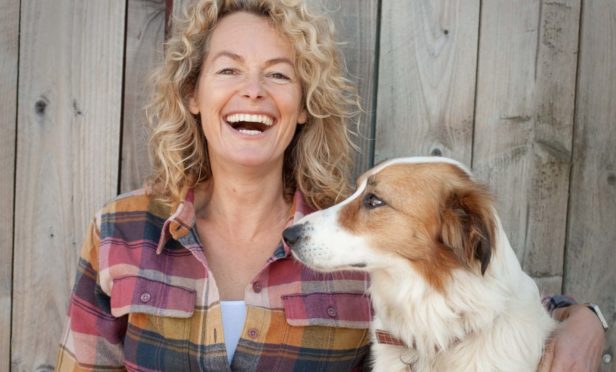 Queen of green Kate Humble has been up since 6am and has already been out for a run with her dogs when P.S. catches up with her. The Welsh farmhouse she shares with her BAFTA award-winning filmmaker husband Ludo Graham, 59, and their four-legged family Badger, Teg, and Bella, is her personal heaven.
The 51-year-old Countryfile presenter, who became a household name with shows like Springwatch, Wild In Africa and Animal Park, quit the London rat race 12 years ago for the peace of Monmouthshire in a move that some might have considered career madness.
But Kate – whose soul is in the soil – is not afraid to put her money where her mouth is. And it has paid off. She runs Humble By Nature, a farming enterprise to help people reconnect with the land and preserve traditional skills and her TV work is as busy as ever.
She hit TV screens this summer with Channel 5's A Country Life For Half The Price featuring others who have also made the lifestyle change. And her latest TV project landed quite literally on her Wye Valley doorstep. Hard on the heels of the Battle Of Britain series with Dan Snow, July will also see her beam into living rooms with HGTV's new upcycling and craft show The Weekend Workshop.
She joins Max McMurdo and Zoe Pollock, to breathe new life into forgotten objects at home. Kate is in Wales where her hubby is in charge of the filming, Max is on his canal barge in Bedford and Zoe is in her quirky south-east London workspace.
Kate confesses: "I am not a natural craft person but I love the concept and ethos of upcycling. We cannot just constantly buy new things and chuck them out when they break. The world can't cope with that.
"I often think of how a thing can be mended, but lack the skills to do it. I'll say to my husband, 'Why don't we do it,' and he'll give me that look and say, 'You want me to do it?'. So not only did he have to film me for the show, he also had to tell me which drill to use and to explain that when the drill made a horrible noise, I wasn't screwing the screw straight. I hope that my contribution to this programme will be that, frankly, if I can do this, anybody can."
And its highlight? "We made a turf sofa in the new series. It was really comfortable and as I was enjoying it I remembered living in London and longing for the great luxury of lying on a patch of grass, just looking up at the sky, with no car noise, and no other people around."
Lockdown created many opportunities for sky-gazing. Kate – who has worked with Ben Fogle in the past – laughs: "Ben phoned me the day lockdown started and said, 'Humble, I'm not remotely worried about you. You never see anyone!"
She laughs: "I'm not that bad, though living where I do, I am quite happy. I have beautiful green space all around me, and I have the farm and my dogs to keep me busy. We were lambing at the start of lockdown, we've been calving and we have had quite a lot of TV projects going on.
"I have missed people, of course, despite what Ben says. I am sociable in a small way. It's just that I don't like great big parties. Instead, I love having people over and sitting round the kitchen table with something simple for supper. It'll be nice to do that again.
"For me the greatest pleasure is being outside. I've never ever understood how anyone can think a duvet day is fun. It is my idea of hell, that or a spa day."
"I grew up in the '70s next to a farm in Berkshire. There wasn't wall-to-wall television. No one had invented personal computers. There were no screens, or social media. It was a lovely time to grow up. If you were lucky enough to be in the countryside, making your own fun was easy. You climbed trees, made dens, and went on adventures with mates on your bike or walking.
"I spent a lot of time on the farm, looking after the animals. It's what I loved doing and what I am doing now. It makes me happiest, just being outside with animals and not worrying about whether I'm wearing the latest thing or if my mascara has smudged.
"My poor mum and me would fight over her trying to make me look respectable. But I wasn't the sort of girl who played with dolls or wore make-up. I still don't know how to put it on."
Celebrity isn't Kate's cup of tea. Eleven years ago she turned down a chance to compete on Strictly. "It's just not me," she says. "I find it extraordinary that I am still offered lovely things to do. But I don't do long-running things like Strictly. It sounds odd, but I'm not interested in being on television.
"I'm interested in projects that are uplifting, helpful, educational or interesting. They're not about me. I don't think of myself as a celebrity."
The experiences of her youth clearly informed her choices. She went travelling in Africa, aged 19, out of what she admits was "sheer bloody-mindedness".
"Africa was the most valuable education I had," she reveals. "I started in South Africa and ended up in Egypt. It was an extraordinary time to be there.
"I was there in 1988, the Apartheid era. South Africa was on the brink of really big change. Two years after I left, Mandela was released from prison."
According to Kate, the current global Black Lives Matter campaign is "long, long overdue." She says: "We have these moments of consciousness. They flare up every now and then, usually off the back of some appalling event, as this one did. The sad thing is we seem to have short memories, and then something has to happen again.
"Why, in 2020, are we still having to remind ourselves that black lives matter? Every life matters, no matter what colour or culture, everybody deserves equality and fairness."
With a planet plagued by pestilence, pollution and racism, she worries for the future. "I feel sad at the prospect that we will emerge out of lockdown not wiser and not making choices that are better for the world.
"Sometimes the world and its problems can feel insurmountable and you might want to just go and hide under the bed. My approach is to try to do as much as I can…"
The Weekend Workshop, Mondays, 8pm from July 20, HGTV and on dplay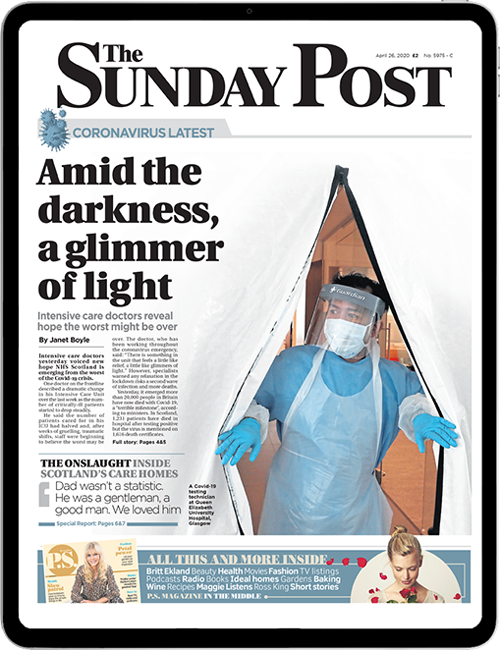 Enjoy the convenience of having The Sunday Post delivered as a digital ePaper straight to your smartphone, tablet or computer.
Subscribe for only £5.49 a month and enjoy all the benefits of the printed paper as a digital replica.
Subscribe