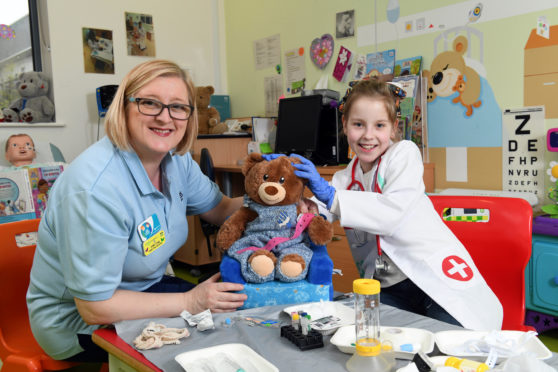 Ever heard the one about the bear with the sore head? Well, this is where they should come.
It's the hospital where the prescriptions read: "Kisses and cuddles three times a day" – and absolutely everything is in miniature.
In fact, it's home to the tiniest MRI scanner you've ever seen.
Welcome to the Teddy Bear Hospital at Glasgow's Royal Hospital for Children, a place where patients bring their most loved bears for a little bit of TLC – and to help them understand the treatments they're going through themselves.
Some teddies get bandaged up and have blood tests, others come in to have scans, get measured for splints and have cannulas fitted.
"We try to mimic the treatments that the children will be having and help them to carry out the procedures on their bears," said Jane Craig, a health play specialist.
"It's all about educating the children on their care through play."
Since taking on the role three years ago, the 47-year-old has worked with thousands of brave youngsters.
"It's the best job in the world," said Jane. "Not only do I get to play all day long, but it's so rewarding.
"And so beneficial not only for the children, but their siblings and parents too. Sometimes the parents have more anxiety than the children.
"It's all about fear of the unknown and I guess when you don't know what to expect, hospital can seem like a pretty scary place.
"But it's all about confidence and understanding and when the children know what's happening and why, they seem to cope with it much better."
One of the most loved patients at the Teddy hospital is Brown, belonging to Hailey Pollock.
The 10-year-old's furry friend has had all manners of procedures, from CT scans to being measured for a spinal brace.
Hailey, from Livingston, has been a regular patient at hospital since she was born with major exomphalos, where the organs grow outside the body.
Mum Alison said: "It was spotted at the 12-week pregnancy scan.
"Basically, Hailey's heart and lungs were inside her body – and everything else was outside.
"At the scan, doctors told us the baby might not live and it might be better to terminate the pregnancy, but I refused and sought a second opinion."
After a more positive outlook from other experts, Alison and husband Andrew decided to keep the baby.
"We had a little girl two years before Hailey called Alyssa who was born with half a heart. She died at six weeks old," said Alison. "Having gone through that, we had to give life a chance."
Hailey was born six weeks prematurely, weighing only 4lbs. And it wasn't an easy birth.
"There was a bit of a disaster trying to get her out," said Alison.
"The sac holding her organs was ruptured during delivery. Normally, that's fatal but the surgeon somehow managed to save her life. That was just the beginning of her showing her fighting spirit."
Hailey, who was also diagnosed with spinal scoliosis, spent her first few months in intensive care.
She was 10 months old before being given the all clear to be taken home for good then, when she was two, had surgery to place her organs into her body.
Now, she has to return for regular check-ups on her spine and organs, has regular appointments with specialists, and gets occasional adjustments made to the spinal brace she wears 23 hours a day.
She loves taking Brown for his check-ups at the Teddy Bear Hospital.
"I think understanding what procedures she needs to have and how they are done is a great way to approach it, because then she knows what to expect and there are no surprises," added Alison.
"It's an amazing place for us and really helps relieve any anxieties about her treatment."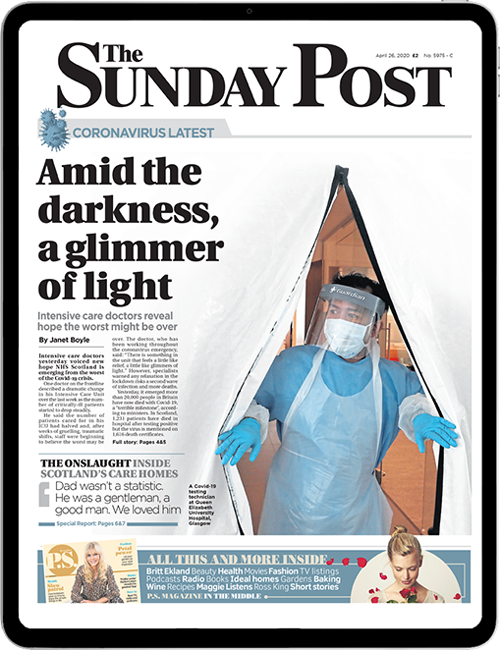 Enjoy the convenience of having The Sunday Post delivered as a digital ePaper straight to your smartphone, tablet or computer.
Subscribe for only £5.49 a month and enjoy all the benefits of the printed paper as a digital replica.
Subscribe