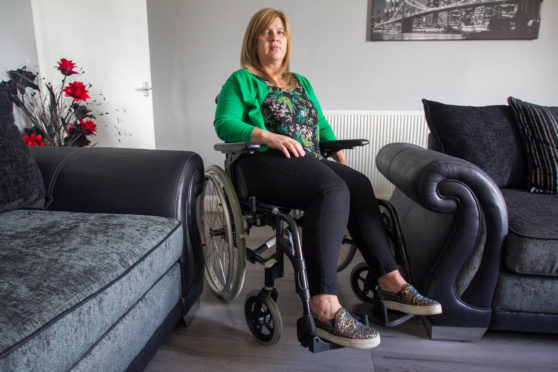 She fought bravely, she campaigned tirelessly and she won finally.
But victory came too late for mesh victim Claire Daisley and next week she will endure an operation to remove her bladder.
The life-changing operation will take place just weeks after Jeane Freeman, facing calls to resign after being accused by mesh victims of misleading MSPs, finally agreed to invite a world-leading specialist in mesh removal to Scotland.
The arrival of Dionysios Veronikis from the US, expected in the autumn, will come too late to save Claire's bladder and, she fears, her bowel, which is also threatened by mesh.
The 49-year-old mum, from Greenock, first appealed to Ms Freeman, the Scottish Health Secretary, to see the world-renowned mesh removal expert 11 weeks ago in a last bid to save her from the ­irreversible surgery.
But the operation to remove her bladder will go ahead on Thursday at Glasgow's Royal Infirmary.
The procedure is the NHS's ­solution to Claire suffering chronic incontinence as a result of being injured by a mesh implant used to save the health service just £200.
Claire wept as she said: "I'm devastated. I had hoped after making a personal plea to Jeane Freeman that I would have got the help I needed.
"But it's too late for me now.
"I've been left with no choice but to have the surgery to remove my bladder. Dr Veronikis was my only hope and I'll have to live with the knowledge he might have saved me from this if Jeane Freeman had acted earlier.
"She'll have to live with that knowledge too."
"I'm angry. I'm heartbroken. I'm destroyed."
It is 11 weeks since Claire first urged the Ms Freeman to accept Dr Veronikis's invitation to visit Scotland to treat mesh victims and pass on his skill to surgeons.
After getting no response from Ms Freeman, she wrote to First Minister Nicola Sturgeon, also without reply.
Claire will need at least six months to recover after the operation, and the rest of her life to come to terms with the devastating consequences of mesh implants used as "quick fix" for women suffering bladder issues after childbirth.
She said: "My life has been a constant nightmare since surgeons used that mesh implant in 2011, with the crippling pain and side effects from the polypropylene plastic device.
"The NHS attempts to remove the implant made it even worse, leaving me needing a wheelchair at times, and trapped in my own home at the top of 47 steps.
"My records state they did a 'full implant removal'. In fact, they took only 6.5cm, just a quarter of the device."
The mum, who wanted to train as a domestic abuse councillor, said: "My life has been destroyed by mesh. My life and the lives of so many others.
"It breaks my heart."
Dr Veronikis had hoped to have been able to intervene and save either both, or at least one of her organs.
Claire said: "If the government had acted quickly, I might have stood a chance. I'm relieved Dr Veronikis will help the other mesh injured women but sorry he couldn't be here for me.
"If I'm well enough by the time he does come to Scotland, I hope he might be able to remove the mesh left inside me."
After first announcing that Scots surgeons would go on fact-finding trips to America, Ms Freeman finally signalled Dr Veronikis would be asked to Scotland four weeks ago.
The U-turn came just days after she was accused of misleading MSPs by victims of mesh. They demanded she apologise and resign after telling Holyrood that an expert group, purportedly set up to help mesh victims, had never previously met to discuss the reintroduction of mesh.
She denied a Sunday Post report revealing their discussions but official minutes later confirmed her so-called short-life working group announced in March was, in fact, the same group of health board officials that met in February to discuss how mesh could be reintroduced.
MSP Neil Findlay, who has campaigned for mesh-damaged women, criticised the failure of Ms Sturgeon to meet them during the unfolding seven-year scandal and said Claire's case was particularly harrowing.
He said: "I've lost count of the number of times I've raised her case in parliament with the Health Secretary.
"I'm dismayed Claire has received no action from the government, and will now lose her bladder and possibly her bowel.
"This is a travesty for this young woman but symbolises how mesh victims have been patronised and ignored by ministers. They have been failed on every level.
The Scottish Government said: "We sympathise hugely with Ms Daisley and every women who has suffered pain and life-changing complications caused by mesh implants.
"We are working closely with all relevant partners to bring Dr Veronikis to Scotland as soon as possible so that his considerable expertise can be utilised to support women suffering with mesh complications.
"All decisions regarding potential surgical procedures should of course be dependent on clinical needs, and should be taken following expert advice from clinicians."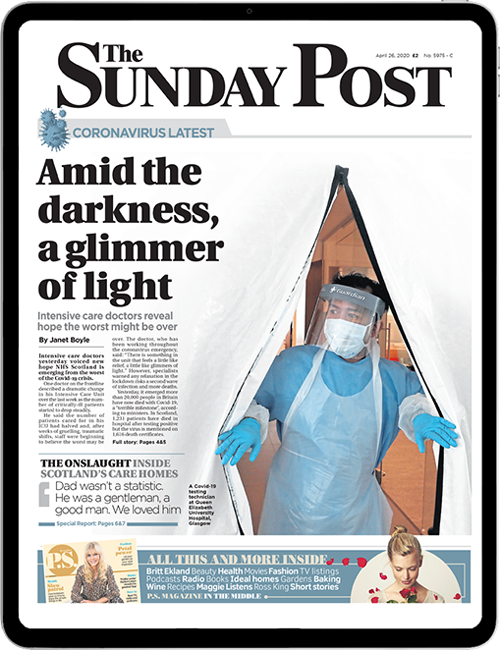 Enjoy the convenience of having The Sunday Post delivered as a digital ePaper straight to your smartphone, tablet or computer.
Subscribe for only £5.49 a month and enjoy all the benefits of the printed paper as a digital replica.
Subscribe