A young mum who became desperately ill after giving birth has told how she wrote letters to her newborn daughter and husband telling them how to go on if she did not pull through.
Now recovered and cuddling her daughter, Ashvine Ashok, 31, spoke of the terrible days after Ashika Evie was born prematurely last month.
Ashvine developed a dangerous ­complication of pregnancy where the placenta fails to deliver, leaving her at high risk of infection or bleeding to death.
Doctors at the Princess Royal Maternity Hospital in Glasgow fought to keep her alive while they planned major surgery. Meanwhile, Ashika was rushed to the hospital's special care baby unit after arriving six weeks early at 4lb 7oz and needed help feeding.
In a room, just off the operating theatre, Ashvine was being constantly monitored by nurses in case she started to haemorrhage. The young mum, a radiographer from Glasgow, said: "I was monitored constantly and a midwife checked my blood pressure and looked for any signs that I was ­deteriorating. Blood transfusions were on standby and I feared I was dying."
Ashvine was given a constant ­infusion of antibiotics to prevent the danger of ­infection that can come with an incomplete birth. The operation to remove the ­placenta comes with significant risk to the mother's life.
"I had worked with patients in theatres at Glasgow Royal Maternity – which adjoins the Princess Royal – now I was one of them," she said.
Fearing she wouldn't survive, Ashvine describes her desperate need to write touching letters to husband Ashok and Ashika. She said: "I told my husband Ashok to bring our daughter up well.
"I felt a real need to write to them both, telling them of my feelings as I face the real risk of not surviving. Ashika's letter was to be opened when she grew up, when she was 18 or 21.
"I told her how her dad and I met, fell in love and married in Sri Lanka. I wanted her to know how she was ­conceived six months after we ­married and how much she was loved and wanted. The pregnancy had been ­fantastic. I was the happiest I had ever been as I carried her to 34 weeks before she was born. I wanted her to always look after her dad.
"I will keep the letters to remind me that they are part of my life story and remind me how grateful that I survived."
Ashvine says that her obstetricians had explained the risks of surgery, the risk of haemorrhage was considerable but they would work hard to save her womb and allow her to go on to have more children if she wished.
The ­surgery was a success and she has now recovered. "I put my trust in them and they saved me," she said. And, since her ordeal early last month, Ashvine and Ashika have returned to their Glasgow home.
Placenta accreta is a rare but ­increasing serious complication of pregnancy when the placenta grows too deeply into the womb and refuses to be delivered in the normal way after the baby arrives. It affects up to three in 1,000 mums. But it almost always strikes those who have had previous babies delivered by caesarian section.
However, the condition rarely affects first-time mums like Ashvine. "I want other mums to know that if they do develop this that there is hope and indeed life, afterwards," she said. "I don't know if I will have another child but I will always be ­grateful to the doctors and nurses who gave me a chance to see my ­ beautiful daughter grow up."
---
From the letters
To baby Ashika
I don't know if I will make it but I want you to know that your dad really needs you.
I had a wonderful pregnancy. You are a very loved and wanted baby
To husband Ashok
I am frightened I won't survive but I want you to stay strong and raise our daughter with love and care. She is very much loved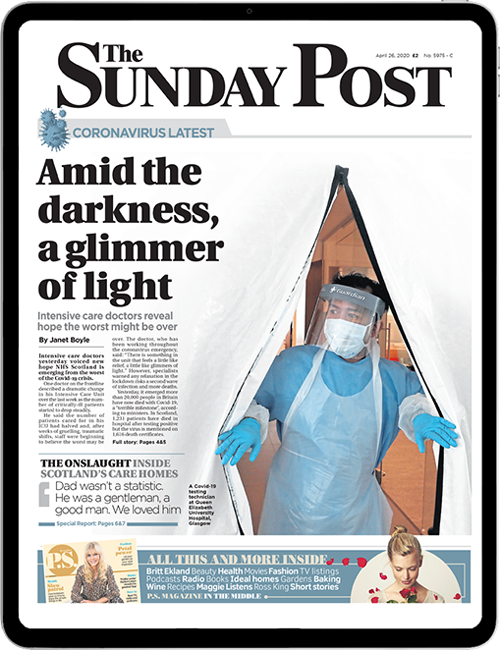 Enjoy the convenience of having The Sunday Post delivered as a digital ePaper straight to your smartphone, tablet or computer.
Subscribe for only £5.49 a month and enjoy all the benefits of the printed paper as a digital replica.
Subscribe