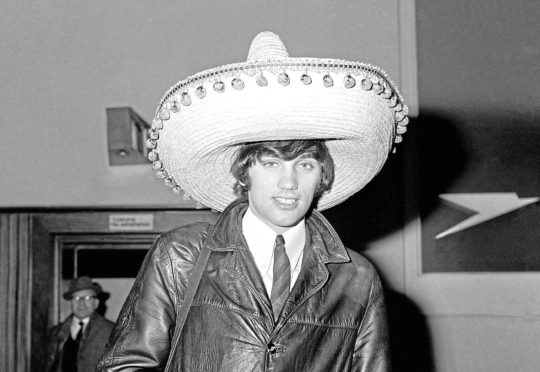 IN 1961 Manchester United manager Matt Busby received a telegram from the club's Northern Ireland scout, Bob Bishop.
It contained eight words: "I think I have found you a genius."
The subject of the message was a 15-year-old boy named George Best. And Mr Bishop was right.
Over the next decade the youngster from Cregagh in east Belfast embarked on a trajectory that was to see him become not only the biggest name in British sport but also the first footballer to cross over into the world of popular culture.
In the Swinging Sixties he was labelled the Fifth Beatle.
The nickname was bestowed on him by the press the morning after he'd almost single-handedly destroyed the mighty Benfica in their home stadium, inspiring United to an amazing 5-1 European Cup victory in March 1966.
Just 19 at the time and with his long, black hair flowing, George had announced himself to a global audience.
Headlines in the Portuguese newspapers proclaimed "O Quinto Beatle" – "The Fifth Beatle" – while the UK press simply dubbed him "El Beatle".
After United's plane touched down at Manchester Airport, Best, resplendent in a black leather jacket, donned his sunglasses and tipped his oversized sombrero to the baying photographers, lapping up the attention.
He recalled later: "This was the sort of stage I was meant to play on. It was perfect theatre.
"As I walked up the tunnel that night and heard the noise, the hair stood up on the back of my neck. But I didn't feel any fear. I was ready.
"The Beatles were at their peak and I was coming up to the peak of my career too. I was also the first footballer to have long hair and that's how I got my nickname."
A few years later, there was even a picture painted by artist Stewart Beckett depicting Best juggling a ball accompanying the other band members on the pedestrian crossing on Abbey Road.
Indeed, George's career mirrored that of the Fab Four in both their rise to global popularity and the swiftness of their self-destruction.
Best had played his first game for Manchester United when She Loves You was No 1 in the charts.
And when the group stopped recording together in 1970, George's star was also beginning to wane.
By the time The Beatles' acrimonious legal dissolution was finally complete three years later, Best had already played his last game for United, having been sacked after a series of disappearing acts and sundry disciplinary breaches.
By then he was battling problems with alcohol that would eventually contribute to his premature death aged just 59 in November 2005.
But back in 1961, when Bishop sent that telegram, George was a nervous, introverted teenager who'd never set foot outside of his Belfast comfort zone.
And his story might have been very different if he'd succumbed to the homesickness that sent him back across the Irish Sea after a single night in Manchester.
The oldest of six children – four sisters and a brother Ian Busby Best, named after the man who was so influential on George's career – George had attended the local grammar school after passing his 11-plus.
But it was a rugby-playing school and his frequent absences from class in order to play football with his mates saw him switch to a secondary modern.
He'd originally attracted the attention of Glentoran, the club he supported as a kid, but they'd passed on him after deciding he was too small and too light.
In stepped Bishop and Best was sent to Old Trafford, accompanied by another 15-year-old called Eric McMordie, for a trial.
However, wandering around the city on their first night in England, McMordie confided: "I don't think I fancy this, do you?"
The next morning the pair were on a train to Liverpool and back to Belfast on the first boat.
It is part of the legend that it was only the fact that Busby personally contacted Best's parents that made him agree to return to complete the trial and sign for the club as an amateur.
George was installed in digs in the suburb of Chorlton-cum-Hardy under the watchful eye of one of the club's experienced landladies, Mrs Mary Fullaway.
His fellow residents were Mary's son Steve and another United youngster, David Sadler, eventually George's team-mate on the greatest occasion of both their careers when the club won the European Cup in 1968.
Club rules stipulated that the curfew at Aycliffe Avenue was 10.30pm, though young George found it very handy that Mrs Fullaway's next-door neighbour was a window cleaner, who stored his ladders at the back of his house.
Best arrived back late so often – at times by way of a bedroom window – that Mrs Fullaway gave him his own key, a unilateral decision made without the club's knowledge or approval.
George spent two years as an amateur, as English clubs were not allowed to take Northern Irish players on as apprentices, and was given a job as a clerk at the Manchester Ship Canal Company, training with the club twice a week.
Two years later McMordie also re-crossed the Irish Sea to carve out his own distinguished career with Middlesbrough and Northern Ireland.
Best made his First Division debut, aged 17, on September 14 1963 against West Bromwich Albion at Old Trafford in a 1-0 victory.
He then dropped back into the reserves, before scoring his first goal for the first team in his second appearance in a 5-1 win over Burnley just after Christmas.
Busby kept Best in the team, and by the end of the 1963-64 season he had made 26 appearances and scored six goals.
United finished second in the league and reached the semi-final of the FA Cup, where a defeat to West Ham cost Best the chance to break a record.
That year Preston's Howard Kendall became the youngest ever footballer to play in an FA Cup Final – and the two shared the same birthday.
There was some compensation for George in that United's youth team, for whom he was still playing despite his graduation to the senior side, won the FA Youth Cup.
He was still only 18 when he became a first-team regular the following season and though opponents would often use rough play to try to stifle his technical ability, Busby ensured that fierce training sessions left Best well used to coping with tough challenges.
Best helped Manchester United to claim the 1965 First Division title, pipping Don Revie's Leeds United on goal average.
United failed to retain their title the following season, due in part to the fact that a few days after the Benfica match the newly-named "El Beatle" picked up a knee injury that kept him out for almost all the season's run-in.
However, the 1966-67 season saw Busby's side top the First Division. This was arguably the peak season of the Best-Denis Law-Bobby Charlton triumvirate that is now immortalised in a statue that stands outside Old Trafford.
And off the field Best was beginning to cash in on his celebrity status by opening his first boutique.
It was called Edwardia and his business partner was best pal and Manchester City winger Mike Summerbee.
The first shop was in Sale, a mile or two from Old Trafford, and traffic on the busy A56 came to a standstill when it opened in March 1967.
The goods on sale were aimed at "the extrovert male" and the collection featured purple jackets, mustard corduroys and flamboyant multi-coloured scarves.
The boutique was so successful that Best and Summerbee opened another shop in Manchester city centre.
Their friendship made a nonsense of the tribal divide among City and United fans.
They met in 1966 and one of Best's first acts was to drive Summerbee to Wembley – picking up a speeding ticket on the way – so they could watch England win the World Cup.
They holidayed together in Majorca and every other Friday night, they would stand behind the goal at Edgeley Park and watch Stockport County play.
Both were single and still lived in digs. Their drinking headquarters was a scruffy pub in Salford called the Brown Bull but they'd often pop into a restaurant they knew was frequented by Busby and City boss Joe Mercer and their wives so they could be seen drinking Coke like the perfect professionals.
They'd say goodnight to their bosses but instead of going back to their digs they'd head off to the city's night spots, where Best's drink of choice was vodka and lemonade.
In 1968 George was best man at Mike's wedding to wife Tina and Summerbee settled down to family life.
"During the time I was with him, he never drank more than me," Summerbee has said.
"That would have come later when he became a world figure, almost a rock star.
"I was fortunate. I met Tina and that gave me the stability I wanted. Had George done the same thing, it would have been a different story for him.
"I know that deep down he wanted that too.
"It was almost impossible for him, though. He was so attractive to people that he would walk into a place and Miss Worlds would faint."