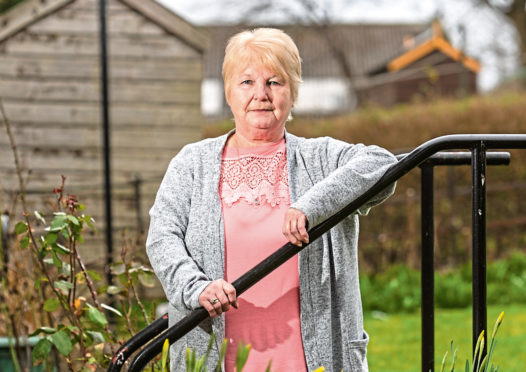 Retired laundry worker Margaret Allan's home has been her haven for 20 years.
Now she is terrified to be alone there. She "shares" it with giant snakes and spiders.
In the last few weeks the Aberdeen great-granny has spotted a six-foot-long python sliver across her lounge floor. Another time a giant spider – a foot in diameter – scuttled out from behind her TV.
But the creatures are not escapees from a reptile or arachnid house – they are not real. But Margaret is not losing her mind either. She has an eye condition which causes her to hallucinate.
Margaret is one of more than 100,000 people in the UK with incurable Charles Bonnet Syndrome (CBS).
And experts think there could be many more. It can occur when a person's vision deteriorates.
Researchers are still trying to find out why, but it's thought that the brain responds to loss of information from the eye by filling the gaps with "fantasy" images.
Some sufferers see bright colours and patterns, or landscapes, others see animals and insects.
Mum-of-four Margaret – who has a blind spot and a cataract in her right eye – is one of the unlucky ones.
And knowing her tormentors are not real is little comfort. The images still terrify her.
The 71-year-old – who lives with her four-year-old Chihuahua dog Tam – told The Sunday Post: "It came on all of a sudden just before Christmas.
"I was sitting watching TV in the living room with the dog when I saw all these beasties, millions of red ones, and all sorts of snakes just crawling about.
"I was terrified. I had to get out. It was 1am. I packed a bag for me and one for the dog. I was dragging the dog about with me on the lead. I wouldn't leave him in case the beasties got him. I phoned a taxi and went to my son's house and stayed there for the night. I was panicked and wouldn't go back into my house.
"The next morning my family took me to the doctors and they sent me to Aberdeen Royal Infirmary."
She was medicated and sent home but would only enter after her family had checked the house and treated it for infestations.
She later went back to her own GP and was referred to Royal Cornhill Hospital where doctors tested her for dementia. She was given the all clear. Three weeks later CBS was diagnosed.
But the terrifying visions continue. Margaret – who is crippled with arthritis and uses a mobility scooter – said: "Yesterday I was sitting there watching TV minding my own business and I saw this great big snake the length of my settee crawling about. I thought to myself, 'I'm not looking at it'.
"Another time huge spiders a foot across and with great long legs went scuttling across the floor. There has been only one time they touched me – one came over my feet.
"But they don't attack me. And even though I know it's just imagination it still panics me. Sometimes I sit up on the settee with my feet up and don't move. I even put a plug in the sink so they can't get up the spout.
"It's ridiculous but you can't help it. People think you are mad. They say you have to get used to it and ignore but how can you? It is so real.
"It's worse in the dark and when you are by yourself; it's scary. There is no cure. They could give me medication but I am already on so much, and it could have side effects.
"I can get out of the house in the summer but in winter I can't escape it. I can't go out when it's dark or icy, so I just take the dog, go to bed and pretend it's not happening."
Judith Potts, whose mother was tormented with the condition, has launched a support group in her name, Esme's Umbrella.
Judith said: "Too many people are living in fear that the hallucinations are a mental health issue.
"They are not. Misdiagnosis leads elderly people down the mental health route – sometimes on a one-way ticket. CBS affects children and young people too."
Judith, who launched the world's first CBS patient day in London in November, and who will run a second in York on April 25, estimates there are now a million sufferers in the UK.
Newcastle University is carrying out research into the condition.
Dr Greg Elder, who is part of the research project VISMAC (aka treating visual hallucinations in people with macular degeneration: a non-invasive stimulation study) explained: "At the moment we don't know much about what causes visual hallucinations in people who have CBS, and this prevents the development of new treatments.
"One way in which we might be able to understand this is by looking at the brain activity of people with CBS, who have visual hallucinations, and people who don't.
"This is because we think that the visual hallucinations might be caused by problems with the flow of information from the eye to the visual part of the brain, which then causes the brain to over-compensate.
"Alternatively, the hallucinations might be caused by how the brain focuses attention on what it sees.
"By examining the brain activity of people with CBS, this will help us to understand what might be causing the visual hallucinations."
Charles Bonnet Syndrome is a medical problem and nothing to do with mental health. It usually affects people who have lost most or all of their eyesight.
According to the Macular Society, up to half of all people with macular degeneration, a gradual loss of central vision, may experience Charles Bonnet hallucinations at some time.
It's thought there are at least 100,000 cases in the UK and there could be as many as one million.
Contact Royal National Institute of Blind People on 0303 123 9999.