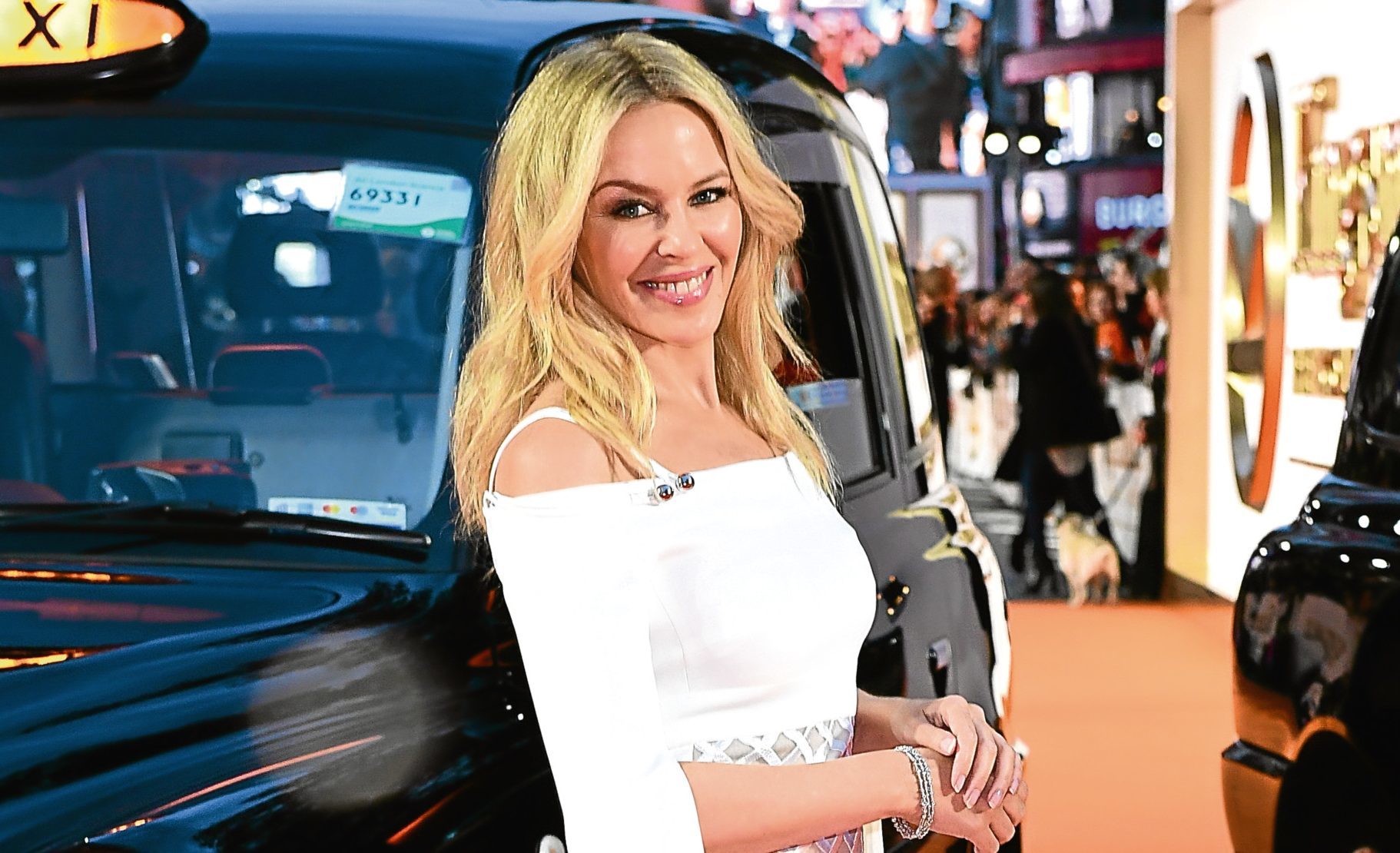 WATCH out, Kylie's about!
Yes, the singer spent much of this year in the recording studio, but the result is a new album and tour.
However — whisper this bit — at the end of May, she'll be 50.
"I don't care a bit," said Kylie. "I'm 49 and proud of it.
"I always try to think of what my 94-year-old grandmother would do.
"I once asked her just a few years ago: 'Nan, how do you do it? You're just so cool.'
"She was 94 at the time, had six children and she had emigrated to Australia from Wales.
"So she was quite a lady and she said to me: 'Well, Kylie, you just go with the flow.'
"I have never forgotten that, so whatever life throws at you, just go with the flow.
"It takes a bit of getting used to when you have to spend anything up to half a day in a studio with people you mostly don't know.
"If they know what they're doing — and they do — you soon get used to it and when you hear the end product, you know it's been worth it.
"I'm always a bit worried as I'm my own worst critic, but when you see others smile, you know it's good and it gives you a great sense of relief.
"Now, I'm looking forward to the singles and album being released in 2018, and that also means going on tour again. I love it and I can't wait.
"I love the performance side of things and meeting up with fans. That's what it is all about really."
Kylie first leapt into our lives in a big way when she was still a teenager playing Charlene Robinson in Australian soap Neighbours, but she had been appearing on TV well before then.
In her early days, her family moved around quite a bit, but never strayed far from Melbourne.
"I wasn't that good or very happy at school," she revealed.
"It was OK, but I didn't make friends easily and I was not a great student except in English and arts.
"I had a great hobby, though, as when I was 11, I started appearing in things like The Sullivans and Skyways, popular Aussie soaps.
"I also got a part in The Henderson Kids, which was great as I had to take time off school, but not so great as I had problems remembering my lines and I got shouted at quite a bit.
"You learn from things like that, though, and when Neighbours came along, I was ready."
That was back in 1986, and Kylie's character was a teenage garage mechanic.
"Playing Charlene wasn't glamorous as I was surrounded by spanners and oily engines, but I loved it and I owe a great deal to Neighbours," said Kylie.
"The storyline led to me singing and everything took off from there."
It certainly did. The awards started to flow immediately and she became the youngest-ever winner of Australia's Most Popular Television Performer Award.
"Someone heard me sing Locomotion at a football club event and signed me up to record it," she recalled.
"I was just having a bit of fun and I never guessed that it would be the start of what has turned out to be a career of albums and gigs.
"It's been great and I still can't believe I've been so lucky — ever since I recorded I Should Be So Lucky.
"That was pretty prophetic and I am still lucky."
Her collaboration with top British producers Stock, Aitken and Waterman in the late 80s and early 90s resulted in hit after hit.
I Should Be So Lucky was a worldwide No 1.
She hasn't always been lucky, though.
Kylie has had her share of disappointments in romance with failed relationships and in health issues with a cancer battle.
"That's life and you have to deal with these things," she said.
"I've always liked a challenge although some can be pretty daunting. I'm a fighter, though."
She admits she still sometimes struggles with being in the spotlight.
"It still takes me by surprise," she said.
"I might be out somewhere and I see people looking.
"My first reaction is to turn round to see who they are looking at. Then I realise it is me and a part of me just wants to disappear.
"I don't always enjoy being the centre of attention.
"It is different at a gig because the audience are part of the show and we are in it together to have some fun and enjoy the music we both like.
"It is more like being just another person at a party, so that's OK.
"I do get nervous before a show. I am a fidget at the best of times, I don't like to sit still for long and before a show, I'm even more of a fidget.
"I just want to get out there and get started. Then I enjoy myself.
"Before that, I must be difficult to handle at times, but I am not a diva. In fact, I don't think I have changed very much in all this time."
If looks are anything to go by, Kylie has certainly not changed, except for the better as she has moved from teen to young lady to woman.
"I try to look my best," she said.
"Yes, I like to slop around some of the time, but if I am going out, I do try to look my best and if someone wants to speak, I try to be nice.
"Sometimes people are demanding and that is hard to deal with, but most people are great and greet you like a friend. I like that.
"When I first started out, I was young and I didn't have any control at all. I just did what I was told as that's what you do in TV, especially when you are just starting.
"You were just given your lines, told to learn them, told what the scene is and then told to get on with it. You didn't get to discuss it.
"It was the same when I started singing. I made up my own mind to have singing lessons.
"I was just given a song and told to learn it and get on with it. It was no different from the TV work.
"You start to learn quickly and especially how things are done and you find ways of getting ideas over.
"As time goes on, you start getting more and more say in how it all comes together.
"I still do as I am told in the studio as other people know the tech side of things better than me, but I still have my say and I have much more to say on the gigs about costumes and effects and everything."
Kylie never seems to have stopped for very long ever since she first appeared in Neighbours.
"I told you I was a fidget," she said.
"I like to be busy, but then at the same time, I look forward to having a day off, so I'm never really satisfied.
"I have no plans to stop. I know people start talking about your age, but I don't give it a second thought.
"I'm having a great time now and I hope to keep doing so.
"I won't give up singing or acting until I have no other option. I am pretty determined, so I shall be around for a long time yet.
"Maybe I'll sing that old song again and change the words to I Have Been So Lucky!"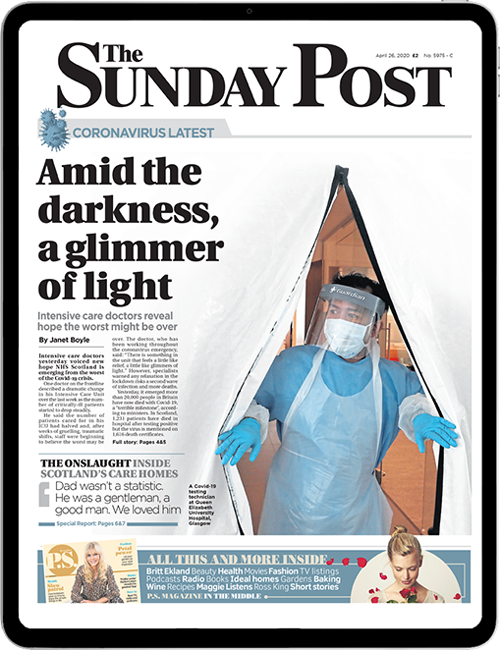 Enjoy the convenience of having The Sunday Post delivered as a digital ePaper straight to your smartphone, tablet or computer.
Subscribe for only £5.49 a month and enjoy all the benefits of the printed paper as a digital replica.
Subscribe