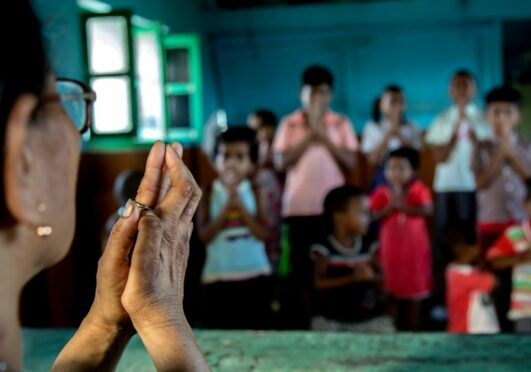 Dhanammal Natarajan was 86 and had little comfort in life. She had little hearing, her lower legs had been lost, her clawed hands were redundant. Leprosy had robbed her of almost everything. She had, however, a friend.
After visiting the elderly woman for almost two decades, Dr Renuka Ramakrishnan, remembers their last meeting: "I went to her house, I stepped inside, I didn't talk because she couldn't hear and she couldn't see me so I touched her gently. She smiled and said, 'Dr Amma'. She recognised me just by my touch."
Now Dr Ramakrishnan, a 60-year-old consultant dermatologist and grandmother, is one of three candidates short-listed for this year's Robert Burns Humanitarian Award.
She has, without fear for herself, spent 30 years specialising in leprosy. Her devotion has led to her thousands of grateful patients fondly naming her "Dr Amma".
"Amma means mother," said Dr Ramakrishnan. "They call me their mother because I care for them. I am their friend."
Elderly Natarajan, who also had support from family, was luckier than many leprosy sufferers.
Dr Ramakrishnan said: "I have seen many on the roadside begging. I have treated them and referred them to hospitals and rehab centres. They didn't have anyone to look after them.
"The disease today is not leprosy, it is the feeling of being unwanted. Prejudice and discrimination against people with leprosy is a violation of human rights."
Based in Chennai, the capital of India's Tamil Nadu state, Ramakrishnan – backed by colleagues – has helped 10,000 leprosy patients receive free consultations and treatment, and has assisted 250,000 patients through more than 1,500 free medical camps for a variety of conditions.
She is also a counsellor, mentor and campaigner against breast cancer and crimes against women, children and transgender people.
She told The Post: "I am elated to know that I am among finalists in the Robert Burns Humanitarian Awards. At the age of 16 I made a promise that I would become a doctor to serve leprosy patients."
Throughout history, those afflicted by leprosy were often ostracised by their communities and families. Caused by a bacillus called Mycobacterium leprae, leprosy multiplies slowly with an average incubation period of five years.
The disease mainly affects the skin, peripheral nerves, mucosa of the upper respiratory tract, and eyes. Thought to be transmitted via droplets from the nose and mouth during close and frequent contact with untreated cases, it can cause progressive and permanent damage to the skin, nerves, limbs and eyes. But it is curable with multi-drug therapy.
It was most prevalent in the 1980s, when there were 5.2 million cases globally. By 2020 the figure fell to fewer than 0.2 million. Most new cases occur in 14 countries, with India accounting for more than half. But in the 20 years from 1994 to 2014, 16 million people worldwide were said to have been cured, according to the doctor.
The daughter of an Indian army officer and a devoted mother who, she says, taught her to be brave and compassionate, Ramakrishnan was 17 when she began studying medicine at the Jawaharlal Institute of Postgraduate Medical Education & Research in Pondicherry, where she gained a medical degree and a post-graduate diploma in skin and leprosy, qualifying in 1990.
The Robert Burns Humanitarian Award is supported by South Ayrshire Council and recognises courage, commitment, inspiration, and hands-on humanitarian efforts from people of any nationality, race, age, or gender. The winner will be announced to coincide with Burns Night on Wednesday.
Also on the shortlist for this year's award, is Ayrshire's The Hansel Foundation, launched in Symington to break down barriers faced by people with additional support needs, and John Flanagan from Oldham who since 2010 has been raising funds to help the poor, infirm and homeless in the Philippines.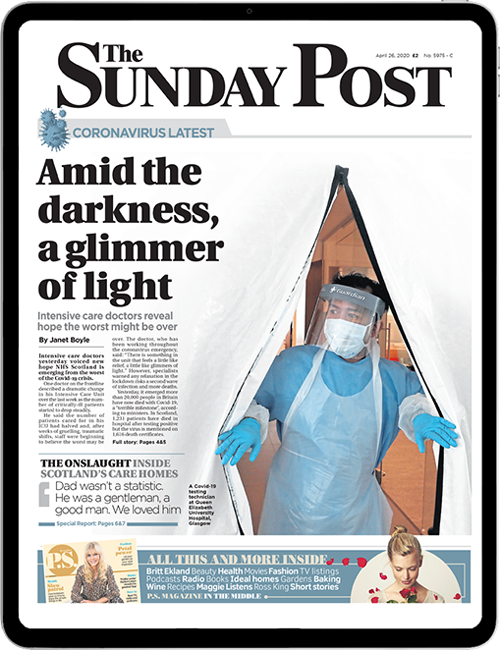 Enjoy the convenience of having The Sunday Post delivered as a digital ePaper straight to your smartphone, tablet or computer.
Subscribe for only £5.49 a month and enjoy all the benefits of the printed paper as a digital replica.
Subscribe