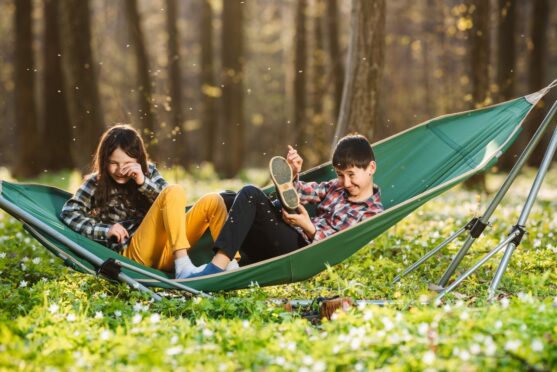 It's that time of the year when Scotland's most ferocious feeders are most active. Here's how to get rid of midges in five easy steps.
Some Sunday Post online content is funded by outside parties. The revenue from this helps to sustain our independent news gathering. You will always know if you are reading paid-for material as it will be clearly labelled as "Partnership" on the site and on social media channels,

This can take two different forms.

"Presented by"

This means the content has been paid for and produced by the named advertiser.

"In partnership with"

This means the content has been paid for and approved by the named advertiser but written and edited by our own commercial content team.

---
Expect a late surge in the number of midges in Scotland after a cold spring this year.
The country's leading midge expert, Dr Alison Blackwell, explains, the cooler weather between March and May delayed the emergence of adult midges.
Alison is an entomologist who's been studying midges for over three decades now. She says: "We may well see that midges in the second half of the summer will lay eggs that hatch into larvae and instead of going into hibernation as larvae until next year, we'll see a small third generation appearing in September.
"It was also quite humid and that's great for midges because they dehydrate really quickly in very dry, hot conditions," she adds.
A midge's lifecycle (and why they'll keep coming back)
Alison warns, midges can breed quickly in just a short period of time.
"Every female midge will lay up to about three batches of eggs. Every egg batch can be between about 40 and 100 eggs. So that's one midge producing about 200 new midges for the next generation. Those eggs get laid in the soil and six weeks later, you'll see a new adult midge emerge.
"With global warming, we would anticipate that midge survival will be greater because it'll be warmer and damper."
Where do midges thrive in Scotland?
"(Midges) are an incredibly successful insect," Alison says. "They've got some very interesting biology that they use to survive in quite harsh environments. They live all over the globe and there's over a thousand different species. But Scotland has a really ideal habitat for them so they thrive here."
A midge is a type of biting fly that tends to thrive in areas with temperate habitats.
"Midge distribution is limited by where they breed and they breed just below the soil surface. They like damp, acidic soil so anywhere peaty. Those habitats tend to be on the western half of Scotland.
"They don't fly very far from their breeding sites; they tend to stay in a localised area. If they do fly, they're limited by the weather conditions. So you don't get many midges on the coast because it tends to be quite windy. Midges don't fly in wind speeds more than seven miles per hour. So they don't survive very well in particularly windy places."
There are about 40 species of midges in Scotland. Some are more specialised than others, including those concentrated around farms, only breeding in animal manure. So they can be more of a problem to horses and cattle.
Why do midges bite?
It's the Highland Midge that bites humans the most. Its Gaelic name is "meanbh-chuileag", meaning tiny fly.
Only female midges feed on blood because they need to mature their eggs. They have mouth parts like shearing scissors with serrated edges.
"What they do is they cut a hole in your skin and that creates a pool of blood which they can then feed from. So a midge bite, like a horse fly bite, is painful. But you also get that skin reaction because midges pump in an anticoagulant into your skin to stop your blood clotting, to keep it flowing. That's what our body reacts to when we get that itchy sensation," explains Alison.
Do midge bites transmit diseases?
One piece of good news is that midges don't transmit any human disease.
They can transmit some diseases of livestock, cattle and sheep, though. But Alison says that's very rare.
"Those diseases are not endemic in the UK. The last time that happened was in 2007 when a batch of infected midges flew over from Europe into the UK. They brought the bluetongue virus which infects cattle and sheep.
"But no disease like that will ever take hold in the UK because we have this winter cut off when the midge dies."
What are midges attracted to?
Alison says midges find their prey by smell, detecting the carbon dioxide in a person's breath.
She says: "A midge can detect somebody breathing from 200 meters away. They'll pick up all your body odours so that can depend on what you've had for breakfast, any medication you're on, if you're hot and sweaty. They like heat; they like smelly people.
"As they get closer, they pick up visual cues. They're attracted to movement. They also prefer dark colours to light colours.
"And then when a midge lands on you, it will taste your skin to see whether it wants to feed."
How to get rid of midges
A midge bite can be painful, often causing a sharp and stinging sensation. They can leave small lumps or blisters on the skin. Try to avoid scratching to prevent the risk of infection.
Some people can become desensitised to midge bites. If you're not one of the lucky ones, here's how to get rid of midges:
1. Know when and where midges are most active
Midges are most active in Scotland in the middle of May through until the end of August.
You can check the online Scottish midge forecast which is updated daily. It offers a five-day forecast for every spot on the map.
Alison shares: "It combines all of our knowledge on midge biology with the impact on weather, the time and season. It's driven by the weather forecast. We've purchased weather forecast data but we also collect some of our own weather data. We have a weather station over in Argyll and we have volunteers who have traps and they send us data."
"Midges hunt in very low light conditions, at dawn and dusk. So unless it's a very overcast day, you're unlikely to get midges in the bright sunlight."
2. Midge proof your home
If you live in an area with lots of midges, use fly screens or you can simply close your windows.
Keep the grass in your garden cut low as midges tend to sit on tall vegetation in the daytime. Some people use midge traps in their gardens that act as decoys; they produce carbon dioxide to attract midges.
3. Keep medicine handy
If you're particularly sensitive to midge bites, make sure to have antihistamines and/or pain relievers with you. See a doctor in case of extreme reactions.
4. Cover up
Ditch your shorts; wear long trousers and long-sleeved shirts. Midges cannot bite through clothing because of their short mouthparts. If you're going camping or fishing, you might want to consider head nets (even though they're not the most fashionable).
5. Use a midge repellent
Smidge, the UK's number one midge repellent, was developed by midge experts in Scotland.
It works on all biting insects (including midges, mosquitoes and ticks) by throwing them off the scent. It's been scientifically proven to provide water and sweat-proof protection for up to 8 hours. Even children from two years old and pregnant women can use it.
For more information on how to get rid of midges, check out Smidge's website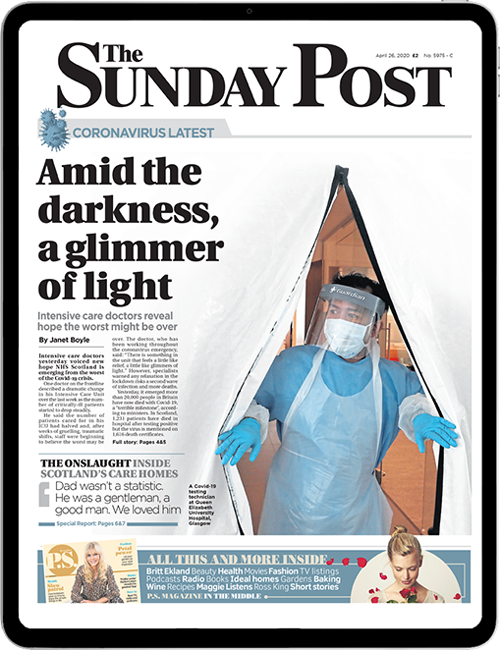 Enjoy the convenience of having The Sunday Post delivered as a digital ePaper straight to your smartphone, tablet or computer.
Subscribe for only £5.49 a month and enjoy all the benefits of the printed paper as a digital replica.
Subscribe