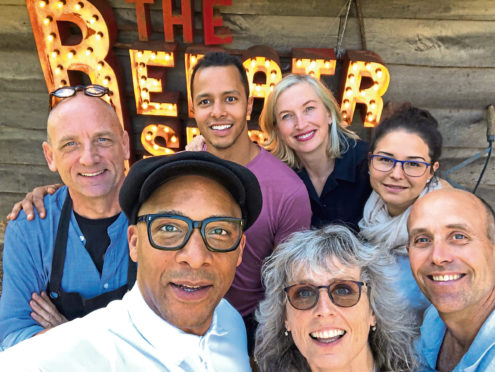 It may be a bit battered and bruised but remains full of memories and, for actor Bill Patterson, love.
Restoring the old case used by his salesman dad as he travelled from Glasgow to the Highlands and Islands is the speciality of The Repair Shop, the BBC show that has quietly and with painstaking care built an army of fans enthralled by the skills of the experts and the emotional power of the stories behind the everyday items they are asked to refit and refurbish.
Bill, who narrates the show, believes leather restorer Suzie Fletcher might soon have another job on her desk.
"My father was a commercial traveller in the Western Isles, Highlands and Glasgow, and he always travelled with a very small leather case that he could somehow manage to live out of for a week," he says.
"On it is the name of the plumber's merchant he worked for and my father signed the inside of it. I still have it. All it needs is that 'Suzie Fletcher' touch to bring back its freshness.
"I'd love to see that restored. If we ever have a staff outing I'll maybe bring it along.
"Everybody must have lots of these things in their lives. Things that need a little attention. And that's the joy of the programme."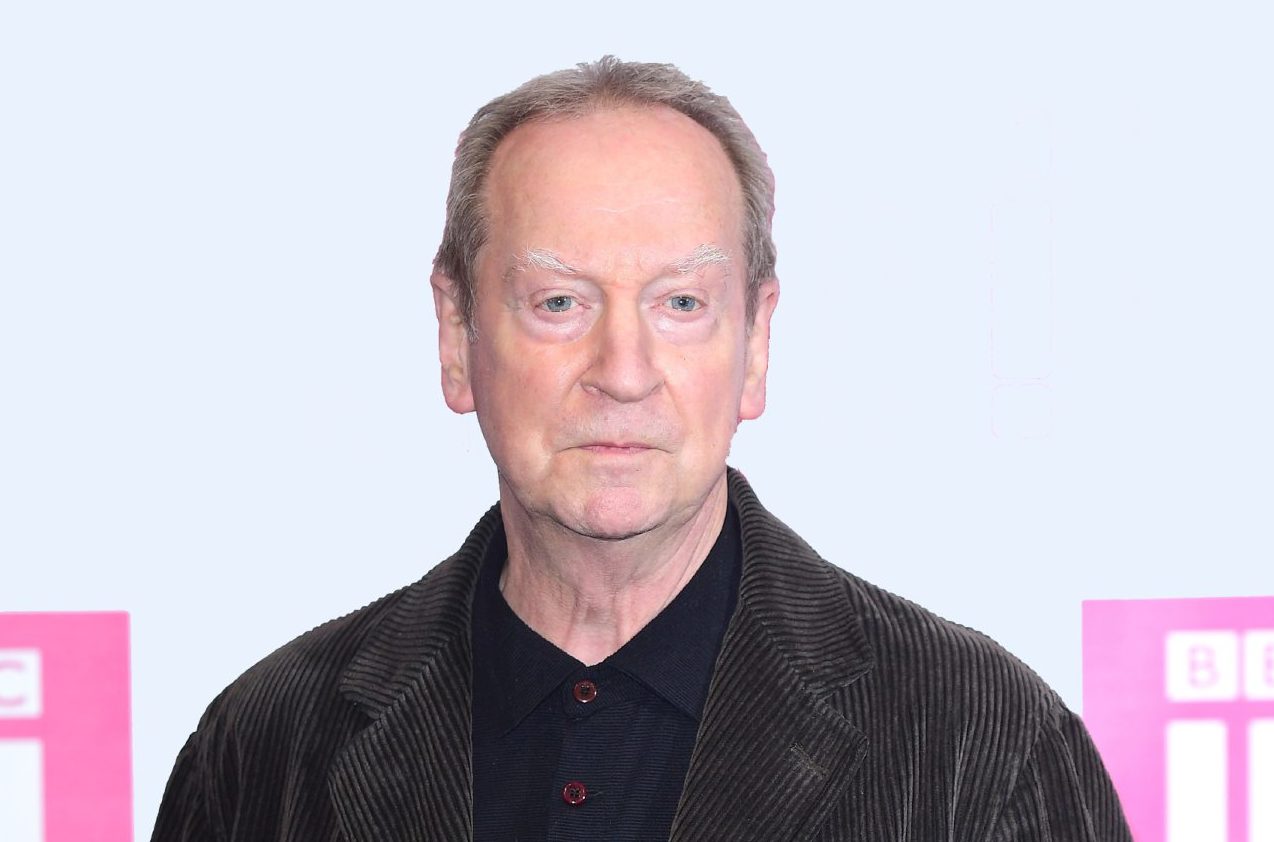 The Repair Shop has become an unexpected ratings' hit since it began four years ago. On Wednesday the new series continues in its primetime slot on BBC1, where it moved earlier this year, regularly pulling in 6.5 million viewers.
Bill knew the show was going to be a hit after narrating the story of a couple who brought their painting to The Repair Shop barn based at the Weald and Downland Living Museum, outside Chichester, in the South Downs. "I remember doing one early on, it was an elderly couple who had worked together in a big house as staff back in the '50s," the actor explains.
"When they left they were given a nice painting of the house to thank them for their long service.
"They brought it to be restored and they were taken back to the house. This couple sat on a bench and talked about seeing this painting restored, looking wonderful.
"I watched that and thought, 'there's just something magical about this show'.
"You see people's personal lives, you live a little bit of history, and you see a wonderful restorer bringing something that had almost faded back to life." Its appeal, according to Bill, is also about seeing experts at work at a time when people, as minister Michael Gove infamously insisted, are meant to have had enough of experts.
"The joy really is to watch fantastically skilled people who are very articulate about what they do," adds Bill. "Until you do it yourself you don't realise what a terrible hash you could make of it. But not one of them does.
"You really see an insight in a time when we're very aware experts are not supposed to know anything. We don't talk to experts any more, we just let crazy politicians decide what to do.
"Here you see real experts, who really know what they're doing. I think people have warmed to that, enormously."
As for his gentle narration, Sea Of Souls and Fleabag star Bill believes his role is actually unimportant.
"I don't do much, there's not a huge amount of narration in The Repair Shop," he says. "It's mostly down to these experts who happily do most of the talking, which is a lot more interesting than my voiceover overstaying its welcome. The good thing is you get to hear the real people who know what they're talking about speak."
Bill is providing narration from a studio he created at home. He says he enjoys his own repair and restoration work, even if some of the projects on the show aren't to his tastes.
"Some of the fluffy toy things are not my sort of stuff – I'm a big butch boy," he laughs.
"But even I can see the enormous emotional power of them. Because they go back to deep into childhood. I can see how people become so emotionally attached to them.
"That's the other joy about it. Nobody has to talk about money or get a bill at the end of it.
"The show is completely free of the money side of things. I think people can just relax and watch the magic happening."
---
The Repair Shop, BBC1, Wednesday, 8pm, and on iPlayer
---
Our team's like a family. The barn is a lovely place to be
When it comes to breathing new life into soft toys, Julie Tatchell and Amanda Middleditch have more than the bear necessities.
The duo are affectionately known as the Bear Ladies on The Repair Shop.
While it may seem like they live in a world of cuddly, fluffy bears, the pair say the world of soft toys is more like hard business.
"I think we always had the problem that people didn't take us seriously. As teddy bear restorers, people think we live in a fluffy world and it's all cutesy and lovely," said Amanda. "They think it's not a real business.
"We were determined from day one that we would show them there is real work in what we do, and we could make a good business out of it.
"That hard work has given us a lovely platform for people to see that we have a proper business."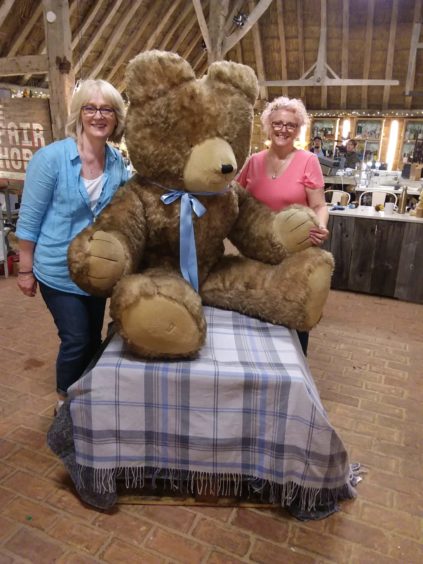 Amanda and Julie have been restoring bears and dolls for 14 years, and have been inundated with requests since appearing on the hit BBC show.
"We endlessly get asked to repair teddy bears and The Repair Shop has given people the idea that these bears can be repaired – they don't have to be discarded or left in a cupboard," she added.
"There are so many waiting to be worked on. The only sad part is there are only two of us taking on a world of teddy bears!"
As well as being good for their business, Bear It In Mind, taking part in the show has been a joyful experience for the pair.
"It's gentle, positive, family viewing. It's safe and it's full of lovely people," said Julie.
"It's filmed so beautifully and narrated gently by Bill Paterson.
"It's not violent or rude or detrimental to anyone. It's such a gentle and positive show with such a positive side to it."
The strength of the team on The Repair Shop, added Amanda, is down to their enthusiasm – which isn't just for the cameras.
"The show is so honest, every single expert in that barn wants to do their best to help people," she added.
"Our team is like a family now and it's just a lovely place to be. I think that comes through the TV and people want to be a part of that."
---
It's only an old toy engine but carries my family's memories of 90 years of fire-fighting
Having a father, grandfather and great grandfather in the fire service was always a source of pride for John McCall.
Now, with the help of The Repair Shop, John, from Largs, has been able to honour his family's legacy and bring a special model fire engine back to its best.
"My great-grandfather was firemaster of Glasgow Fire Brigade back in 1907," said John.
"He was instrumental as the firemaster in Glasgow in bringing the first turntable ladder fire engine to the city.
"The Sheffield company who manufactured it presented him with a working model of the fire engine itself. It's a lovely brass piece and it's inscribed with 'Presented to the firemaster of Glasgow Fire Brigade'."
Over the years, the model had picked up some damage – and Repair Shop fan John saw an opportunity when the show put out an appeal for interesting repairs.
"I was invited down to Chichester and I met Jay Blades, and was introduced to Brenton West, the silversmith who undertook the repairs," he added.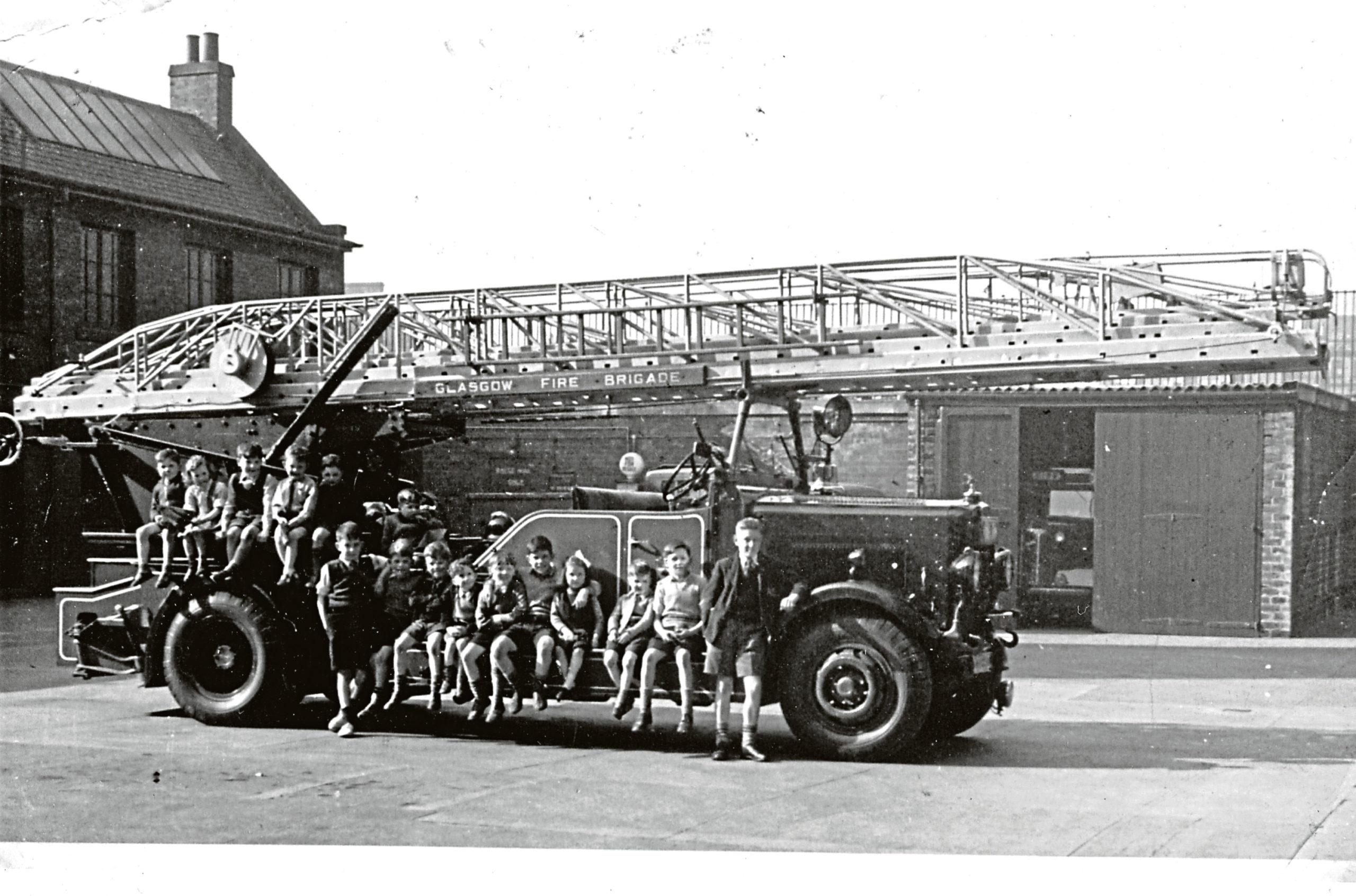 "The model was a horse-drawn unit in its day, and the guard between the horses and the driver and firemen had broken off and was missing. Brenton replaced that.
"At the front axle of the fire engine, which is gimbal-mounted, one of the wheels was broken off so Brenton added a new stub axle and replaced the wheel.
"He replaced holding bars up the side of the ladder.
"The model was made to look like new. Fortunately I have a photograph taken at the time in 1907 which he was able to use to repair."
When the repairs – which is featured in this series – were finished, John was delighted.
"It gave me goosebumps seeing the model back to being in pristine condition again the way it was originally presented to my great grandfather some 113 years ago," he said.
"It's a true antique.
"My family had more than 90 years service between them. They would be absolutely delighted with this because of their history and their service to the fire brigade. It's a tribute to them and a memory of dedication and service to the city.
"The Repair Shop is wonderful because they're a very talented team who can tackle almost everything that's presented to them.
"And they tackle it with such enthusiasm, whether it's a fire engine or a doll or a harmonium.
"They carry out their work with great enthusiasm, and they love to share their enthusiasm with you."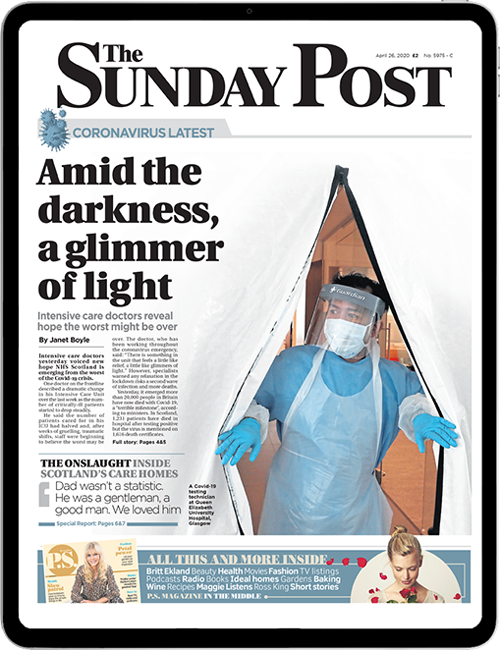 Enjoy the convenience of having The Sunday Post delivered as a digital ePaper straight to your smartphone, tablet or computer.
Subscribe for only £5.49 a month and enjoy all the benefits of the printed paper as a digital replica.
Subscribe