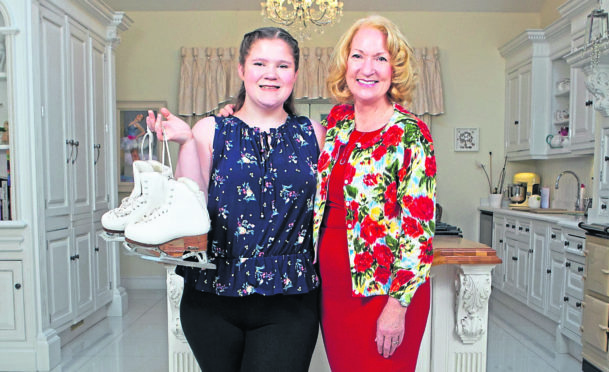 When Margarita Sweeney-Baird set up a ­charity to teach the sport to disabled children she had no idea her own child would one day need her help.
The mum of three was awarded the British Empire Medal in the Queen's New Year's Honours for her work with Inclusive Skating, which she founded in 2011.
But her proudest ­achievement has been giving hundreds of children, including her own daughter, Juliana, who suffers from a rare genetic disorder, confidence both on and off the ice.
Juliana was diagnosed in May 2015 as having Bardet-Biedl syndrome. Now 16, she is partially sighted and expects to lose all of her vision by the time she is 20. But, thanks to her mum's charity, she performs all over the world on the ice.
Margarita, 59, who is a ­former Scottish ladies figure skating champion, said: "Juliana had been unwell from birth, but doctors really struggled to diagnose her condition.
"I just knew her health was very different to her big sister's and by the time she was around nine I was in despair with the reactions of some of her doctors, who more or less said I was imagining things.
"Finally, our wonderful endocrinologist in Great Ormond Street, who had cared for Juliana since she was aged two, sought the help of the genetics team and she was at last diagnosed.
"I cried for days, especially when it became apparent that she was going to lose her sight.
"This is a genetic disorder that affects every bone and cell in her body and she gets severe back pain, so exercise is of great benefit. As her sight diminishes she continues to skate, but now I have to be on the ice with her. And she uses her cane to get about ordinarily."
Margarita first came up with the idea for Inclusive Skating when she was awarded a scholarship to Harvard Law School and she met Senator Ted Kennedy at a reception in 1987.
She said: "I first became aware of disability in sport over 30 years ago when I was skating at Crossmyloof Rink in Glasgow and one of my fellow skaters was deaf so didn't have the opportunity to compete.
"Then, after I completed a law degree at Glasgow University, I was awarded a John F Kennedy Scholarship to study at Harvard where I obtained my Masters in law.
"At a reception I got to meet Ted Kennedy and he explained to me how his family had started the Special Olympics programme for the intellectually disabled many years before. At that time, there were no disability ice-skating initiatives in the UK and I started thinking about setting one up."
However, life moved on and she was busy juggling parenthood with her job as a financial services lecturer, so it was 2010 before she finally started the project, having moved back to Scotland in 2009.
"It was amazing to finally see children with disabilities on the ice and clearly loving it at all ­levels of participation," she said.
"My own children love ­skating and Juliana started ­skating in 2010.
"Skating is fun and gives them a real sense of achievement.
"If the skills are set to their level they get a tremendous sense of satisfaction when they learn something new.
"It improves health because they are active and mental health because they can have friends and are in a community.
"The family and friends can take part in skating too and the parents get as much from it as the skaters."
The Inclusive Skating ­format was recognised by the International Skating Union and worldwide impact is huge.
"We have skaters participating from as far away as Australia now," said Margarita.
"They compete in our ­competitions by pre-recorded video entry."
In May, Inclusive Skating won a public vote to secure £50,000 of National Lottery funding as part of The People's Projects.
But when Margarita received the phone call from the palace telling her about her place on the Honours List she was shocked.
"This is all new to me and so exciting," she said. "I got a letter asking me if I would accept the award, which was followed up by a phone call explaining that I'll be invited to a garden party and another event where it will actually be presented to me.
"Of course, I had to keep it top secret until the official announcement and that's been the hardest part because I thought it was just wonderful, especially because it raises the profile of the charity.
"The BEM award isn't just for me – it's for all the people who've worked so hard to make Inclusive Skating a success.
"This has been an ­extraordinary year which has put us on a totally different footing, with the lottery funding and the BEM giving us a level of recognition and the ability to develop the charity which I could never have dreamed of when I started it up."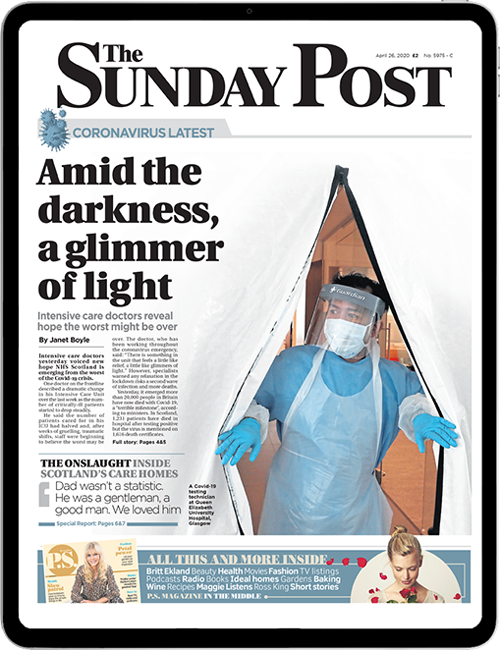 Enjoy the convenience of having The Sunday Post delivered as a digital ePaper straight to your smartphone, tablet or computer.
Subscribe for only £5.49 a month and enjoy all the benefits of the printed paper as a digital replica.
Subscribe