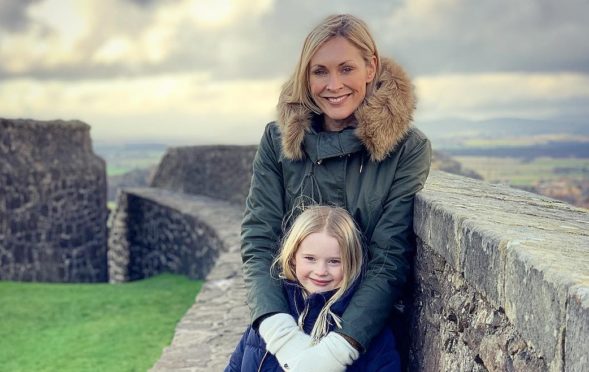 After six years of being a middle-of-the-night sleepyhead, Jenni Falconer has just got her weekends back.
The Heart Radio host has had her popular national weekday show extended, meaning she has given up her long-running Sunday breakfast show.
And the bubbly Scots presenter – whose Early Breakfast slot requires 2.20am alarm calls – means she can, finally, catch up with some much-needed naps.
"The only day off I had was a Saturday and my dream day would have been to just sleep until I woke up naturally," says Jenni, 43, who is married to actor James Midgley.
"But my daughter Ella is really good at gymnastics and she has squad training every Saturday at 9am. It means getting up really early, but I stopped working Sundays this month.
"So now I can do what other people do instead of desperately trying to sleep. I know everyone works irregular hours with different jobs, but I do love being able to get out with my family.
"I don't get to see my daughter for breakfast during the week, so I love that I get to do that. And I get the chance to do other jobs I could never think about because I was always working."
Heart Radio has just undergone a huge shake-up in its presenting line-up. Instead of local breakfast shows all across the country, the network has made Amanda Holden a big-money signing and she now hosts a national show each weekday along with Jamie Theakston.
That starts at 6.30am, with Jenni's earlier show extended by half an hour to run into it.
Jenni diplomatically says the shake-up and the loss of the presenters was something she had no involvement with whatsoever.
But it does mean a morning catch-up with an old pal.
"Now, instead of handing over to 25 different shows, I can do that with just Jamie and Amanda, and refer to what they're talking about.
"It is exciting. Jamie has been here for years and is an absolute pro at it and Amanda is sounding great. I've known her for a long time and she's a bundle of fun. She comes in and gives me a hug and a kiss before she goes on air."
This is somewhat of a milestone year for Glasgow-born Jenni.
Her very first appearance on TV screens was 25 years ago. That debut, in December 1994, was as a contestant on Blind Date and just two months later she made her bow as a presenter.
It was with a BBC2 Scotland show called Old Alliance Night.
"I have so many fond memories of doing it – but I'm sure it'd be embarrassing if I ever saw it again," says Jenni. "The director, Douglas Mackinnon, has done Outlander and Line of Duty and Sherlock since, so it's funny seeing how the people behind the cameras have also progressed over the past 25 years."
In an industry where being flavour of the month is everything and longevity can be measured in months, Jenni's staying power is testament both to her popularity and professionalism.
So, how does it feel to look back on a quarter of a century in front of the cameras and behind the microphone?
"I work with people who haven't been alive as long as I've been working in television," laughs Jenni.
"That's the weirdest thing. A lot of people have no idea of what your history is or where you come from.
"They think the job you're doing now is the only job you've ever had and it's quite funny when you tell them what you used to do.
"In saying that, it makes you sound old and I don't feel old. I don't feel like I've been around that long. When I think back to the jobs I did 20-odd years ago it feels like a completely different life. Of all the things I've done over the past 25 years, the thing that makes me most proud is that I'm still working.
"It's hard to keep on in this industry because there is always new talent coming through. I'm very appreciative of it and I don't ever take it for granted."
Although she is on radio not TV most of the time these days Jenni, who has hosted all sorts from GMTV and Holiday to the National Lottery Draws and Fantasy Homes By The Sea, still enjoys her stints in front of the cameras.
"I still do bits for Lorraine and This Morning," says Jenni, who has regularly covered showbiz events and keeps abreast of the current entertainment scene.
"Doing live television is absolutely my favourite thing.
"That's not parked, it's still very much a part of my life.
"I would really miss that element if it was gone."
There is, of course, still plenty of time for Jenni to spend with Ella and there's no doubting the close bond they have.
"It's brilliant watching her growing up," says Jenni. "I have no experience of how to raise a child other than this one.
"She's seven and I don't know what happens at eight or nine or 10. I'm just loving every age as it comes along.
"I have to tell her off quite regularly as she's so messy, but she's like my little friend.
"We get on brilliantly."
A few weeks back saw a bit of mother-daughter bonding with a night out at the Spice Girls. Ella had to learn all the lyrics, but no swotting up is required when it comes to The Proclaimers.
"She's their biggest fan," says Jenni. "She's half-English but she knows all the words much more than I do. She keeps trying to teach James and I them when we're in the car."
Jenni and James, who's been in Cutting It, Coronation Street and, more recently, Ackley Bridge, have been married since 2010.
Part of the secret to their marital bliss, reckons Jenni, is a certain time apart.
"I go to bed when he's awake and go to work when he's asleep," she smiles.
"That seems to be the recipe for our success.
"I'm so anti-social. He'll be awake in the evenings and wanting to watch telly when I need to get sleep, then he'll be sleeping when I'm on the radio.
"We generally don't see each other during the week. That's another reason I had to have my weekends back, just so I can see my husband and make sure my marriage stays on track.
"Everyone has their ups and downs and we have good days and bad days.
"But we just get on, are silly and have fun together."
---
Fitness first for presenter
Looking good for the cameras is always important but fitness for Jenni is a fun, everyday part of life.
She'll jog home from her radio shows, is on the golf course whenever she can and had already done three crossfit classes the week we talk.
She's such a keen runner she went straight from one of her last Sunday morning shows to take part in the London Marathon.
And being able to get a lie in on Sundays now means she can join in the Park Runs that attract huge numbers.
Despite her super-fit lifestyle, Jenni has one serious health concern.
She suffers from excruciating pain in her fingers in cold weather as a result of circulation disorder Raynaud's.
It's a condition whereby drops in temperature sees the blood supply contract.
It causes numbness but when the blood flow returns there's an acute burning sensation, with attacks lasting anything up to an hour.
Most sufferers are women and Jenni has frequently done her bit to try and raise awareness.
That includes posting social media pictures of her fingers when they turn white.
She admits that when she has a bad incident it can leave her in tears.
---
Early Breakfast with Jenni Falconer, Heart Radio weekdays 4am to 6.30am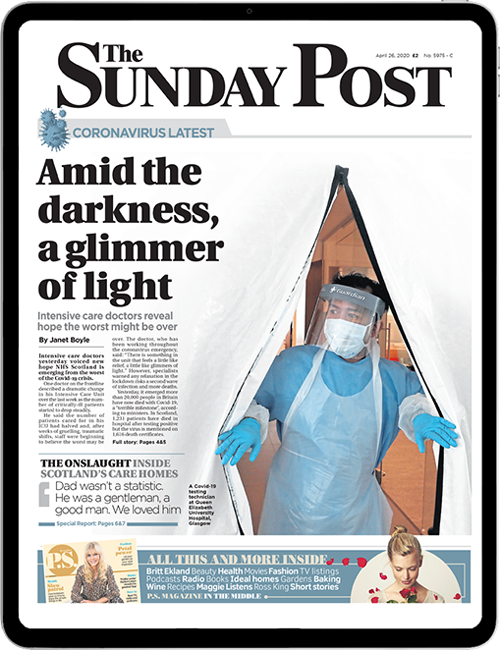 Enjoy the convenience of having The Sunday Post delivered as a digital ePaper straight to your smartphone, tablet or computer.
Subscribe for only £5.49 a month and enjoy all the benefits of the printed paper as a digital replica.
Subscribe