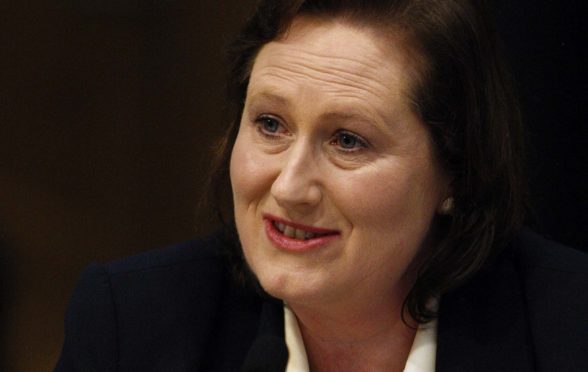 MSPs will invite the former chair of Scotland's police watchdog to explain why she believes the organisation is unfit for purpose.
Members of Holyrood's justice committee want ex-chair of the Scottish Police Authority (SPA) Susan Deacon to speak to them following her sudden resignation last week after two years in the job.
In a letter to the justice secretary, Ms Deacon, the third chair to quit in six years, said the authority's role supporting and scrutinising the national force is fundamentally flawed.
Ms Deacon resigned as chair of the organisation tasked with holding the chief constable to account on Thursday, two days after scathing criticism from HM Inspector of Constabulary Gill Imery. Ms Imery said senior figures at Police Scotland invited her to carry out inspections because they were frustrated by a lack of scrutiny by the SPA.
She said: "I find it difficult to understand why the authority is not more rigorous in holding the chief constable and Police Scotland to account."
However, her claim to MSPs that Police Scotland "is very keen to be scrutinised and wants to be held to account" was questioned by critics of the national force, which has been criticised for being defensive and lacking in transparency.
During her two-year tenure Ms Deacon, a former MSP and health minister, defended the SPA and said she was making progress in making important changes. However, in her resignation letter she said she is convinced the governance and accountability arrangements for policing in Scotland are fundamentally flawed in structure, culture and practice.
She offered to appear before the Scottish Parliament's justice committee and, we can reveal, MSPs are likely to invite her early in the New Year.
Shadow cabinet secretary for justice, Conservative MSP Liam Kerr, said: "Ms Deacon must now outline to the justice committee what, specifically, must change at the SPA – and the SNP must listen."
Scottish Liberal Democrat justice spokesperson Liam McArthur, who is a member of the justice committee, said: "What this series of events makes clear is that there is something seriously wrong at the heart of police governance and scrutiny in Scotland."
Justice Minister Humza Yousaf has rejected Ms Deacon's claim that the SPA is fundamentally flawed.
SNP MSP Fulton MacGregor, who is also on the committee, added: "The justice committee are aware of Ms Deacon's comments and will make a decision in the near future regarding her offer to share these thoughts with the committee as a whole."
Convenor of the justice sub-committee on policing, John Finnie MSP, said Ms Deacon's comments about the flawed structure of the SPA are at odds with her previous statements.
In a written submission to the committee last year, Ms Deacon said the structures were sound and have delivered significant progress.
And when Ms Deacon appeared before the justice committee in October 2018 she said governance and scrutiny arrangements had received too much attention and "that absolutely has to change".
Mr Finnie said Ms Deacon's resignation letter is so far from her previous comments that it's "comical".
He added: "It's unclear to me what, apart from possibly the scathing criticism of the SPA by HM Inspector of Constabulary, that would cause such a fundamental change in opinion.
"It's important that those that scrutinise are themselves open to scrutiny and Ms Deacon never seemed keen on political scrutiny of her work."
Responding to Mr Finnie's comments, Ms Deacon said yesterday: "Experience has certainly informed my opinion. I do believe very passionately that it is important that the focus of energy, effort and activity should be on policing rather on the systems of governance and scrutiny and accountability. That's why you need effective systems, to ensure the focus is on policing."
Convener of the justice committee Margaret Mitchell MSP said: "The justice committee will return to these issues in the New Year after it has received further information sought following the HMICS evidence session."
---
Politicians demand more information on cover-up probe
MSPs have sent Scotland's police watchdog a raft of questions about a cover-up scandal at a defunct crime-fighting agency.
The Scottish Parliament's policing committee say it is essential that there is robust scrutiny of events at the Scottish Crime and Drug Enforcement Agency in 2011 when officers were ordered to burn piles of sensitive files.
Officers at the SCDEA were ordered to burn files from the chaotic and potentially-criminal Special Operations Unit outside the agency's HQ in Paisley.
Critics say Police Scotland, which reviewed the destruction of the files before asking the Met to review their review, has failed to identify which senior officers ordered the destruction of documents and why and, critics say, tried to cover-up a cover-up.
Police Scotland's investigation, called Operation Towering, concluded there was nothing more to investigate because the SCDEA was disbanded in 2013.
MSPs believe there are unanswered questions.
In a letter to the SPA, convener of the policing committee John Finnie MSP said further scrutiny by the SPA is required.
The ex-police officer wants to know whether the board was given access to the Met's review before it was discussed. He has also asked whether the board intends to take evidence from the Met and report to the Scottish Government.
His letter also asks if the SPA intends to report to Parliament or answer the questions posed by The Sunday Post after exposing the scandal.
Scottish Liberal Democrat justice spokesperson Liam McArthur said: "It doesn't take Sherlock Holmes to look at the facts of this investigation as they currently stand and say that something is up. If, as the police claim, these are legacy matters and they have turned over a new leaf, there will surely be no difficulties in acceding to this request."