Laura Boyd has enjoyed some wild Hogmanays in her time but this year she'll be settling down at home with family… to watch herself on TV.
The showbiz reporter and co-presenter of weekly entertainment show What's On Scotland is part of the line-up for STV's Bringing In The Bells, which sees five pairs of celebrities look back on 2022 to talk about their favourite moments of the past year.
Boyd will sit down with her pal and weather presenter Sean Batty. "Sean and I have been friends for years and spent many Hogmanays together. He used to throw a mean party at his house with fireworks and lots of party games, he's a very good host," she said.
"We really bonded this year over a bungee jump we did for the STV Appeal. I'm terrified of heights and Sean doesn't like not being in control, so that was a big challenge we had to go through together and I look back on it as one of the highlights of my year, but also one of the most terrifying things I've ever done.
"My Hogmanays are more sedate now than they used to be. There was always a pressure to make it a big night out, and I did the George Square celebrations, cèilidhs and house parties.
"This year, I'm looking forward to celebrating with family. My sister puts on a good house party with a great spread and all the generations attend. I love getting everyone together and we'll be watching the show – whether they like it or not! Usually it turns into a karaoke session, with my sister and I belting out musical theatre numbers while everyone else moves into the other room."
Other pairings taking part in Bringing In The Bells, hosted by Lorraine Kelly, are Still Game's Sanjeev Kohli and Jane McCarry, presenter Jean Johansson and Grado from Two Doors Down, Eilish and Liz McColgan, and Judy Murray and comedian Chris Forbes, who has won acclaim for inventing Duncan, the fictional third Murray brother.
"The people taking part are fantastic," Boyd said. "We shot in some stunning locations. We had so much fun and it was a dream job."
A dream is also how Boyd describes her 2022 as she enjoyed professional success and personal happiness after an inspirational return from a diagnosis of leukaemia in 2009.
"It's been my best-ever year, career-wise. I've been co-presenting What's On Scotland with one of my good friends, Emma Cameron, and getting the chance to interview legends and heroes like Graham Norton, Alan Carr and Rod Stewart, who sent me a massive bouquet of flowers afterwards.
"If you asked me when I was a wee girl what I wanted to do, it would be to do a show like this, and to do it with someone I know so well has been a dream. I also have a podcast with another friend, and I've been doing some writing. My wee girl, Penelope, has turned three and seeing her coming into her own with her cheeky wee personality has been incredible."
The mum-of-one is hosting Christmas for the family this year, so she is already looking forward to the days afterwards to relax before a busy 2023 begins.
"We're hosting 12 people and we're doing all of the cooking. Penelope is hyper at the moment and thinks every day is Christmas. My dad has told me he's bought her a drum kit – I don't know if I'm looking forward to that!
"I think I'll turn my phone off in the week between Christmas and New Year and just hide away and do things as a family and take time out, because it has been such a busy year and I think next year will be the same.
"There's the Glasgow Comedy Festival and Glasgow Film Festival coming up and big concerts like Shania Twain and Michael Buble. I always love TRNSMT but seeing Pulp on Friday will be pretty special for someone of my age.
"It feels like a lot of good things are going on in Scotland next year that I want to get out to. I'm also going to take Penelope to her first music festival, at Belladrum. You always see so many families there, so next year will be my chance to do that."
She isn't one for setting resolutions but Boyd feels the New Year is a time to reset.
"I feel like I'm already living my dream, so I just want to do it better and interview more people," she added. "I'm also going to be that old cliche and say I need to get back to the gym, because right now I'm eating chocolate for breakfast, lunch and dinner, and I want to get healthy, both physically and mentally.
"I'd also like to take on an even bigger challenge for the (STV) Appeal next year. We want to do something spectacular.
"I'm looking forward to the New Year. It feels like the first time in a long time where I'm really positive about it. I'm really keen to get into next year and see what it brings."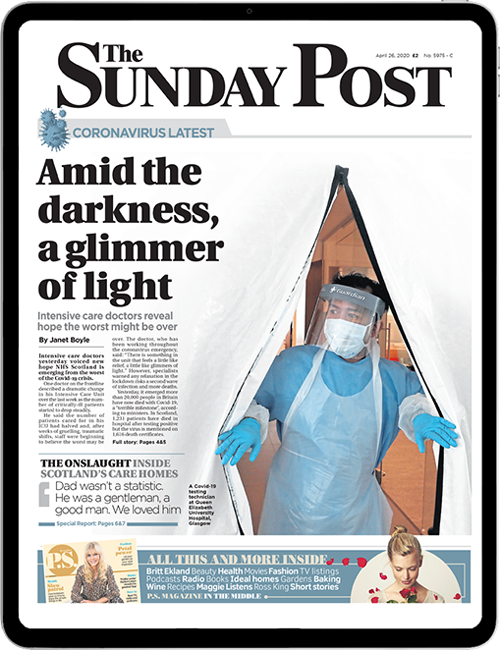 Enjoy the convenience of having The Sunday Post delivered as a digital ePaper straight to your smartphone, tablet or computer.
Subscribe for only £5.49 a month and enjoy all the benefits of the printed paper as a digital replica.
Subscribe