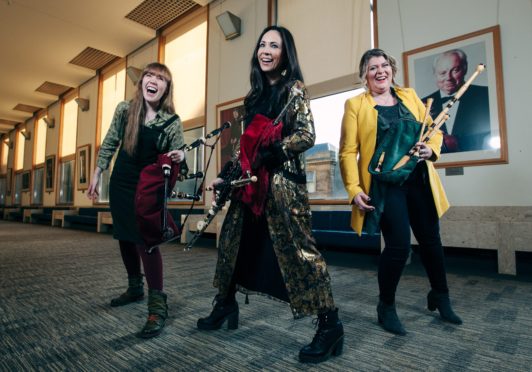 The pipes are calling, but this time it's female pipers making the noise.
Long seen as a domain for male musicians, a unique concert at this year's Celtic Connections will place the spotlight on the remarkable story of women in piping.
The collaborative show features seven pipers at the forefront of the growing movement of women pipers, demolishing macho stereotypes.
The concert will also tell the story of the pioneers of the 19th and 20th Centuries, and explore why so little was previously known about them.
"It's the first cross-cultural celebration of women in piping," said historian and piper Louise Mulcahy.
Here, three musicians explain how they are smashing some stereotypes as the festival bangs the drum for female stars past and present.
---
"After the gig? I'm joining the police and moving to the other side of the world"
Robyn Ada McKay is proof that piping is a global attraction.
Four days after the Celtic Connections concert, she will move to Australia to begin a new job thanks to her piping credentials.
"Western Australia Police Pipe Band is one of the last to be financed by the government," she explained.
"I'll spend three days a week working with the pipe band – one day of practice and the other two will be community engagement projects, while on the other two days I'll be working with the mounted sector with their horses. I'll also be competing with the New Zealand Police Pipe Band."
Robyn, from Inchinnan in Renfrewshire, got her first set of bagpipes for her sixth birthday.
"I grew up around pipe bands and for the past eight years I've played with the St Laurence O'Toole Pipe Band from Dublin," said Robyn.
"It's comforting knowing I can move to another country and there will be common ground in having all of these other pipers around.
"I lived in Cape Breton a couple of years ago and that was also thanks to the connections I made through piping. It's such a close-knit community."
In her 17 years playing the Highland pipes, Robyn has seen a change in the number of females playing the pipes – and the attitudes towards them.
"Sometimes when I turn up to a gig, they say, 'Wow, a female piper, there's not many of you guys about'," she smiled.
"But there are a lot more coming through, especially in the past 15-20 years. When you look at the schools, it's almost a 50-50 split as to who wants to learn the pipes.
"In pipe bands, 90-95% of pipe corps are made up of male pipers and, in the past couple of years, say there's 75 pipers among the top three bands in the world, only three of them are female, so that puts things into perspective."
Some of the old attitudes to female pipers still linger, as Robyn has discovered.
"There's such a fine line in grade one bands that judges walk around looking for whatever weakness or difference they can use to differentiate, and during my first couple of years with a grade one band, I always found them hovering behind me.
"That could have been by fluke or something else, but there's the stereotype that females aren't as strong as men, that they can't blow or sustain a tone for as long as men can."
---
"At 13 I was the only girl in my class and would get the odd comment. Now, piping is my life. I'm so happy when I perform"
Louise Mulcahy looked to the past to forge her own future in piping.
The uilleann piper has been at the forefront of research into the history of female piping, giving recognition to the women who not only played the pipes in the 19th and early 20th Centuries but who paved the way for musicians such as herself.
Music was always a part of her life growing up in West Limerick. Her dad played the accordion and encouraged his children to play, and to inquire about the traditions and history of tunes and performers.
"I started on the accordion at four, then whistle and flute, and the pipes at 13. I would travel to Dublin for lessons," said Louise. "I was the only girl in those classes and I would get the odd surprised comment, that a girl of 13 was strapping on the pipes, but I never experienced any discrimination.
"With my dad playing music, I've been fortunate that the environment I've been immersed in has had equal opportunities for my sister and I.
"It was obvious there were few women playing the pipes when I started.
"The first commercial recording by a female piper was 1978.
"It was around a similar time that female pipers in Scotland were allowed to compete. From the '70s until now, I think it's changed dramatically. There is a huge increase in the number of women pipers and greater visibility, which inspires others to take up the instruments.
"Other developments include tiny adaptations to the pipes which make it more comfortable to play on the frame of a woman."
As well as an acclaimed piper, Louise's historical research has led to her giving lectures around the world on the subject.
"There's a real thirst for information on women in piping and I've been invited to different places to give talks about it," Louise added.
"Piping is a special part of my life. I'm at my happiest when I'm performing and it's opened doors I didn't know existed."
---
"I've had a lot of laughs and shed a few tears on my travels, too. I'm so thankful for music"
Growing up in South Uist, Alana MacInnes had a female piping idol on her doorstep in Rona Lightfoot.
Rona is a pioneer piper, successfully campaigning to take part in male-only competitions – and winning them.
"Rona is a massive legend," said Alanna, who plays the border, Highland and bellows-blown pipes.
"She was and remains a great pushing force for the great and good. She is a big influence on me."
Alanna began playing the pipes when she was seven, and she also plays the flute.
"I fell into playing pipes because I had a neighbour who played them and he taught me," Alanna explained.
"I've had great teachers and opportunities with music, and they've done so much for me.
"It's opened doors for travelling, and I've met many people from different places and different situations due to music.
"I recently moved to Galway for work and I'm so thankful for music, because I was able to meet new people through going to sessions.
"I've had lots of laughs, as well as a couple of tears, thanks to the pipes."
---
How piping pioneers pibroch the glass ceiling
It was a picture of a woman in a sea of male pipers that grabbed Louise Mulcahy's attention.
In a 1913 edition of O'Neill's Irish Minstrel And Musicians, Margaret Murphy clutched her pipes alongside 24 men, all of them competitors in a piping competition.
There was no info about Margaret, and any other picture of women pipers that Louise found had scant details.
"No one seemed to know anything," Louise explained. "So I began investigating, tracking down family members and looking up phone directories, calling funeral homes and knocking on doors.
"I've conducted lots of interviews with relatives and it's amazing what's come to the fore.
"One reason why there wasn't much written about pipers is most of the publications back then were written by men.
"There is also the social and economic circumstances of the time.
"Some women reported having to sell their pipes to feed their family, while another woman said that in '50s Dublin it was a choice between the road and rearing a family.
"It was a big sacrifice to give up music and look after your family, but it was the done thing at the time."
Louise's research is on-going as more information continues to come to light.
"A well as bridging a gap in our knowledge about women in piping, it gives a voice to those in the 19th and 20th Centuries who weren't properly documented."
Margaret Murphy went on to win the competition in 1914.
---
A Celebration of Women in Piping, Glasgow Royal Concert Hall, Jan 19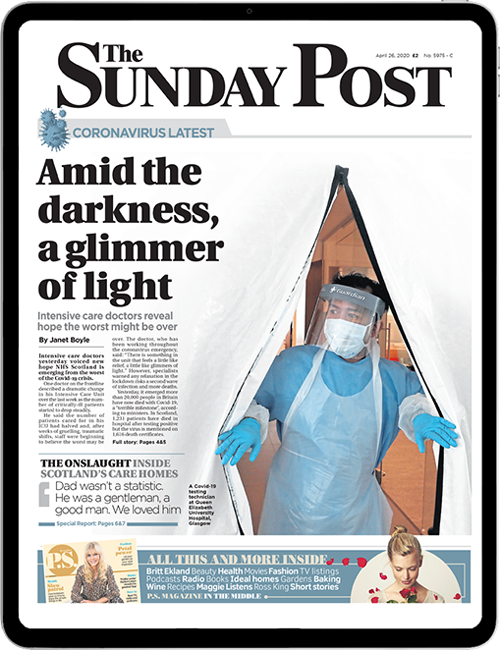 Enjoy the convenience of having The Sunday Post delivered as a digital ePaper straight to your smartphone, tablet or computer.
Subscribe for only £5.49 a month and enjoy all the benefits of the printed paper as a digital replica.
Subscribe