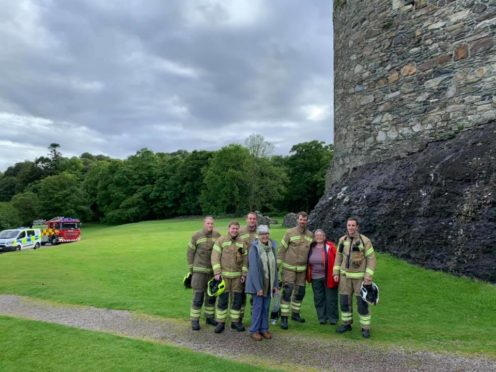 It was a castle in which Flora MacDonald was briefly imprisoned after helping Bonnie Prince Charlie escape English forces.
And on Wednesday Dunstaffnage Castle had two more reluctant guests when American tourists became trapped inside.
Niki Ghofranian, from Manhattan Beach, California, and friend Ritta Nielsen had been looking forward to memorable moments on their tour of the UK. The friends became so caught up in the history of 12th-Century Oban castle, which Robert the Bruce besieged in 1308, they were still wandering about inside after staff had closed up for the day.
Niki said on Facebook: "What a day. We just got rescued. We somehow got locked in the castle and had to call the police and fire ­brigade to get us out.
"I walked the walls for hours thinking of how many hundreds of years this castle was defended from invaders and how impenetrable it was."
Niki said in a video posted online: "They mentioned they might have to break down the castle door and I was not going to let them ruin it. I would rather have slept there. What an experience, rode home in the back of the police van."
Scottish Fire and Rescue confirmed: "We mobilised the fire engine from Oban after a report of two females locked in the castle, the police were also in attendance. Two females were removed from the castle."
A member of staff at the castle said: "There are two locks on the door and the firefighters had a thing that could turn the first lock.
"They then managed to open the second lock, it was slightly damaged but it has been repaired."
Historic Environment Scotland said: "We'd like to thank those visitors for their patience and hope their visit wasn't spoiled too much."