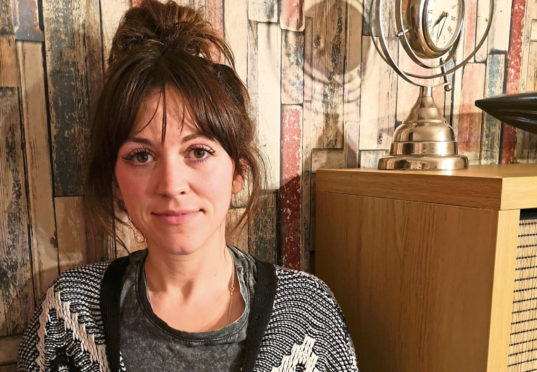 Claire Eveleigh has two things that distract her from her tinnitus – her kids.
She has a three-year-old son and a baby daughter, and has just finished her maternity leave and gone back to work as a hairdresser – "probably the worst job you could do with tinnitus!".
Claire first experienced her symptoms about eight months ago, shortly after the little one was born, but doesn't think the two events are connected.
"A lot of people have said it could be related to the birth or to the stress you're under after you have a baby," says Claire, 35.
"My dentist also said that when you have a baby your ears are really sensitive because you're listening out for a baby's cry.
"But I'm pretty sure mine was caused by loud music. After she was born, my partner and I went out and when we came back he played some music really loudly – only for a minute because we both thought, 'That's a bit loud!'.
"We turned it off but the symptoms started soon after and that's the only thing I can connect it to."
Tinnitus affects more than seven million Britons and costs the NHS £750 million a year but research into it is chronically underfunded.
Claire says: "I have two 'noises'. There's a really low droning hum which is intermittent and usually only flares up when I'm hormonal, and it vibrates sometimes because it's so low and I think I can feel it.
"When I first heard it, I asked my partner if the music was still on in the car because it was like a bass speaker playing next door. I'm quite sensitive to bass, it does set it off and it goes straight through me.
"I also have a high-pitched hiss which sounds like air being released in my head but can turn into something like a clicking sound, and it gets loud at night when I'm trying to relax.
"Usually I can distract myself but sometimes it just takes over everything, and I also get bouts of real pure tone tinnitus which usually lasts only a few seconds before it fades away.
"My distraction is that I'm always outside with my children now, so they probably love my tinnitus! I spend a lot of time outside and if I'm inside I'm a clean freak – I'm always cleaning.
"When it's really bad I usually have the radio on in the kitchen but most of my distractions are just going out with my children, things that I'd normally do anyway before I had tinnitus.
"Really, the positive thing that's come out of this is that I don't spend that much time on my phone any more.
"I was diagnosed about a month after I started hearing my symptoms," explains Claire. "I had a couple of bad doctors' appointments before then, to be honest.
"When I first started hearing the droning, the GP said it was a virus and would go in a couple of weeks.
"Obviously it didn't and I was very upset, not for me but for my children because I was listening to this noise and my baby was very young, and I was looking after them but I wasn't 'there'.
"I walked into the GP's and burst into tears and she said, 'What, do you think you've got a brain tumour?' and I said, 'No, I'm crying because I really feel for my children, and I didn't think I had a brain tumour but I do now.'
"So I Googled quite a lot, which probably sent me down a bad path, because I wasn't getting much from the doctors and thought, 'I'm going to sort this out.'
"That's what led me to the British Tinnitus Association (BTA) because it was the first thing that popped up when I typed in 'tinnitus'.
"I had a look and learned a little bit about what it was and what people do because I didn't get any of that from the doctor.
"It was great and I started doing things that were suggested such as yoga, listening to music and not having complete silence, so I wouldn't be conscious of always 'checking in' on it.
"There's no cure but in my head I thought, 'There must be something medically I could do', so I went back on to Google and found all these lovely forums for people with positive stories.
"Mind you, I spoke to one woman who kept hearing her baby crying when it wasn't.
"There were also the people who were really scared, like me, asking each other questions, and I almost convinced myself I had Meniere's disease.
"I'm deaf in one ear anyway from a childhood accident and I thought, 'I'm going to lose my hearing' – it just spiralled.
"I hit rock bottom, even though I was doing all those little positive things, when I got trapped into a loop of listening to it and reading horror stories and symptom-checking.
"But then I went back on to the BTA and found my support group and that's when things started to lift up for me.
"You talk to people and they still have bad days years down the line but they just get on with life. They have restrictions like I do but they're happy.
"That gave me a massive kick up the bum to sort myself out and be there for my children."
Tinnitus Week is February 3-9. For more information visit the British Tinnitus Association at www.tinnitus.org.uk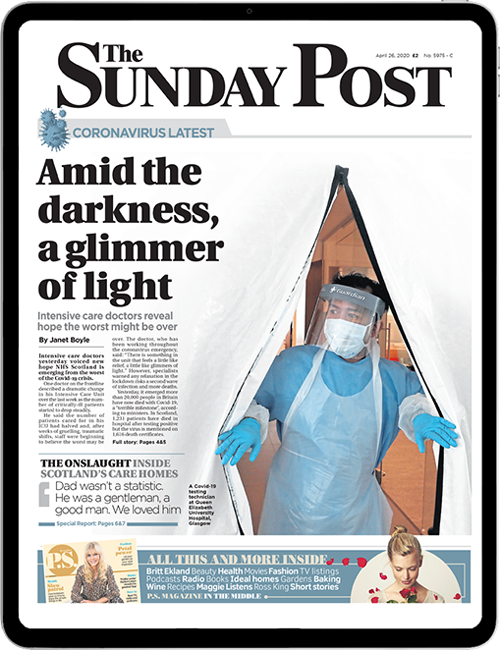 Enjoy the convenience of having The Sunday Post delivered as a digital ePaper straight to your smartphone, tablet or computer.
Subscribe for only £5.49 a month and enjoy all the benefits of the printed paper as a digital replica.
Subscribe