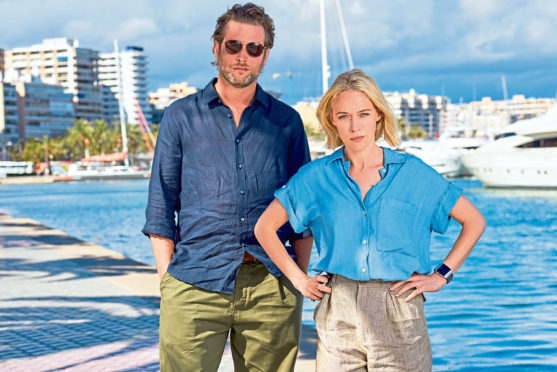 We head into December as a nation staring down the double barrels of a gloomy winter and a flippin' General Election.
Looking at your telly is scant relief – everything is so serious now.
Nearly every detective drama on the box has to be at least 20% gritty nowadays. In fact if it's not gritty enough, they order in extra grit from Jewson on the back of a big lorry.
We're well-catered for po-faced cop thrillers, so it's good to see one have a laugh at itself.
The Mallorca Files even has a slightly ridiculous name. The writers know you're going to roll your eyes at a light-hearted daytime police drama set in Spain, but they're one step ahead of you, you see. This knows it's Murder, She Wrote: On Tour.
Elen Rhys is a British police officer seconded to the popular holiday destination, and Julian Looman is the German cop. She's uptight and does things by the book, dammit. Meanwhile he's blasé and plays by his own rules, dammit.
They have been thrown together over the past week in what has been a refreshingly fun daytime romp.
There's a Dempsey and Makepeace-style will-they-won't-they vibe (spoiler: they blooming well WILL) which has been surprisingly enjoyable. Some primetime dramas would be better with chemistry like this.
Vitamin D, on your TV.
---
The Mallorca Files BBC1, Mon-Fri, 2.15pm