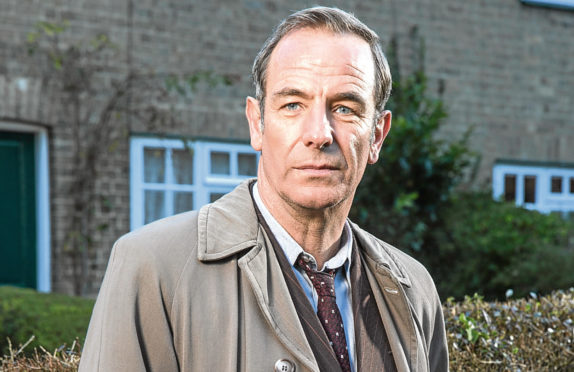 Britain turns out some of the best drama in the world. If you need proof, just take a look at this ongoing series, which has cemented Robson Green's status as one of the UK's most reliable actors.
Robson, who plays Grantchester crime buster Geordie Keating, recently celebrated his 30th year on the box, and he's packed a lot into that time. Jimmy Powell was one of Casualty's greatest characters, while Dave Tucker in Soldier Soldier won over more fans in the 1990s.
Many will recall the time he dominated the charts with old mate Jerome Flynn, while Touching Evil and Wire In The Blood helped turn him into an international star.
There was a chance at Hollywood stardom when Skyfall director Sam Mendes considered him for gangster drama The Road to Perdition. However, Daniel Craig pipped him to the post.
Hollywood's loss was TV's gain.
Robson's current series is inspired by James Runcie's short stories The Grantchester Mysteries. For newcomers, it takes place in the eponymous Cambridgeshire village during the 1950s.
Series one debuted in 2014, and Robson knew Grantchester would be a success from that first episode.
He told P.S.: "If anyone would have told me that the premise of a detective and a vicar solving crime in the 1950s in the village of Grantchester would run and run and be the success it is, I would have said, 'What?'.
"But when I first read the script I knew it would be a hit. I loved the script, the charm of it and the relationships I really liked."
In the latest offering, Will (Tom Brittney) and Leonard (Al Weaver) witness a deadly and deliberate hit-and-run in Grantchester.
Geordie traces the car to a pair of dysfunctional brothers whose house lies far off the beaten path.
The victim's wife, his employee and the two brothers are all damaged characters caught in a web of lies and betrayals, and it's not just secrets that are hiding within the brothers' grounds.
Robson says it's the best series yet. He explained: "It's the darkest we've done but the light and shade still remains because this is one of the funniest series as well.
"The charm remains throughout, despite the terrible things that are happening because you care about the characters enough to want to follow them.
"The series has gone from strength to strength and I feel, and everyone agrees, that this is the best yet, most definitely!"
Grantchester, ITV, Fri, 9pm